The Caïon festival is a traditional Savoyard festival that takes place every year on the second Saturday of November. It is an opportunity to celebrate the pig, which has always played a major role in mountain agriculture.
A traditional festival in Annecy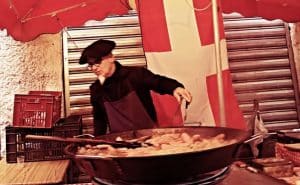 In local dialect, the caïon is the pig. And this Annécian festival honours numerous recipes based on pork: sausages, cooked sausages, diots in white wine, pig tails and black puddings. It is an opportunity to gather around large tables to taste these typical dishes and drink mulled wine.
Every year, the popular pig call imitation competition is a great success with the public. The profits from this festival are used to help associations in Madagascar.
The musical entertainment is provided by La Ripaille à Sons.
Practical information
This festival takes place from 9 am to 6 pm on Place Notre Dame and Rue Filaterie in Annecy. You can taste on the spot or take home many local products.
Past editions
The 2022 edition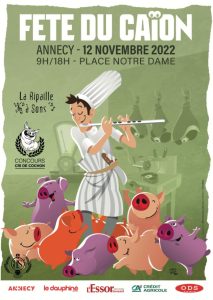 The 2022 edition of the Fête du Caïon took place on Sunday 12 November. A great opportunity to celebrate the pig in Annecy.
During the day, you could appreciate the performance of the brass band La Ripaille à Sons, but also the demonstrations and sales of local products.
A pig screaming competition was also organised. About fifteen participants competed on this occasion. A world champion of the discipline was even present.
2021 edition
On 13 November 2021, the exhibitors and the public were happy to be back for the 15th edition of this event, which was held on Notre-Dame Square. The press crushed 2 tonnes of apples to produce 1,000 litres of bidoyon. Visitors were able to buy specialities from the Savoyard market: rissoles, honey, beers, génépi, local cheeses and white wines.
2020 Edition
In 2020, the Fête du Caïon was cancelled due to the health crisis linked to the coronavirus.
2019 edition
The festival took place in the presence of a large audience who were able to enjoy the culinary specialities of the Savoie.


Video of the Fête du Caïon in Annecy in 2021