Annecy is a dynamic city in terms of economy and tourism. The downside of this is that during peak periods, i.e. summer and weekends, it is difficult to find a place to park your car. Pay and display parking is free in Annecy from 12 noon to 2pm and from 7pm to 9am. There are three types of parking in Annecy: the public car parks in the city centre, the free local car parks and the park-and-ride facilities.
Paying public car parks in Annecy city centre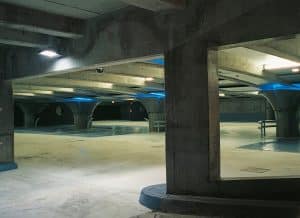 There are 10 paid covered car parks in Annecy, offering 3,286 parking spaces. Some car parks have charging points for electric cars, which can be recharged free of charge.
Underground car parks
Here is the list of underground car parks in Annecy city centre:
Courier underground car park: 779 spaces – maximum height 1.95 m
Bonlieu underground car park: 693 spaces including 12 electric recharging spaces – maximum height 2.40 m (outdoor part) and 1.95 m (underground part)
Hôtel-de-Ville underground car park: 432 spaces including 6 electric recharging spaces– maximum height 1.90 m
Château underground car park: 223 spaces – maximum height 1.95 m
The Gare underground car park: 214 spaces – maximum height 1.95 m
Chevêne underground car park: 161 spaces including 2 electric recharging spaces – maximum height 1.90 m
Palais de Justice underground car park: 110 spaces – maximum height 1.90 m
Carnot underground car park: 93 spaces including 4 electric recharging spaces – maximum height 1.90 m, this car park also has 22 secure spaces for bicycles.
The Sainte-Claire underground car park: 344 spaces – maximum height 1.90 m. This car park also has 30 secure bicycle spaces.
La Poste underground car park: 317 spaces including 8 electric recharging spaces.
Outdoor car parks
Discover the list of outdoor car parks in Annecy below:
La Tournette car park: 180 spaces
Trésum car park: 180 spaces
Providence car park: 35 spaces
Château car park: 39 spaces
Angle Boschetti / Loverchy car park: 31 spaces
Place de la Mandallaz car park: 87 spaces
Place des Romains car park: 366 spaces, this car park became chargeable in 2018.
Marie Curie car park (minute stops): 33 spaces
Parking rates in Annecy city centre
Map of paying car parks in Annecy
The Parc des Sports car park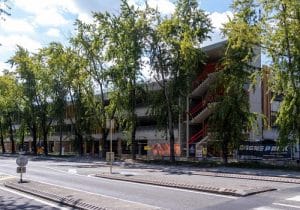 This multi-storey car park is located on Boulevard du Fier. It has 340 spaces for cars and 40 for bicycles. There are charging points for electric vehicles. The Parc de Sports car park is free of charge and is close to the SIBRA line 5.
Free car parks in Annecy
In the centre of Annecy and near the lake, four outdoor car parks are free:
Parking de l'Impérial, avenue d'Albigny, located next to the lake. Paying in summer.
Car park of the Sainte-Bernadette Church, avenue de France. Paying in summer.
Parking de la Visitation, at the foot of the Visitation basilica.
Parking of the Piscine des Marquisats, located in rue des Marquisats. Paid in summer.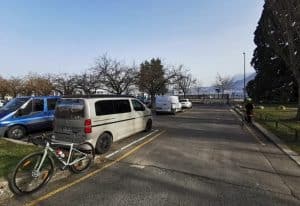 Please note that during the summer, the free car parks by the lake will be subject to a charge of one euro per hour from 1 July to 31 August, from 9 am to 6 pm, 7 days a week. The car parks concerned are those of Colmyr, ESAAA, Marquisats, Tillier, the nautical base on the Marquisats beach side, Impérial, Sainte-Bernadette, Belle Étoile, Albigny, Petit Port and Chavoires.
There are also 7 local car parks, which are free parking areas located near a bus stop with a high frequency of passage, i.e. little waiting time for the user.
The bus lines operate from Monday to Saturday from 5.30 am to 9 pm :
Parc des Sports in Annecy Rue Baron Pierre de Coubertin line 2
Parc de Loverchy in Annecy Avenue de Loverchy line 4
Parc du Stade in Meythet Avenue du Stade lines 1, 6, 10
Parc de la Bottière in Épagny Rue de la Bottière (at the roundabout) line 10
Parc du Mille Club in Poisy Route de Monod – Route des Plants (second roundabout from Lovagny) line 1
Parc des Creusettes in Poisy, 2169 route d'Annecy (opposite the shopping centre) line 1
Parc de l'Aéroport in Meythet RD 14 – Route de Côte Merle lines 6, 10
Map of free car parks in Annecy
Park and ride facilities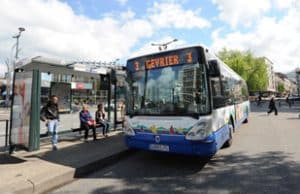 There are 3 park-and-ride facilities reserved for Sibra subscribers (the public transport authority of the Annecy conurbation) who have the annual Liberté pass. The 3 park and ride sites offer a package: parking and bus transport thanks to the immediate proximity of a bus stop.
Here is the list of these 6 park-and-ride facilities installed throughout the commune:
Parc de Vignières in Annecy-le-Vieux Avenue des Carrés lines 1 and 2
Parc de Colmyr in Annecy D 1508 – Chemin de Colmyr line 6
Parc de Périaz in Seynod D1201 – Chemin de Château Vieux line 5
Parc des Sports: Rue Baron Pierre de Coubertin 74000 Annecy line 2
Parc de l'aéroport: Route de Côte Merle 74960 Meythet lines 6 and 10
Parc du Stade: Avenue du Stade 74960 Meythet lines 1, 6 and 10
Buses run from Monday to Saturday from 5.30 a.m. to 9 p.m.Consult the map of the park and ride sites with the bus routes
Parking for motorbikes and scooters in Annecy
When the weather is good, motorbikes and scooters are looking for a place to park in Annecy town centre.
There are 450 parking spaces for motorcycles.
Map of motorbike and scooter parking in Annecy
Camper van parks near Annecy
To enjoy your holiday around the lake, if you come by motorhome, you can park in the existing areas.
Where to park your motorhome to visit the Annecy region?