Need to relax and unwind? The Annecy region has some excellent spas and wellness areas. The opportunity to take care of yourself during a pleasant session.
The benefits of the spa on our body
For a very long time, Man has used hot water for its therapeutic benefits. The Romans installed numerous thermal baths during the occupation of Gaul. Nowadays, the combination of heat and massage stimulates the production of endorphins, known as the happiness hormone. After a day's work, the spa allows you to relax by relieving muscular tension.
The effects of a hammam or a sauna are not just temporary, they last for several days. As such, these moments of relaxation are increasingly used by athletes. They help to eliminate toxins and reduce excess lactic acid in the muscles. Finally, many spas use aromatherapy. This therapy with essential oils diffuses a pleasant fragrance, which stimulates and strengthens the natural defences. To complete the benefits of the spa on your body, you can also call on a specialist inhypnosis in Annecy, to accompany, for example, the implementation of a diet.
Good addresses in Annecy
Around Lake Annecy, there are excellent spas, hammams and saunas. They are located either in hotels or in dedicated establishments.
Spas integrated into a hotel
La Bulle Nordic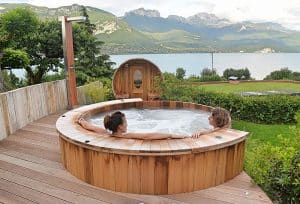 This sauna made of noble wood is located in the Beauregard hotel in Sévrier. It offers a unique interlude with a view of Lake Annecy and the surrounding mountains. A massage service allows you to enjoy a moment of deep relaxation to release accumulated tension. These services are reserved for people over 16 years old.
Address: 691, route d'Albertville, 74 320 Sévrier.
Le Crystal Spa de l'Impérial palace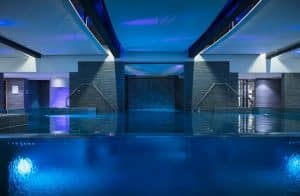 This wellness bubble is located opposite Lake Annecy, on the Albigny peninsula. The 600 m² spa is equipped with a swimming pool, a sauna, a hammam and experience showers. Sensory cabins, a relaxation area and a fitness room complete the adventure. Beauty treatments and rituals are also available.
Address: Allée de l'Impérial, 74000 Annecy.
Rivage Hotel & Spa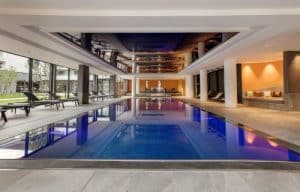 The largest spa in Annecy, covering 1 000 m², is located opposite the Albigny beach, facing the lake. It features many top-of-the-range facilities: jacuzzi, hammam, sauna with cold water well and herbal tea room. Its team of experts offers Nuxe massages, tailor-made treatments, yoga and fitness rooms exposed to natural light.
Address: 30, avenue du Petit Port, 74940 Annecy.
Spa de l'Abbaye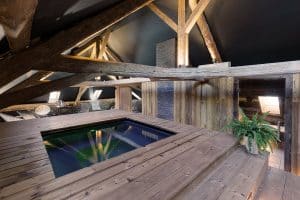 The wellness facility is located under the thousand-year-old roof of the Hôtel de l'Abbaye de Talloires. The sensory journey is unforgettable: 37° C Jacuzzi with a view of the lake, hammam, relaxing deckchairs and experience shower. The spa is equipped with a fitness room with treadmill, bicycle and rowing machine. The decoration, with dark colours and large beams, is pleasant.
Address: Chemin des Moines, 74290 Talloires-Montmin.
Mont Spa Les Trésoms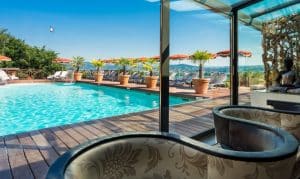 The spa is ideally located in Annecy, in the Hotel Les Trésoms. You can enjoy scrubs, wraps, facials and massages. The equipment includes a balneotherapy pool regulated at 30° C with 11 massage stations, two hammams and a sauna. The comfortable armchairs allow you to enjoy organic teas and infusions.
Address: 15, boulevard de la Corniche, 74000 Annecy.
Black Bass Spa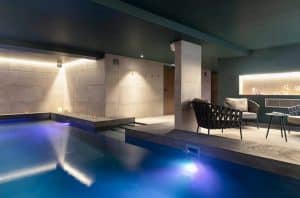 Located in the commune of Sévrier, on the shores of Lake Annecy, the "Excellence Secrets de Sothys" offers tailor-made massages and body and face treatments. The spa includes an indoor swimming pool, hammam, sauna and individual or duo cabins. The proximity of the cycle path allows you to cycle around the lake. The spa is located in the Black Bass Hotel.
Address: 921 Rte d'Albertville, 74320 Sévrier
Spas in a dedicated establishment
Le Spa des Lys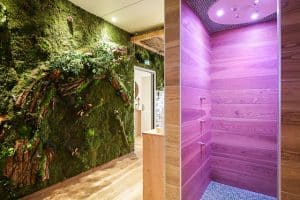 This establishment is located in Argonay, 10 minutes from Annecy. It offers a whirlpool bath, a sauna, a hammam, a relaxation area with a herbal tea room and a sensory shower. The team invites you to discover massages and relaxation rituals from around the world. The spa can be privatised. The products used are certified organic or natural.
Address: 383, routes Rigoles, 74370 Argonay.
Pure Breath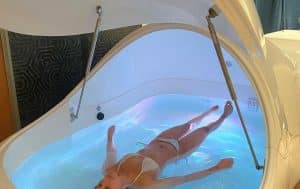 This atypical wellness centre is located in Meythet. Your body will be weightless thanks to the floating cabins which are like cocoons of water heated to 35° C. They diffuse Epsom salt. The salt grotto offers energy and sound treatments, massages, yoga and Pilates classes. The swimming pool, located on the rooftop, is magnificent.
Address: 11 rue Léon Rey Grange, 74940 Annecy
To make your children happy during your holidays in Annecy, you can consult our file on the water parks of Haute-Savoie.