Annecy and its lake offer all water lovers a real experience with its many beaches, which welcome swimmers from May to October.
Tour of the beaches of Lake Annecy
Lake Annecy is the ideal place for swimming in Haute-Savoie, with the Lake Geneva, many beaches, free or paying, are available to the public. In Haute-Savoie, 10 beaches and 3 marinas have the Blue Flag label. This label, created to promote sustainable tourism, is a guarantee for users that the following criteria have been taken into account: user awareness of the environment, management of water, the environment and waste. Around Lake Annecy, the municipal beaches of Saint-Jorioz and Veyrier-du-Lac are concerned.
There are many pontoons on the shores of Lake Annecy, but access is only open to the public on some of them. Your tourist guide suggests that you take a tour of the lake and the beaches of Lake Annecy following the itinerary below.
Albigny beach in Annecy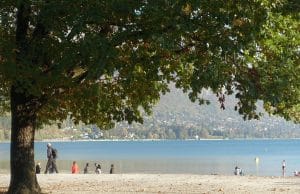 Albigny beach is the largest beach in Annecy and extends over several hundred metres. To get there, just walk along the Pâquier, past the Impérial Palace and continue in the direction of the small port of Annecy-le-Vieux. You will find for your comfort: snacks, ice cream parlours and free toilets. Free supervised beach.More information : Albigny beach in Annecy
Marquisats beach in Annecy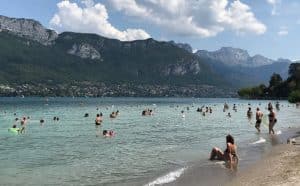 The Marquisats beach is located on the outskirts of Annecy in the direction of Albertville, only 2 km from Annecy city centre. A snack bar and free toilets are available to the public. Free supervised beach.
More information : Marquisats beach in Annecy
Imperial beach in Annecy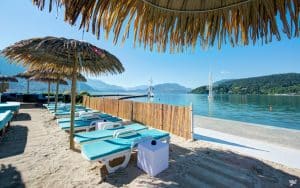 The Impérial beach is located between the Albigny beach and the Pâquier in Annecy. This beach is free, supervised and has many facilities: diving boards, slide, paddling pool, bar and disco. The beach is open every day from 10 am to 7 pm.
More information : Impérial beach in Annecy
Beaches of Veyrier-du-Lac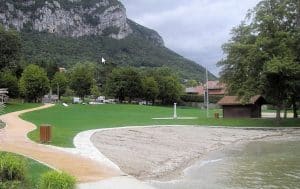 In Veyrier, there is not one, but two pretty beaches: the Brune beach and the Plant beach. The first one is to be preferred, if you have young children, located just next to Annecy-le-Vieux, it is supervised by lifeguards from July to August from 11 am to 7 pm. This beach has the Blue Flag label.
More information : Veyrier-du Lac beaches
Beach of Menthon-Saint-Bernard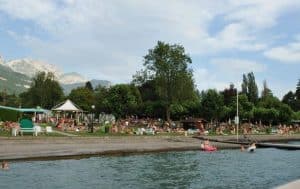 The beach of Menthon-Saint-Bernard is a paying beach, in July and August, of a hundred meters along the lake. It is very well equipped with a paddling pool, fixed and floating pontoons, diving boards, toilets and showers. The beach is also equipped with free parking as well as a snack bar and sports fields.More information: plage de Menthon-Saint-Bernard.
Beach of Talloires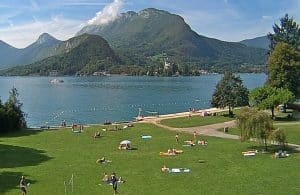 Talloires beach is located at the end of Lake Annecy, on the eastern side, about 15 km from Annecy. The beach is about 250 metres long and 200 metres wide. Many large trees provide shelter from the sun during the hot summer months.
More info: Talloires beach.
Angon Beach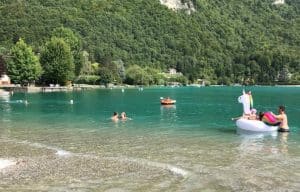 You will walk one kilometre after the centre of Talloires to discover one of the prettiest beaches of Lake Annecy, turquoise waters and a magnificent view of the castle of Duingt. The restaurant offers quality food and excellent ice creams. A small stream crosses the beach.
More info: plage d'Angon
Beach of Doussard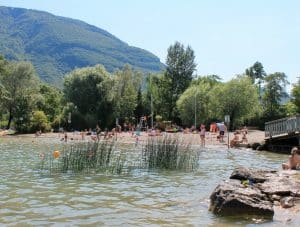 This large beach with many facilities is bordered by a campsite and by the national nature reserve of the Bout du Lac d'Annecy. You can rent paddles or boats to discover the shores of the lake. The restaurant allows you to have a snack in front of the lake.
More info: plage de Doussard
Beach of Duingt
Located on the other side of the lake, this family beach welcomes you under its large trees equipped with benches. A friendly guinguette will offer you in summer a small quality restaurant. And for the winter, a surprise awaits you. It is an ideal beach to come and swim after a hike in the Bauges massif.
More info: Duingt beach
Saint-Jorioz beach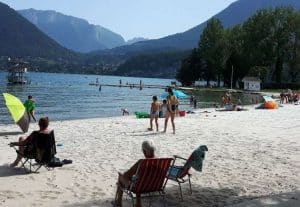 A few kilometres after Duingt, you will discover the beach of Saint-Jorioz, well equipped for PRM, with a magnificent white sand. This beach has been awarded the Blue Flag. There is a large diving board. The restaurant serves refined cuisine made from seasonal products.
More info: Saint-Jorioz beach
Beach of Sévrier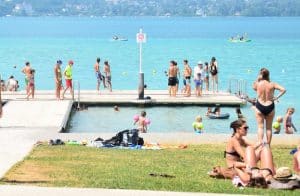 Just after Saint-Jorioz, you will reach the commune of Sévrier, turning towards the lake in front of the MC Donald, you will arrive at the very pretty beach of Sévrier. The beach is free, but the parking is not. We advise you to come by bike or by bus.
More info: Sévrier beach
After Sevrier, you will come back to Annecy after a nice tour of the lake, the loop is complete.
How to get to the lake beaches?
In summer, from June 29th to September 1st included, you can discover Annecy, its lake and its beaches by bus or by boat. Two new bus lines and three boat lines are available even on public holidays and Sundays.
Going to the beach by bus
By bus : the departure is from Annecy train station at the rate of one per hour from 10 am to 8 pm. Every weekend in June and September and every day in July and August:
For the left bank, line 1 serves: Annecy gare routière / Marquisats / Sevrier / Saint-Jorioz / Duingt.
For the right bank, line 2 serves: Annecy gare routière / Albigny / Veyrier-du-Lac / Menthon-Saint-Bernard / Talloires-Montmin
From 1 July to 31 August, buses are free for all passengers to encourage this mode of travel and reduce car use.
Going to the beach by boat
By boat: 3 lines are available:
Annecy / Veyrier-du-Lac / Saint-Jorioz
Annecy / Sévrier / Talloires-Montmin
Saint-Jorioz / Talloires-Montmin
Fare: from 3 to 6 € depending on the destination. Timetable and maps on: sibra.fr
Cycling to the beach
The cycle path is also very practical for reaching the beaches of Lake Annecy. You can hire electrically assisted bicycles at the Vélonecy centre opposite Annecy station.
Going to the beach by car
There is a road around Lake Annecy, but we strongly advise you not to use your car in summer, and to use the above modes of transport, as it is very difficult to park.
Other ideas for swimming
Annecy's swimming pools are open all year round. They are supervised and easily accessible by bus. Outside the summer season, you can also enjoy the many water parks in Haute-Savoie.