In Annecy or elsewhere in Haute-Savoie and Savoie, cheese is an essential part of local dishes and customs. More than a passion, it is a tradition. We suggest you discover or rediscover the best known, but also those that are less well known and yet deserve to be.
Savoy cheeses, a production rooted in local culture
Whether in Haute-Savoie or Savoie, cheeses are produced according to ancestral methods. These methods guarantee the quality of the products. During the summer, the cows head for the mountain pastures, where they enjoy the rich grass that gives their milk more flavour. During the winter, the cattle benefit from a variety of quality fodder that provides them with a varied and rich diet.
More than 2,000 producers in the Savoie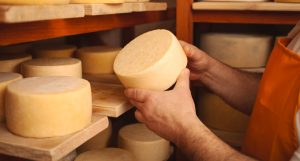 There are more than 2,000 producers in the Savoie, producing 325 million kg of milk per year. This represents 1.5% of national milk production and 15% of cheese production. In total, 32,000 tonnes of quality cheese are produced every year in the Savoie and Haute-Savoie regions.
Raw milk cheeses
In the Savoie, the lactic flora is not reduced before the cheese is processed. The cheese is therefore made from raw milk. Furthermore, the milk is generally processed within 24 hours of milking. This is a way of preserving the microbial flora that is naturally present in the milk. Thus, the multiple microbial species present give the cheese its character and personality.
The cheeses of the Savoie region that cannot be ignored
Among all the cheeses made near Annecy, some are more emblematic than others. We suggest you discover them.
Reblochon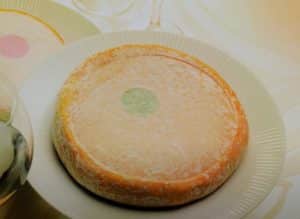 Contrary to what many people think, Reblochon is written as such and not "Roblochon". A mistake that is still very much present and that still makes the old-timers jump up and down.
Reblochon is a particularly creamy cylindrical cheese. It weighs about 500 grams and is mainly made in the Val d'Arly and the Thônes area. It is one of the least fatty cheeses, with only 27% fat.
Our recipe idea: Polenta with Reblochon.
It takes 12 minutes to prepare and 15 minutes to cook. For 4 people, you need half a Reblochon cheese, a packet of polenta, 500 grams of ceps or chanterelles, 1 clove of garlic, 20 cl of fresh cream and 20 g of butter.
Abondance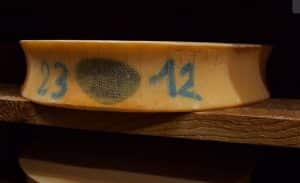 Abondance cheese is shaped like a flat cylindrical wheel. Its rind is both amber and smooth. Its weight varies between 6 and 12 kg. To identify the producer, all you have to do is look at the casein plate on the heel of the Abondance.
If it is red and square, the cheese was made in a cheese factory. If it is green and oval, it is a farm cheese.
Our recipe idea: Berthoud.
Allow 15 minutes for preparation and 10 to 15 minutes for cooking. For two people, you will need: 360 g of Abondance, 2 to 4 cl of Port, pepper, a clove of garlic, nutmeg and 6 to 8 cl of Savoy wine.
The Tomme de Savoie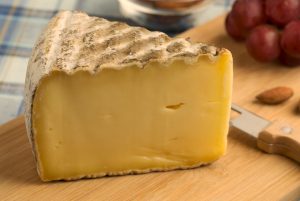 To produce a Tomme de Savoie cheese, you need an average of 15 to 20 litres of milk. You will recognise it by its grey, mottled rind, but also by its white paste with slight openings. 6,500 tons are produced every year, based on the milk of three types of cows: Montbéliarde, Tarine and Abondance.
Our recipe idea: pan-fried ham with Tomme de Savoie cheese.
Allow 15 minutes for preparation and 30 minutes for cooking. For two people, you need: 400 g of potatoes, 175 g of Tomme de Savoie cheese, 65 g of smoked ham, half an onion, 15 g of butter, 1 tablespoon of sunflower oil, nutmeg, pepper and salt.
Beaufort cheese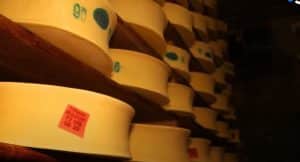 Beaufort is a pressed cooked cheese. Renowned for its taste, it has a firm texture at first, then melts. It has an average diameter of 54 cm and weighs 40 kg. Production is limited to 5,000 kg of milk per cow per year. As for maturing, it must be at least 5 months.
Our recipe idea: Beaufort waffles, which take 10 minutes to prepare and the same amount of time to cook. To make this recipe for 2 people, you will need 80 g flour, 50 g Beaufort, 125 ml milk, 35 g butter, 1 egg, salt and parsley.
Raclette de Savoie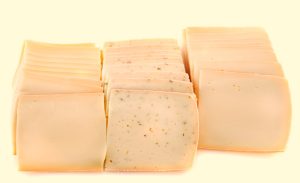 A piece of Raclette de Savoie cheese weighs on average 6 kg. To recognize it, look for the particle "de Savoie", as well as the IGP logo.
It is possible to find it in the cheese dairies, directly from the producers or from the cheese makers.
Our recipe idea: Crozet gratin with Savoy Raclette.
Allow 15 minutes for preparation and 45 minutes for cooking. As for the recipe, you will need for two people: 150 g of plain crozets, 125 g of Raclette de Savoie, 1 clove of garlic, 300 g of ceps or chanterelles, 125 g of double cream, 25 g of butter, vegetable stock and nutmeg.
Other cheeses from Savoie
While the cheeses mentioned above are certainly the most emblematic of Haute-Savoie and Savoie, other cheeses are made near Annecy. Here are some of them.
Tome des Bauges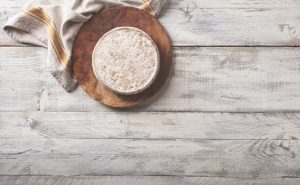 Tome des Bauges is, as its name suggests, produced in the Bauges massif. Produced for centuries, this cheese has an ivory or yellow paste and a grey rind that has some relief.
If it is written with only one "m", it is because the origin of the name comes from "toma", which means in patois "cheese made in the mountain pastures". The Tome des Bauges weighs between 1.1 and 1.4 kg, with a diameter of between 18 and 20 cm.
Our recipe idea: pumpkin crumble with Tome des Bauges.
It will take you about 1 hour 45 minutes to make this recipe, including preparation and cooking. To make this crumble for two people, you will need 250 g of pumpkin, 25 g of Tome des Bauges, half an onion and cumin. For the crumble: 90 g of flour, 60 g of semi-salted butter, 30 g of Tome des Bauges.
The Bonneval blue cheese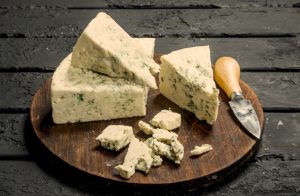 Bonneval Blue is produced only in the Haute-Maurienne. This blue-veined cheese has a soft and melting paste.
If you are used to eating cheeses with little taste, you may be surprised by the strength of the Bonneval Blue and, why not, find it a little bitter.
Our recipe idea: Bonneval Blue cheese mousse
Allow 2 to 3 hours in the fridge for the mousse to set. As for the ingredients, you will need, for two people, : 125 g of Bonneval blue cheese, 0.25 cl of crème fraiche, 2 sheets of gelatine, 3 slices of Savoy ham, salad, salt and pepper.
The Chevrotin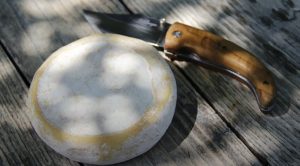 Chevrotin is a handmade cheese. Its paste is soft and creamy. It weighs between 250 and 350 grams, with a diameter of between 3 and 4.5 cm in height. 60 tons of Chevrotin PDO are made every year by 24 producers and 5 ripeners. This represents 500,000 litres of milk.
Our recipe idea: fine Chevrotin and vegetable tart
20 minutes preparation time, 1 hour 15 minutes cooking time. For this recipe you will need: pizza dough, 50g of Chevrotin cheese, onion and garlic, cherry tomatoes, 1 courgette, 1 red and 1 yellow pepper, olive oil and thyme.
Emmental cheese from Savoy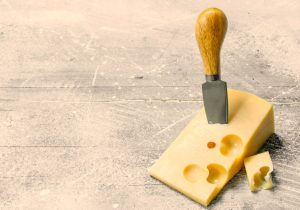 Emmental de Savoie is produced at a rate of 3,000 tons per year and requires a minimum of 75 days of maturing. To produce a wheel of cheese, 850 litres of milk are needed.
It can be recognised by its yellow rind and its paste with holes. To be sure of the origin of Emmental de Savoie, simply look for the PGI logo on the label.
Our recipe idea: Pasta with spinach and Savoy Emmental cream 10 minutes preparation, 20 minutes cooking. For two people, you will need : 45 g of Emmental de Savoie, 250 g of pasta, a few spinach shoots, 20 g of butter, 25 g of flour, 30 cl of hot milk, 30 g of cream, nutmeg, salt and pepper.
Quality guaranteed by strict specifications
The specifications for the production of Savoy cheeses are complete and particularly strict. On average, more than 2,700 technical visits are carried out every year by technicians, with the aim of improving the quality of the cheeses produced. Thus, a cheese that deviates too much from the average in terms of weight or diameter will be downgraded or excluded.
PGI and PDO
PGI and PDO are two designations that guarantee the quality of cheeses. The first is the Protected Geographical Indication, while the second is the Appellation d'Origine Contrôlée. Checks are regularly carried out on cheese producers to ensure that the specifications imposed by the certifications are respected.
It should also be noted that the various cheeses are subject to their own tasting grid. This concerns in particular the taste and texture, but also the appearance and shape of the cheese.
Ideas for activities to discover Savoy cheeses
If you want to learn more about local cheeses, why not look directly at the source? Some farms open their doors and offer to follow the making of the cheese. You can also take advantage of the play areas set up within the dairy cooperatives, such as in Thônes or Saint-Sorlin d'Arves, on the Sybelles side.
Going to the mountain pastures during the summer season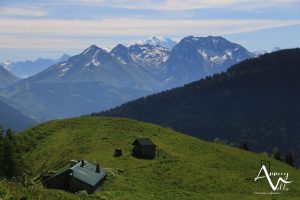 In summer, we recommend that you take advantage of a hike to go to the mountain pastures. You can easily meet and talk to the cheese producers.
Some of them will even offer you a small tasting and buy the products directly on the spot.
The Savoy Cheese Route, an excursion near Annecy
The Cheese Route is a fun way to discover the cheeses of Savoie and their link with the region. 76 visits can be made between Savoie and Haute-Savoie. On these occasions, different themes can be discussed, such as the use of grass or even the production of raw milk.
The Savoie cheese festival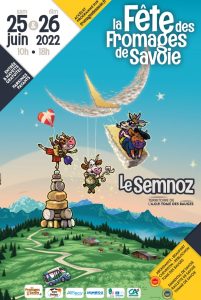 Every year the Savoy cheese festival takes place. It is an unmissable event in the Annecy area.
The cheese festival takes place in Haute-Savoie, during the month of June. During this weekend, animations and activities are proposed around the theme of cheese. Access is free and it is possible to eat directly on site.
The aim of this event is to bring together the actors of the cheese industry and the local population.