The Alpine Christmas in Annecy is one of the most popular Christmas markets in France. A real popular success, 450,000 visitors attend each year.
This very popular event takes place every year from the end of November to the beginning of January. Comprising two markets, with 80 Alpine chalets, it offers gift ideas for Christmas and tasty gastronomic specialities.
Two Christmas markets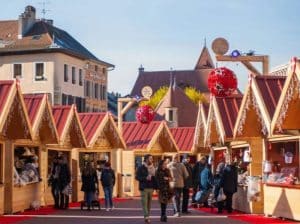 Annecy's Christmas market is one of the major annual events that attracts a large public who come to discover the many festive products on offer. The first market is located in front of the town hall, quai Vicenza and on rue Saint-Maurice. The second is in the square in front of the Courier shopping centre. Called the Village des Alpes, in addition to the chalets, you will find a winter sports resort atmosphere, with the possibility of tasting diots, oysters and fondue at the end of the day. A musical programme at the end of the week offers concerts, "Tributes" evenings and guinguette atmospheres.
An open-air ice rink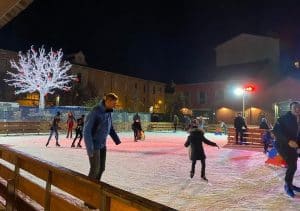 The Alpine village has a 430 m² ice rink, where you can rent ice skates and there is an area reserved for youngsters. Parents can accompany them without renting skates. Open every day from the end of November to the beginning of January from 11am to 9pm.
Special opening hours:
24 December: from 11am to 6pm 25 December: from 2pm to 9.30pm 1 January: from 2pm to 9.30pm
Price: 5 € for 45 minutes
Poster of the Alpine Christmas 2019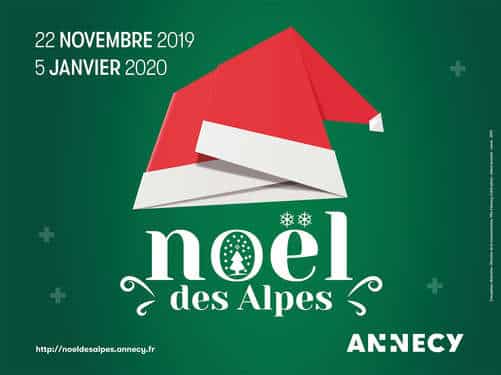 Sound and light show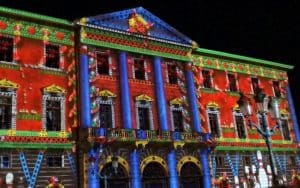 Every year, the Alpine Christmas in Annecy offers a projection on the façade of the town hall. The theme changes with each edition. At nightfall, from 5pm to midnight, you can discover a magical show lasting about 12 minutes. There is an eight-minute interlude between each projection. Since 2021, the projections take place on the main historical monuments located in the Old Town of Annecy.
Video of the illumination of the Annecy Town Hall in 2019
The Alpine Christmas illuminations
For five weeks, the streets of Annecy are decorated with garlands. The roundabouts are equipped with lighted animations. The bridges over the Thiou and the Vassé canal are also illuminated.
This represents 427 decorations throughout the city, 13 illuminations and 6.5 km of garlands of light.
A decorated cultural centre
The Bonlieu cultural centre, which is located opposite the Pâquier, is decorated differently every year. We recommend this visit, as the place is heated and covered. These artistic creations are entrusted to Bonlieu Scène Nationale.
For children, workshops allow them to make Christmas decorations on Wednesdays and Saturdays from 2.30 to 4.30 pm.