Once you have arrived in Annecy, you will need to get around to reach your accommodation, to visit the town, to do some sport or to go swimming in the lake. Many means of transport exist and are at your disposal.
Walking
Annecy is a city whose historic centre and lakefront can be visited very well on foot. Apart from the visit to the Château d'Annecy, the municipal territory is flat, which makes walking easy and pleasant. It is also the best way to get around during the busy tourist season.
Signs in the streets of Annecy tell pedestrians how long it takes to walk from one point to another. If you need to ask for directions, we offer a short guide to Savoyard dialect to help you integrate some local expressions.
Cycling in Annecy
Cycling is very practical in and around Annecy. More than 132 km of bicycle facilities have been built and allow you to use the cycle paths. Hundreds of bicycle locks are located in the area, allowing you to lock your bicycle to the pavement in complete safety. You can also make a nice cycling trip by tasting local produce with the Cheese Route by bike near Annecy.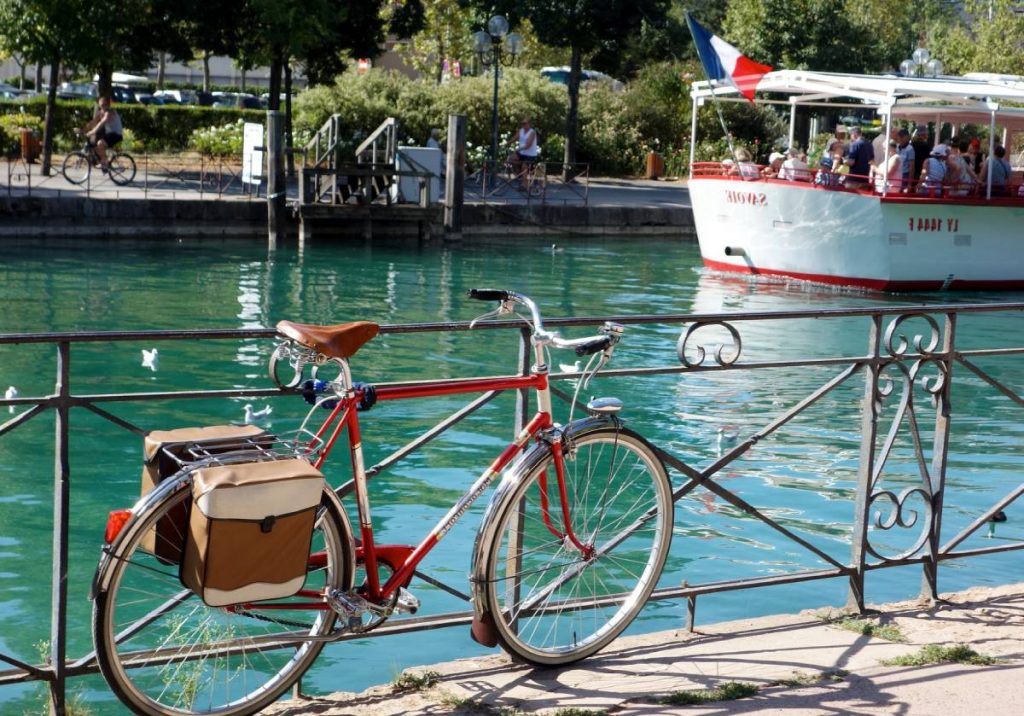 Hire a bike in Annecy
If you want to hire a bike, the Greater Annecy authority offers a fleet of 900 city bikes, as well as electrically assisted bikes and folding bikes, via the Velonecy rental service. Prices vary from €4 to €46 per day depending on the model and the period. This public service is available in the multimodal hall of Annecy station, all year round from Monday to Saturday from 9am to 1pm and from 2pm to 6.30pm. There are many bike rental companies that allow you to discover the city at your own pace.
For more information: Bike hire in AnnecyImportant: bike thefts are very common in Annecy, always use a good quality lock.
Renting a mountain bike in Annecy
There are many private bike hire companies in Annecy, for example to hire a mountain bike for a ride in the forest. More information: Where to hire a mountain bike in Annecy?
The bus
During your holidays, you can forget your car and use the bus in Annecy. You won't have to look for a place in Annecy's car parks, which are often full during the tourist season.
The public transport network in the Annecy area is extensive, and its service is important. And some lines called "Rythmo" guarantee a bus passage every 10 minutes. It extends over the greater Annecy area and allows you to reach the small villages around Annecy.
This public network is called the SIBRA, you will find on the official website: the routes and schedules in real time according to your needs as well as the fares. Sibra covers the territory of Greater Annecy: 207,500 inhabitants, 724 bus stops, 27 regular lines, 343 km of urban lines and 128 km² of interurban lines.
Buses run from 5.30 am to 9 pm and until 1 am for evening routes. For major events (Fête du lac, Fête de la musique) special free lines are set up.
Both buses and bus stops are accessible to PRMs. In addition, the Handibus service , dedicated to PRMs who cannot use a bus, allows them to travel every day on request from 8.30am to 5.30pm. Since 2021, the SIBRA has been experimenting with 100% electric buses with a range of 120 to 200 km depending on weight, with slow recharging at night. In a few years, the public transport network of the Annecy conurbation should be equipped with full high service level buses and a tram line. The debate is still ongoing.
During the summer of 2022, the Sibra network bus will be free throughout the Annecy conurbation.
Important note: To use Annecy's buses, you need to obtain a Oùra card at the Espace Sibra at 21 rue de la Gare in Annecy. You will be advised to take the offer that corresponds to your travel needs during your holidays. Paper tickets are no longer sold by bus drivers or tobacconists. With this card, you can also go to Geneva with the Léman Express in 1 hour 30 minutes.
Annecy bus routes explained in video
Map of Annecy bus lines
This map allows you to see all the urban bus lines in the Annecy area with connections, complementary lines and local lines.
Open the map of the bus lines of Annecy.
How to get to the beach by bus?
In summer, from 29 June to 1 September, 2 free bus lines specifically serve the lake beaches with a frequency of one bus per hour between 10am and 8pm.
Left bank of the lake (line 1) : Annecy Gare Routière – Marquisats – Sévrier – Saint-Jorioz – Duingt
Right bank of the lake (line 2): Annecy Gare Routière – Albigny – Veyrier-du-Lac – Menthon-Saint-Bernard – Talloires-Montmin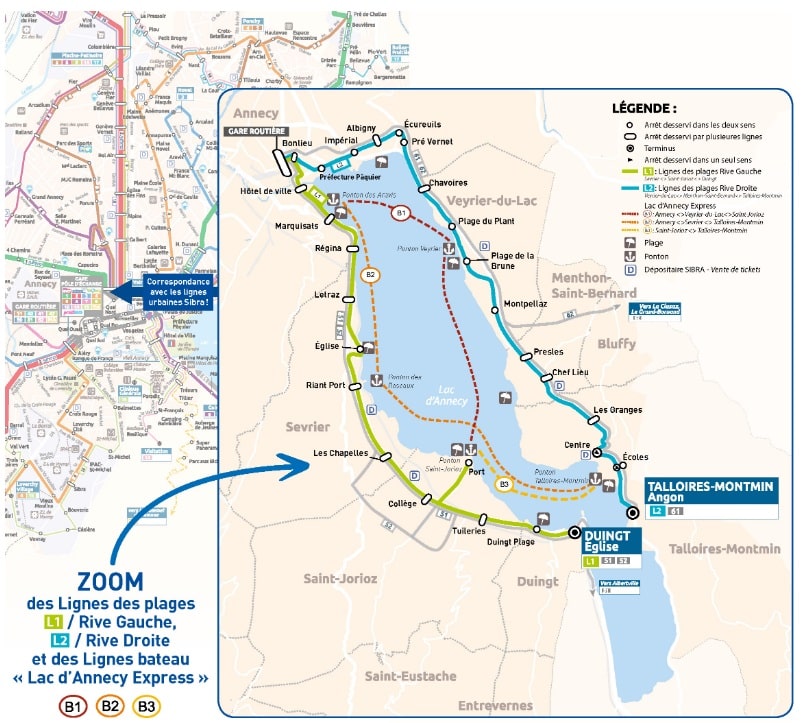 For more information: The beaches of Lake Annecy
Car-sharing
A car-sharing service allows you to use a car on demand for a few hours or a few days. 15 stations are available in Annecy. Reservation and payment are made from your smartphone.
More information on: citiz.coop
The gyropode or segway
This is an innovative and silent way to discover Annecy and its lake. It is a two-wheeled electric vehicle, with one seat. You stand upright, which allows you to admire the landscape and ride on the pavements. The segway is available for hire in small groups accompanied by a guide.
The electric scooter
From spring to autumn, several private companies offer free floating. This means that, as in many large cities, you simply take a scooter, use it and put it down. The speed of the scooter in Annecy is deliberately reduced when you are in a pedestrian zone. You can of course use your own electric scooter, which is a practical way of discovering Annecy.
Buses
There are many express bus routes from the Annecy bus station to the Aravis mountains and the towns around the lake.
Lake shuttles
This mode of transport will help you avoid the long traffic jams during the summer period. Available in the summer, they allow you to link different destinations around the lake:
Annecy
Veyrier-du-Lac
Saint Jorioz
Talloires-Montmin
3 boat lines are available to allow you to reach the beaches around the lake easily:
Line B1: Annecy – Veyrier-du-Lac – Saint-Jorioz
Line B2: Annecy – Sevrier – Talloires-Montmin
Route B3 : Saint-Jorioz – Talloires-Montmin
Updateof 31/03/2022: This shuttle service is suspended for the summer of 2022. It will be available again in 2023.
Private lake taxi services are also available for quick, tailor-made trips. The price can be attractive for groups of 10 people.
Taxis and cars with drivers
You can hire a taxi or a car with driver with our Annecy taxi guide.