Annecy and its lake offer all water lovers a real experience with its many beaches of all types, which welcome swimmers from May to October (for the best summers).
Many ways to swim
Lake Annecy is the ideal place for swimming in Haute-Savoie, along with Lake Geneva. There are many beaches, both free and paying, available to the public, and the three swimming pools in the town of Annecy are public. If you like to swim in the river, the Fier is a river that runs through many of the communes in the Annecy basin, offering you countless places to swim from June to September. For some years now, more and more people have been swimming in the river all year round, even though the lake water does not exceed 5°C in winter. It is necessary to be in good physical condition and not to swim alone outside the summer period.Important: only the public beaches of Annecy are supervised by lifeguards during the summer period. During the summer, the lake is frequented by many boats (motorboats, paddles, pedalos, rowing boats, kayaks and sailing boats). If you swim away from the shore, you should be particularly careful. Outside the beaches, there are many places where you can swim. However, they are not supervised and may present risks depending on their environment (boats, regulations). Find out here about the swimming opportunities available to you in Annecy, whether you are a resident or a holidaymaker.
Lake Annecy
The beaches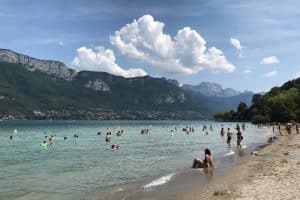 The lake and beaches of Lake Annecy are the ideal place for swimming in Haute-Savoie, along with Lake Geneva, and there are many beaches, both free and paying, available to the public. The water temperature of the lake reaches 24°C, which makes swimming very pleasant, especially in hot weather.
Marquisats beach in Annecy.
Plage de l'Impérial in Annecy.
Beach of Albigny.
Beach of Veyrier-du-Lac.
Beach in Menthon-Saint-Bernard.
Beach of Talloires.
Beach of Angon.
Beach of Duingt.
Beach of Doussard.
Beach of Saint-Jorioz.
Beach of Sévrier.
Moreover, Lake Annecy is considered as the purest lake in Europe. Numerous water activities such as sailing, paddle, diving, water skiing and pedalos are available at the beaches. Want to know which is the best beach in Annecy?
Take a tour of the lake: The beaches of Lake Annecy.
Swimming from a boat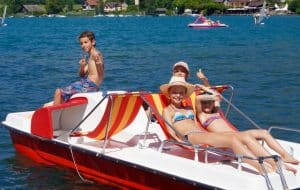 During your holidays, you can hire a boat, a paddle or a pedalo from the many professionals who offer these services on the shores of Lake Annecy. You can take advantage of this to swim in less frequented places by dropping anchor at the edge of the banks.
Places where it is forbidden to swim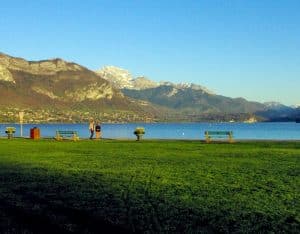 The protected area of the national nature reserve at the end of Lake Annecy is strictly forbidden to swim. Checks are frequent. In Annecy, swimming is prohibited from the Pâquier, the Jardins de l'Europe and the Pont des Amours (jumping from the bridge is also prohibited). Swimming is not permitted in any of the lake's ports.
Swimming in the river near Annecy
Any unsupervised swimming is done at your own risk, we recommend that you exercise the utmost caution and respect the local bylaws if you wish to swim in a river near Annecy.
The Fier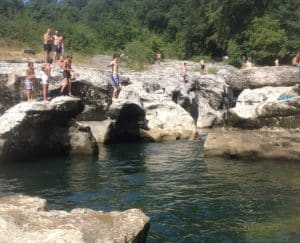 If you like to swim in a river, the Fier, a river which crosses many communes in the Annecy area, offers you numerous places to swim from June to September. The water is cooler than that of Lake Annecy. With the fine weather and the sometimes scorching temperatures, tourists as well as locals can be found bathing in the Fier. However, swimming is not officially permitted. There is no supervision, the current can be strong and flash floods can occur in the event of a storm.
The Thiou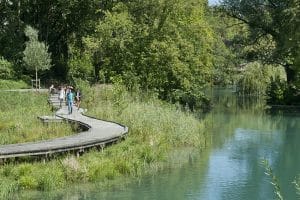 This emblematic river of the city crosses Annecy through the Old Town and then separates the communes of Cran-Gevrier and Annecy. The current of the Thiou is often powerful during floods and storms. Swimming is therefore prohibited.
The Fillière
The Fillière is a small river which invites you to go for a walk and to fish. Swimming is possible in some places. In this river, swimming can be dangerous, as there is no surveillance and the water can rise quickly in case of storms.
The Chéran
On this river near Annecy, swimming is prohibited because of the low water temperature, the lack of facilities and the incompatibility with fishing, which is very popular.
Swimming pools in Annecy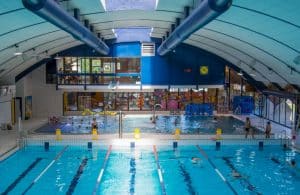 Discover the three swimming pools of the Annecy agglomeration, including two covered pools open all year round.
Jean Régis indoor swimming pool at Les Fins in Annecy
Piscine des Marquisats in Annecy (this facility is currently closed, as it is being renovated).
Ile Bleue indoor pool in Seynod
For more information on public swimming pools: Swimming pools in Annecy
Water parks in Haute-Savoie
The department has many winter sports resorts, which have quality aquatic and wellness centres. Around Lake Geneva, the most beautiful aquatic complexes allow children and adults alike to spend a beautiful day in the water in all seasons. Find out more: Water parks in Haute-Savoie
Vitam Parc: the closest to Annecy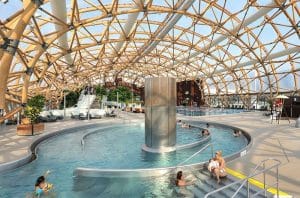 This private water park is open all year round. Located 20 minutes from Annecy, close to Geneva via the motorway, it allows you to swim all year round thanks to the various heated pools.
The park is composed of :
An indoor water park: with a 25-metre swimming pool, a 500 m² outdoor and indoor balneo pool with water at 33° C, a round current course with a central whirlpool zone, 5 giant slides classified according to their sensation levels and a fun paddling pool.
An indoor water park: for the summer months, the outdoor area will be expanded with 4 more maxi slides, a second paddling pool for children under 6 years old, a lagoon pool with waterfalls, jets and bubbles, green areas with deckchairs and a range of restaurants and snack bars.
The aquatic centre is integrated into an area that offers sports facilities (fitness, climbing, squash, badminton) and a shopping centre with restaurants and a hotel. Prices depend on the time you wish to spend in the park.Opening hours: Monday, Tuesday, Thursday, Friday from 12 noon to 8 p.m. and Wednesday, Saturday, Sunday from 10 a.m. to 8 p.m.Address: 500 route des Envignes 74160 Neydens.