Lake Annecy and its many rivers are the ideal playground for water-based activities. Here are some of the activities you can try out in Annecy and the Haute-Savoie region in general.
Rafting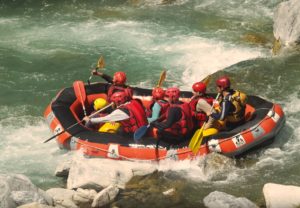 Rafting is a white-water sport practised in the rivers of Haute-Savoie and Savoie, with descents classified by level. Thrill-seekers will be delighted to try this activity. It's important to know how to swim. You should also be in good physical condition.
Find out more: where can you go rafting around Annecy?
Canyoning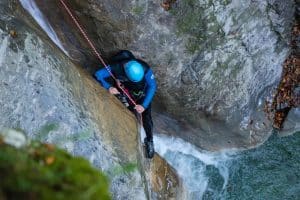 Canyoning is a thrilling white-water sport. The idea is to descend torrents, waterfalls, natural slides and jump into the water. Nature near Annecy is very generous, offering magnificent canyons in which to discover this sport. Thrills guaranteed, but always in safety.
Find out more: canyoning
Canoeing and kayaking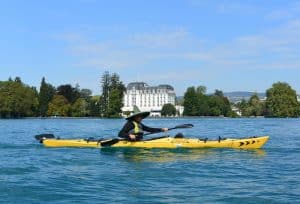 To discover the reed beds and wildlife of Lake Annecy, such as ducks and swans, there's nothing better than a kayak, which is silent so you can approach it unobtrusively. You can paddle on Lake Annecy alone or with others and discover the Roc de Chère Nature Reserve directly from the water. Unique views guaranteed.
Find out more: canoeing and kayaking
Rowing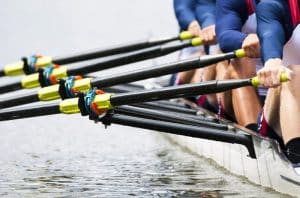 This all-round sport is a great way to keep fit while discovering the shores of Lake Annecy. You can join a rowing club.
Rowing is also very popular on Lake Aiguebelette and Lac du Bourget, where competitions are regularly organised.
Find out more: rowing
Dragon Boat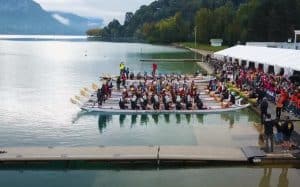 Dragon Boat is a team sport. It comes to us directly from China, as can be seen from the boats themselves. They can accommodate up to 20 paddlers. They are accompanied by a coxswain and a drummer. Every year, a competition is held on Lake Annecy.
Find out more: Dragon Boat
Paddle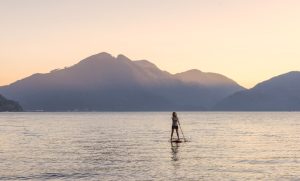 This new sport lets you paddle along the shores of Lake Annecy and other bodies of water in the region. All you need is a little balance and good weather, and you're in business. Paddles are available for hire all around Lake Annecy. We recommend going out early in the morning, when the lake is still asleep.
Find out more: stand-up paddling
Water skiing and wakeboarding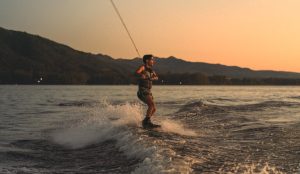 Quite easy to get into, water-skiing offers some great thrills. The only requirement is that you know how to swim. There are plenty of hire companies around Lake Annecy. Wakeboarding, a recent discipline, is also worth discovering on Lake Annecy. This cousin of snowboarding is a very popular board sport.
Find out more: water skiing and wakeboarding
Kitesurfing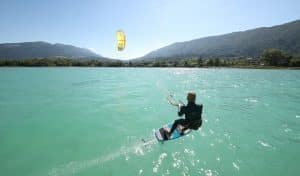 This recent sport is practised with a board towed by a sail. It requires a lot of wind and excellent physical condition. You'll see kitesurfers on Lake Annecy and also on Lake Bourget. It is compulsory to wear a lifejacket when kitesurfing.
Find out more: kitesurfing
Fishing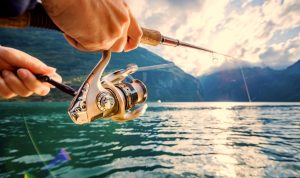 During your holiday, you can try your hand at fishing on Lake Annecy and the many rivers in the region. If you're already an angler, this is your chance to discover fishing in Haute-Savoie. But be warned: you'll need a fishing licence to get started.
Find out more: fishing
Diving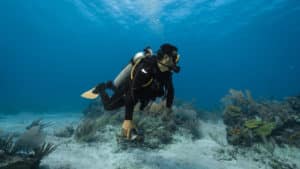 There are many diving clubs around Lake Annecy. These are real enthusiasts who will offer you either a first dive or a chance to discover the most beautiful spots on Lake Annecy. Once underwater, you'll discover the biodiversity of Lake Annecy, as well as the wrecks of ancient boats.
Find out more: diving
Sailing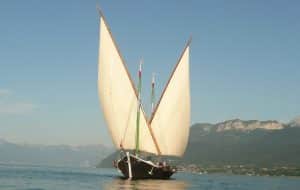 Lake Annecy is a magnificent playground for sailing enthusiasts. The wind is often present and makes for some great regattas. Sailboats, catamarans, dinghies, optimists, windsurfers – you've got a wide choice. All you need to do is get in touch with a service provider to find the formula that's right for you.
Find out more: sailing
Pedalos and motorboats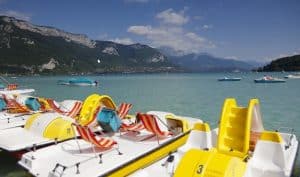 Hiring a pedalo or motorboat on Lake Annecy is a great way to have a good time and swim in pristine waters, far from the beaches. You can also enjoy the sunset over the lake, especially if you hire a boat. Here's a tour of the places where you can hire these boats.
Find out more: pedalo and boat hire