Do you need a taxi to travel to or from Annecy or any other town in the Haute-Savoie department or the region? On this page you will find a selection of taxi companies and independent taxis that can help you and pick you up in and out of the department, from a railway station or airport, such as Annecy, or from the international airports of Geneva, Chambéry or Lyon.
Annecy: a wide range of services
Whether for private or business travel, by car, minibus or motorbike, find a taxi driver who will take you where you want to go for trips to Annecy Geneva, Annecy airport or the lakeside in the direction of the resorts or a station, bus or coach stop. Remember to book your journey if you know in advance and check the rates before taking the taxi.
Allego, VTC company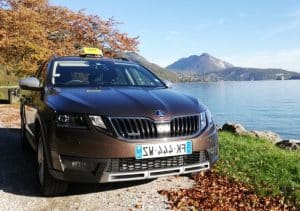 Allego, a VTC company in Annecy, has specialised in passenger transport since 2011. The aim of this human-sized company is to offer its customers a service that is as adapted as possible to their needs. In the interests of ecology, Allego uses hybrid vehicles. The company has also joined 1% For The Planet in 2019.
From train stations, airports or from your accommodation, Allego will drive you to Annecy, Geneva or even to ski resorts such as La Clusaz, Le Grand Bornand and Courchevel. The advantage? The knowledge of the Annecy area and its traffic conditions by the Allego drivers. No doubt they will find the best route for you.
Contact: 04.50.11.18.48 or contact@allego.fr
Taxi Annecy
Annecy taxis offer you a 24/7 service throughout the department and beyond. They can pick you up from Annecy station or airport and take you wherever you want to go, ski resorts, tourist sites, etc. A total of 19 taxis are available to travellers with many possible services: payment by credit card, medical transport, air-conditioned cars, saloon or minivan, reservation possible, free estimate.
Contact: 04.50.45.05.67
Annécienne de Taxis et Transports
Established in the area since 1999, this taxi company has top-of-the-range vehicles to facilitate travel for individuals and professionals throughout the region and ensures minimum waiting time. These taxis can pick you up or take you to the region's train stations and airports, as well as to the ski resorts of Haute-Savoie, Savoie and Isère.
Contact: 06.32.48.32.43
Taxis 74
Taxis from Annecy and throughout the agglomeration on a simple call, but also other more specific offers reserved for professionals or those who wish to go to the department's ski resorts. Note that they also offer VSL taxis for people who are ill and need to go somewhere.
Contact: 06.64.12.58.66
Aero taxi Annecy-le-Vieux
Aero taxi Annecy-le-Vieux, a company established in the Annecy area since 1999, offers transfers for people (private or professional) and for the sick from the department's stations and resorts, as well as from Geneva airport. The company offers taxi and minibus journeys, as well as excursions and shuttles, seminars and conventions. The company can be contacted 7 days a week, 24 hours a day, and taxis are available at any time upon reservation.
Contact: 04.50.08.08.90