Annecy has an airport dedicated to business and leisure aviation called Annecy Mont-Blanc. It is located nearÉpagny Metz-Tessy. Let's take a look at its history, its evolution and its environmental policy.
The history of the airport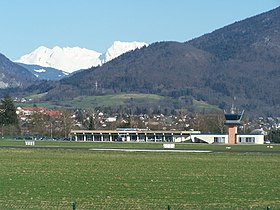 The Haute-Savoie Aero Club was created in 1930. In 1945, the American army built a runway and barracks there to allow war planes to make rotations.
Until 2007, this infrastructure hosted a main line which was then dedicated to serving Orly airport in Paris. Most of the passengers were executives from companies in Annecy.
In January 2007, the Haute-Savoie Departmental Council acquired the airport, which was named Annecy Mont-Blanc. Since 1 January 2022, the airport has been operated by Vinci under a public service delegation agreement. The airport operator, aware of the environmental issues at stake, has since deployed an investment plan that includes the ecological aspect.
The airport's environmental policy
Faced with the new challenges of sustainable development, the airport operators are obliged to propose solutions. Since Vinci took over management, a €10 million investment plan has been launched to work towards sustainable development and reduce CO2 emissions.
Accelerating the structure's environmental transition
Co-financed by the Department, its objective is to accelerate the structure's environmental transition.
In concrete terms, this approach should result in
A thermal renovation of the terminal building

Investment in electric runway equipment

The creation of a photovoltaic plant

The replacement of the lighting by LEDs on the entire platform
The objective remains to achieve Net Zero Emissions by 2030 at the latest. At the same time, biofuels are being promoted and charging stations for electric vehicles are to be installed.
Protection of fauna and flora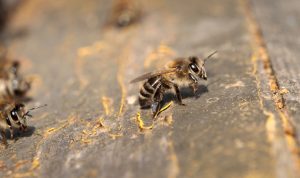 In order to develop biodiversity and help protect the fauna and flora of the site, three beehives have been installed at the airport. The honey production, estimated at 20 kg per year, is not marketed.
The airport also works closely with local farmers who maintain the 70 hectares of land within the structure.
Activities at Annecy Mont Blanc Airport
Annecy Mont-Blanc Airport operates through two main activities: business tourism and flight training coupled with first flights.
Business tourism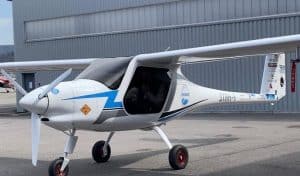 Annecy Mont Blanc Airport is mainly used for business tourism. This sector currently represents 10% of traffic in France and 2.6% of world traffic.
On average, it is said that business aviation saves 2 hours of work and an average of €2,840 in additional productivity gains for each trip.
Located in an attractive area and thanks to its strategic position, Annecy airport offers rapid access to the major companies in the Greater Annecy area. It is also in close proximity to Switzerland.
First flights and flight training
Learning to fly a plane or any other flying machine is possible. Indeed, many clubs and companies are located near Annecy airport. Here are the main ones.
Avialpes: you can enjoy a tourist flight over the Alps, but also choose to train to fly. This company, aware of the importance of taking environmental issues into account, was the first of its kind to acquire a totally electric aircraft in March 2021. A way to

Aéroclub d'Annecy Haute-Savoie: this local club allows you to discover, learn or improve your skills in flying an aeroplane or microlight. The first flights will give you the opportunity to admire Annecy and its lake.
Alpes Hélicoptères: this helicopter training centre also offers tourist flights, as well as private flights.
Héli-club des Alpes: Helicopter flying lessons.
Réseau de sports aériens: this national structure allows you to learn how to create and maintain an aircraft.
Wilco Fight Club: this company organises first flights, but also flight training. Once you have been trained and have obtained your diploma, you can rent a microlight.
Practical information
Annecy Mont Blanc Airport is located at 8 route de Côte Merle – 74370 Épagny Metz-Tessy. It is open every day of the week, from 8 a.m. to 7 p.m. Tel: 04.50.32.23.32 Official website: www.annecy.aeroport.fr