There are many restaurants in and around Annecy. They offer a variety of culinary experiences. We present the main ones to you, under various categories. Quality gustatory moments guaranteed!
The best restaurants in Annecy
There is no shortage of restaurants in Annecy. Some are particularly appreciated by customers for their value for money, but also and above all for the culinary experience that is offered. We suggest you discover the best restaurants in the city.
Tête de Cochon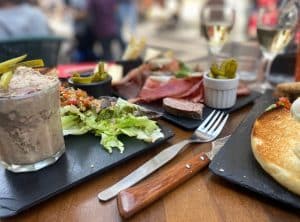 Tête de Cochon is located at 5 rue Sainte-Claire, in the Old Town of Annecy.
You can enjoy healthy French cuisine made from fresh products.
Customers praise the warm welcome of the owner and waiters, as well as the good value for money.
Racines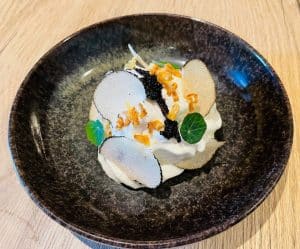 Racines is a bistro that will immerse you in a family atmosphere. It is located in a quiet place, 8 passage des Bains, in Annecy.
The young owners put forward good products from the French soil.
It must be said that the chef is none other than the former second-in-command of l'Esquisse, a Michelin star. The opinions on Racines are unanimous.
Le Bistro du Rhône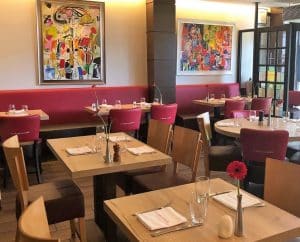 The Bistro du Rhône is located at 13 avenue du Rhône, in Annecy. It has been open since 1997. You can eat on the spot or take your meal away.
The place is popular with the people of Annecy, so don't forget to book your table before you come. A menu is prepared each season.
Cozna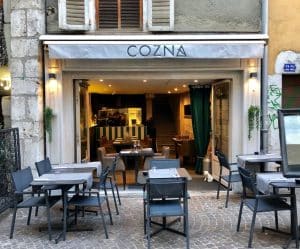 Cozna, which means "kitchen" in Savoyard dialect, is a restaurant that you will find at 22 Faubourg Sainte-Claire. Judged excellent by the customers, the owners propose a traditional cooking highlighted by a Michelin Bib Gourmand.
Before opening Cozna, Sandra and Léo worked with Yannick Alléno and Frédéric Robert.
Elsewhere than here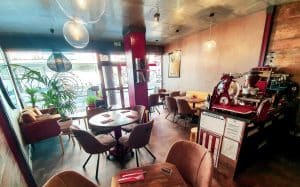 You will find Ailleurs qu'Ici at 48 rue Sommeiller. You will enjoy original, tasty and home-made world cuisine.
The establishment also has a grocery shop and offers cooking classes. The aim of the chefs is to awaken the taste buds of their customers.
Annecy's starred restaurants
Annecy and the surrounding area also have starred restaurants. We suggest you discover them here. If you want to try one, remember to book well in advance, as these establishments are particularly popular.
L'Esquisse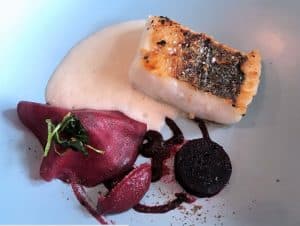 The restaurant l'Esquisse, a Michelin star, is located at 21 rue Royale in Annecy. This friendly and convivial place will seduce you.
The cuisine is made from local products. It is both rich in taste and colour.
La Rotonde des Trésoms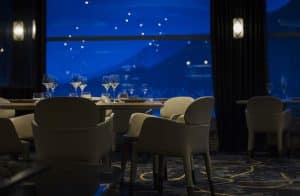 La Rotonde des Trésoms is located at 15 Boulevard de la Corniche. The restaurant offers a beautiful view of Lake Annecy and has a Michelin star.
If you are a food lover, you will enjoy refined dishes made from sustainable agriculture products.
Le Clos des Sens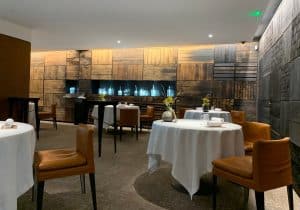 If there is one address that cannot be ignored in Annecy-le-Vieux, it is the Clos des Sens.
The three-starred restaurant is located at 13 rue Jean Mermoz.
You will enjoy a lacustrian and organic cuisine. A culinary journey like we don't experience every day.
Restaurant Yoann Conte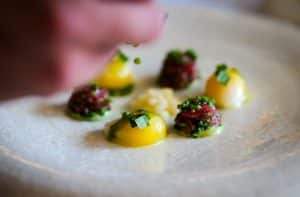 Yoann Conte's two-starred restaurant is located in Veyrier-du-Lac.
The chef has his own garden on the shores of Lake Annecy and offers his customers a cuisine that is both earthy and warm. Try it if you haven't already.
Restaurant Vincent Favre Félix
In Annecy-le-Vieux, at 15 chemin de l'Abbaye, you will find another starred restaurant. That of Vincent Favre Félix.
The chef proposes dishes cooked with finesse and subtlety, guided by Savoyard inspirations. In summer, you can enjoy the pretty terrace and the flowery garden.
Restaurant Jean Sulpice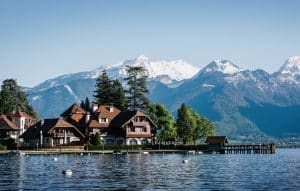 Finally, we suggest that you discover Jean Sulpice's two-starred restaurant.
It is located in Talloires, on the edge of the lake. The Auberge du Père Bise offers fine and gourmet cuisine. You can taste freshly caught fish.
You can also discover other gastronomic restaurants in Annecy and around the lake.
Good restaurants within easy reach
Le Denti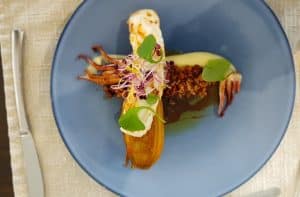 Le Denti is a small restaurant located at 25 bis avenue de Loverchy in Annecy. The owners propose a market cuisine and particularly value fish.
The restaurant has been awarded a Bib Gourmand. If you want to go there, please make a reservation.
1st Course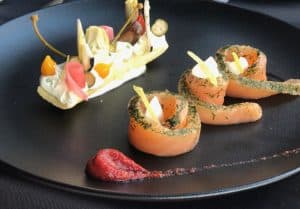 1er Mets is a family restaurant located in the heart of Annecy, place Saint-Maurice. The chef concocts seasonal dishes that are both modern and tasty.
A good address that we can only recommend to you and which has received a Bib Gourmand.
Minami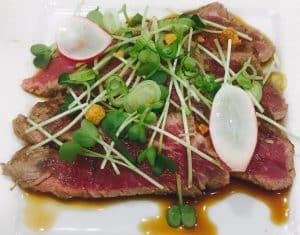 Minami is located at 19 faubourg Sainte-Claire. This restaurant, which is very popular with the inhabitants of Annecy, will serve you a wide range of Japanese specialities.
On sunny days, you can enjoy the few tables on the terrace.
The restaurant has been awarded a Bib Gourmand.
Ingalls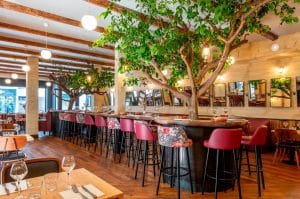 Ingalls is one of Annecy's must-visit restaurants. Opened in 2004 at 24 rue Vaugelas, it is a good table that remains accessible.
A French cuisine mixing tradition and new flavours is put forward by the chef.
The canteens of Annecy
Because we don't always have time to sit down in a restaurant at lunchtime, we suggest that you discover some of the canteens popular with the people of Annecy.
MAPP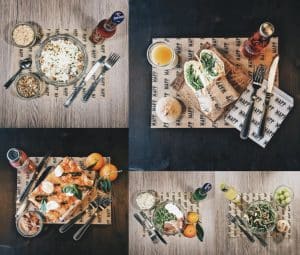 MAPP is an Italian restaurant concept. Created in 2016, the first establishment quickly became a success.
Today, 3 canteens are spread over the Annecy area: in Pringy, Seynod and Les Glaisins.
The cuisine offered is made from fresh products imported directly from Italy.
La Petite Cantine d'Ernestine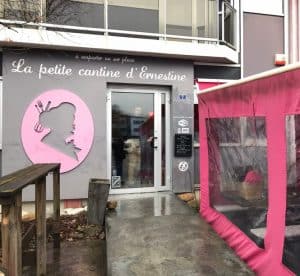 At 7 route de Nanfray, in Cran-Gevrier, you will find La Petite Cantine d'Ernestine. You can eat inside, outside or choose to take your dish away.
As part of an ecological approach, you can choose to bring your own container. You will save 0,50€ on the formula.
We recommend the chocolate and almond crumble tart for dessert.
P&Co, the seasonal counter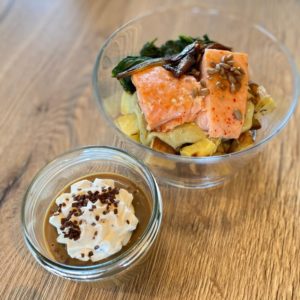 In 2016, Corentin and Perrine launched P&Co, the seasonal counter, at 78 route des Creuses in Cran-Gevrier.
On the menu, healthy and varied recipes. The menu changes every week and is adapted according to the season.
A little plus to know: the containers are returnable.
Kia Ora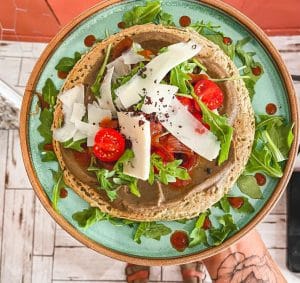 Finally, we suggest you discover Kia Ora at 13 rue de la Gare. You can have your lunch break there or choose to take your snack with you.
The place opened in 2018. Today, Kia Ora is well known. And if you don't have time to go during the week, you can always opt for the Saturday brunch.
Waterfront restaurants
Enjoying Lake Annecy is always pleasant. But why not combine this moment of relaxation with a good restaurant? Here are the ones we recommend to make the most of it and, why not, put your feet in the water.
The bistronomic restaurant of the Abbaye de Talloires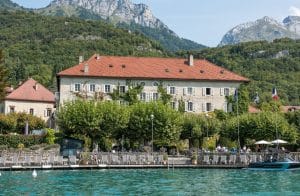 From June to September, you can enjoy the bistronomic restaurant of theAbbaye de Talloires. Facing the lake, you will taste dishes prepared before your eyes.
You can even extend the day by lounging in the deckchairs provided.
Irma Bocuse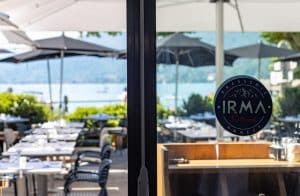 Irma Bocuse is a brasserie located near the Petit Port of Annecy-le-Vieux. From the terrace or the dining room, you can enjoy a view of Lake Annecy.
You can enjoy traditional dishes made with fresh and seasonal products.
Le Clos Marcel – Au Comptoir du Lac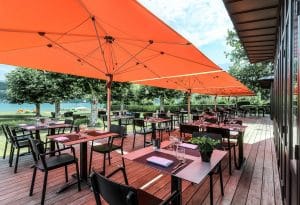 Le Comptoir du Lac is the restaurant of Le Clos Marcel. This contemporary bistro offers seasonal dishes.
In fine weather, you can enjoy the terrace and have the impression of eating with your feet in the water.
Chez ma Cousine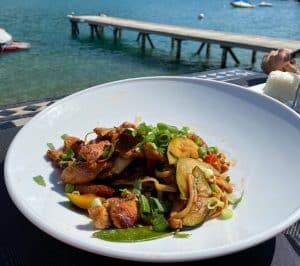 In Lathuile, you can discover the restaurant Chez ma Cousine. A restaurant in an idyllic setting, on the banks of Lake Annecy. A pontoon allows boats to dock.
This gastronomic brasserie offers refined dishes, which will delight your taste buds. The Chez ma Cousine restaurant is closed during the winter season.
Savoyard restaurants in Annecy
Talking about gastronomy naturally brings to mind local specialities such as tartiflette or raclette. We therefore suggest that you discover the restaurants in Annecy that offer local cuisine.
Chez Mamie Lise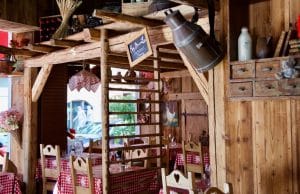 Chez Mamie Lise is the restaurant not to be missed at 11 rue Grenette. With its typical decoration, the establishment transports you to the foot of the slopes.
You can enjoy hearty dishes. Cheese lovers, get ready!
Le Freti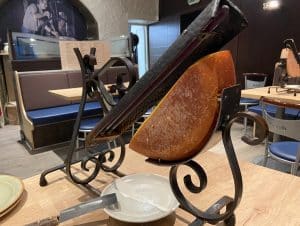 Le Freti is located in the heart of the Old Town, at 12 rue Sainte Claire. Opened in 1974, it has been bringing together raclette and fondue lovers ever since.
The cheese is matured directly on the spot. As for specialities, we recommend the Brisgotte, a warm crusty bread with a tasty cheese inside.
The Chalet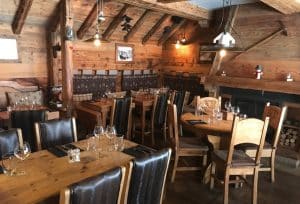 Le Chalet restaurant is located at 1 quai de l'Évêché, in the heart of Annecy's Old Town. The interior will remind you of the Savoyard chalets.
A fireplace will warm you up in winter, while you enjoy delicious local culinary specialities.
Le Ramoneur Savoyard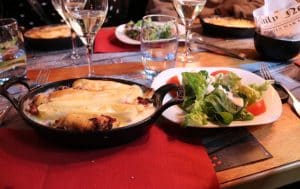 The Chevallay family, who run Le Ramoneur Savoyard, have been serving their cuisine since 1923. The restaurant is located at 7 rue Grenette.
On the menu, Savoyard specialities rethought with a touch of creativity. Don't forget to book your table.