To take advantage of the exceptional setting and visit the historic centre of Annecy, you can stay in magnificent 4-star hotels on the lakefront. Many of the hotels have swimming pools and offer fine cuisine.
Grand Annecy
Hotel Rivage & Spa Annecy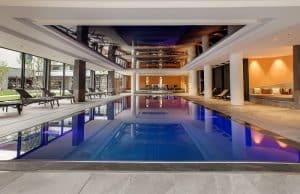 This beautiful hotel complex will open on 1 July 2021. It offers: 123 rooms including 2 penthouses, a fitness area, concierge service and a wide range of activities bookable online or on site. It has the largest Spa in Annecy on 1 000 m² with a Scandinavian sauna, a hammam, a balneotherapy pool and a relaxation area with a herbal tea room.From 201 € per room.
Mercure Annecy Centre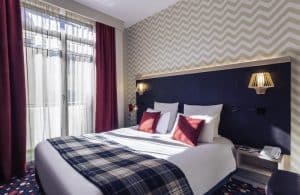 In the heart of the city centre and close to the train station, the Mercure will offer you a warm and friendly welcome and offers 39 rooms with TV and wifi internet. You will be in the heart of the city centre and close to the old town.From 131 € per night.
L'Impérial Palace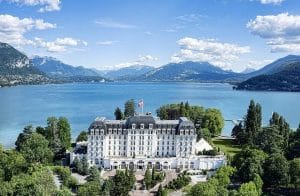 The Impérial Palace is one of the most luxurious establishments in Annecy! It has a casino as well as an excellent restaurant and a brasserie. The Imperial Palace has 91 rooms and 8 air-conditioned suites facing the lake. This hotel in Annecy has a spa and a swimming pool.From 303 € per night.
Le Pré Carré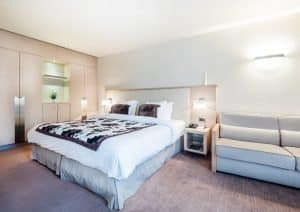 Located in the heart of the city centre, 250 metres from the lake, Le Pré Carré has 27 rooms and two flats, equipped with flat-screen cable and satellite TV, individual safe, air conditioning, minibar, internet and spa.From €239 per night.
Les Trésoms Lake and Spa Resort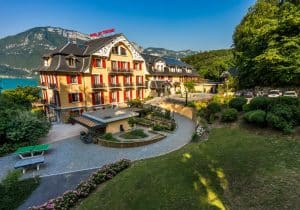 Located a few hundred metres from the lakefront at the Marquisats beach. Les Trésoms has two restaurants, a spa and is located at 3, boulevard de la Corniche. This hotel in Annecy features a swimming pool. Located in the Semnoz forest with a magnificent view of the bay of Annecy, it is the ideal starting point for beautiful walks in the forest.From 233 € per night.
Novotel Atria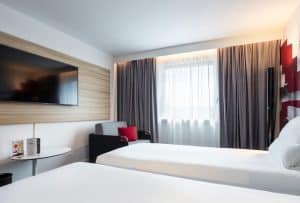 Adjacent to the Annecy TGV station, the Atria has 95 air-conditioned rooms, a restaurant, a bar as well as numerous conference rooms and an amphitheatre. The Atria also has a private garage for a fee.From €139 per room.
Le Pélican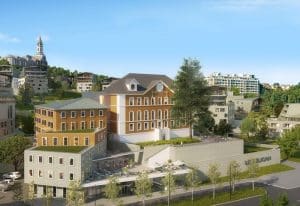 This magnificent hotel complex is located opposite Lake Annecy in the Marquisats district. It offers 101 rooms, a bakery, a dining cellar, an oyster bar, a brunch and DJ sets. It is also ideally located to discover the Semnoz mountain behind it.From 152 € per room.
Best Western Plus Hotel Carlton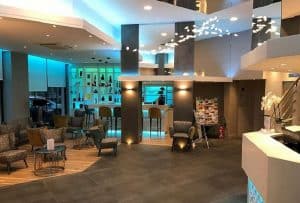 At 5 Rue des Glières opposite the train station, the Carlton welcomes you 400 metres from the lake in the heart of the city with 55 rooms, bar / café, television (cable and satellite), free Wifi, meeting room.From 107 € per night.
Apparthotel Adagio Annecy Centre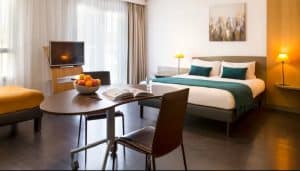 Just a 10-minute walk from the Old Town and the lake, next to Annecy train station, this tourist residence offers 104 fully-equipped flats. A sauna and a gym are available. Private parking is available for a fee, as well as a buffet breakfast.From 125 € per night.
West bank of Lake Annecy
Apparthôtel Annecy Concept Côte Ouest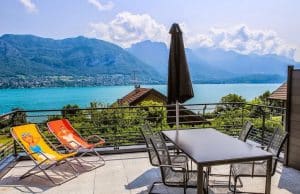 A passive hotel made of hemp and based on a new ecological concept, offering seven top-of-the-range flats. Located in Sevrier, just a stone's throw from the cycle track that runs around the lake. Services on demand: breakfast delivery, baby-sitting, home chef, fully stocked fridge, bike rental and many other tailor-made activities. We recommend this ideal concept for a successful holiday.95 € per flat.
Clos Marcel Hotel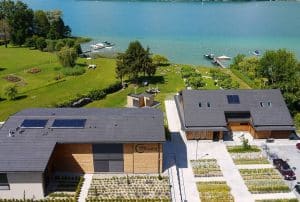 Located in Duingt, one of the most beautiful villages on the lake, next to the beach, this four-star hotel made of glass and wood offers 14 rooms. The superior rooms have an island bath. The suites offer a separate living space. A lakeside bar and restaurant with private beach, whirlpool and sauna complete the facilities. The restaurant "Le comptoir du lac" features local products, especially fish from the lake.From € 275 per night.
East bank of Lake Annecy
The Abbey of Talloires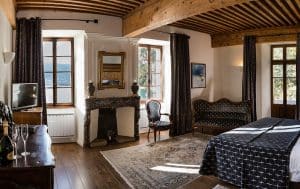 This historic site, which is over 1,000 years old, is now a luxury hotel with modern comforts. It is located in the centre of the bay of Talloires with a beautiful view of the lake and the surrounding mountains. A very high standard equipment: with a different decoration, a starred gastronomic restaurant, a brasserie, two terraces, a bar, a private pontoon and a new spa of 200 m².From 330 € per night.
Hotel Cottage Bise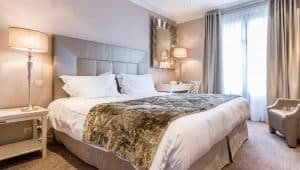 This hotel, located opposite the lake in Talloires, is run by the Bise family and offers 35 comfortable, air-conditioned rooms. You can swim in the heated outdoor pool, or relax in the spa. Many activities are proposed: hiking, boat tour of the lake.From 194 € per night.