To discover Annecy and its lake, you can choose accommodation in a 2-star hotel. For a reasonable price, you will be able to stay in good quality establishments.
Grand Annecy
Fasthôtel Annecy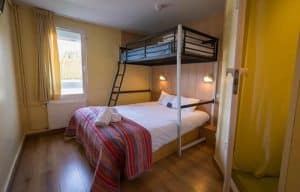 A comfortable and economical low cost hotel located in Seynod, a few kilometres from the centre of Annecy. 48 double or single rooms, triples with bathroom and TV, continental breakfast buffet, free private parking.From €57 per room.
Hotel Alexandra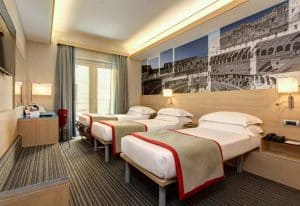 Located at 19 rue Vaugelas, in the heart of the city centre, a few steps from the lake and the old town, the Alexandra has 21 rooms with television, a restaurant, a billiard room and a car park from 6.30 pm to 9 am. The decoration is original.From €87 per room.
Hotel des Alpes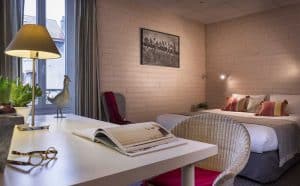 Located in the city centre opposite the train station and a few hundred metres from the lake, this hotel in Annecy has 32 rooms with telephone, television and high-speed internet access via wifi. Rustic atmosphere and wooden decor with a very nice outfit for this two-star establishment.From €78 per night.
Le Bellevue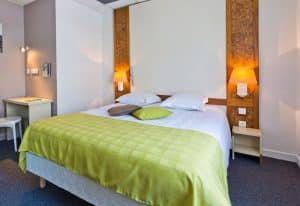 Located at 90 Avenue de Genève and open all year round, the Bellevue has a restaurant with a fine cuisine. With the Bellevue, you will have quick access to the city centre (10 minutes on foot) and also to the Annecy ring road.From 88 € per night.
Hotel du Nord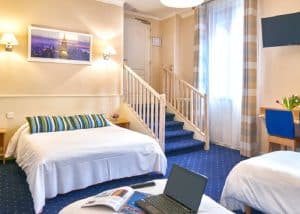 Located in the heart of the city centre at 24, Rue Sommeiller, the Hôtel du Nord offers 30 rooms, some of which are air-conditioned and all renovated in 2000. Open 24 hours a day, it also offers overnight parking.From €92 per night.
Ace Hôtel Annecy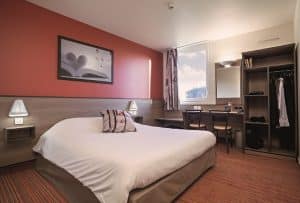 Located on the road to Aix-les-Bains in Seynod, this new hotel provides excellent comfort with 73 air-conditioned rooms. Private parking is free, and it takes 15 minutes to reach Lake Annecy. The family rooms can accommodate 4 people. Excellent value for money,from €51 per night.
Hotel du Château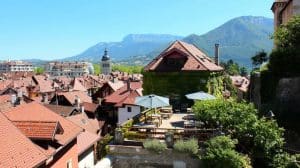 Opened in 1959 and located at the foot of the castle with a breathtaking view of the city's rooftops, it offers 16 rooms as well as a panoramic terrace and a car park. It is a strategic location to enjoy Annecy in summer as well as in winter.From 100 € per night.
Ibis Budget Annecy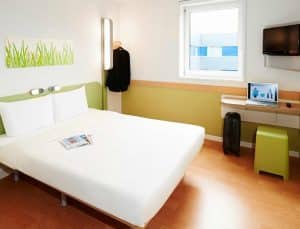 As always with this brand, excellent value for money. The decoration is certainly the same from one establishment to another. 49 double or triple rooms with breakfast in room and at will. The hotel has a garden. Located in Cran-Gevrier, it is a bit out of the way and so a car is essential to get to the city centre.From €57 per room.
Ibis Budget Poisy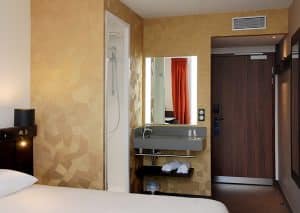 Located in the rural town of Poisy, 10 minutes from Annecy, this hotel offers the usual services: free WiFi, air conditioning and free parking. Good point, the reception is open 24 hours a day. The accommodation is also accessible to disabled guests.From €59 per room.
Icone Hotel Annecy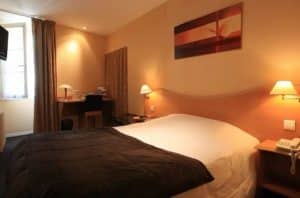 The hotel offers 25 double, triple and quadruple rooms in an old 16th century house. The location is convenient, you can enter the Old Town of Annecy 20 meters to the right. It is better to choose the rooms with a view on the courtyard which are quieter. Public underground parking is available nearby and costsfrom €69 per room.
Séjours et Affaires Annecy Le Pont Neuf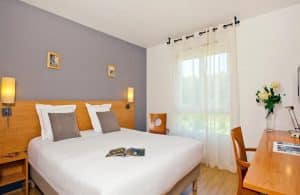 In a quiet area of Annecy, this hotel offers 15 flats with balcony, equipped kitchen and bathroom for independent living. Breakfast, cleaning, parking, laundry and parking. The proximity of shops and restaurants are appreciated, including the pizzeria La Romantica ranked N°1 for pizzas in Annecy.From 63 € per room.
Hotel Auberge Camélia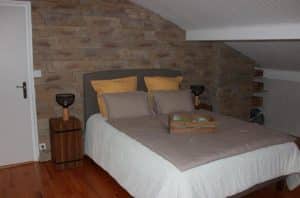 This hotel located in Aviernoz, 15 kilometres from Annecy, is the ideal starting point to discover the Plateau des Glières and to enjoy a sporty holiday. 10 comfortable rooms are offered with a terrace and a small, well-appointed lounge. It is a good value for money for a green family holiday.From €53 per room.
Centre Jean XXIII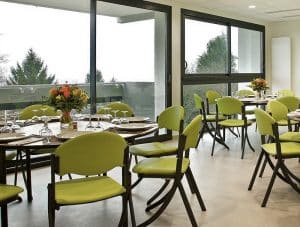 This establishment is located in Annecy-le-Vieux. It offers 73 rooms for one to four people, including triple and quadruple family rooms. The decoration is minimalist. The restaurant can seat up to 120 people and serves simple, quality cuisine. Rates The centre also offers seminars and spiritual retreats. We recommend it for its very quiet location,from €59 per room.
B & B Hotel Argonay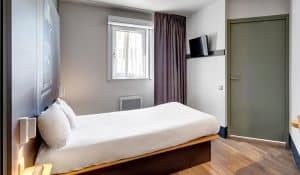 This hotel, renovated in 2020, is located in the commune of Argonay, ten minutes from Annecy. The ski resorts are about 35 minutes away. 69 air-conditioned rooms including 3 for disabled guests are offered with all-you-can-eat buffet breakfast, free Wi-Fi. Pets are allowed. A very practical and economical way to discover Annecy.From €45 per room.
West bank of Lake Annecy
Hotel Le Lac Bleu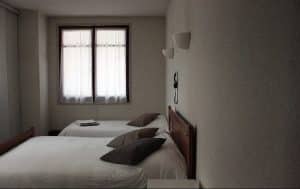 Located at the exit of Sévrier on the way to Saint-Jorioz, this family hotel offers 9 rooms equipped with bathroom, free Wi-Fi and television. There are two restaurants: "Le Lac Bleu" in bistro style and the "Ptit Savoyard" which serves good local specialities. We recommend its breaded reblochon with chips, salads or the very tasty fondue.From 54 € per night.
Hotel Résidel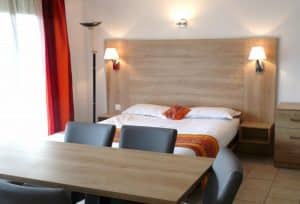 This establishment on the western shore of Lake Annecy, in Sévrier, offers rooms, duplexes and flats that can accommodate up to 6 people. For a family, it is a practical offer with a correct budget. Facilities: TV, free Wi-Fi, mini safe, balcony or terrace with a view of the lake or the Semnoz.From € 96 per night.
Hotel Auberge Le Semnoz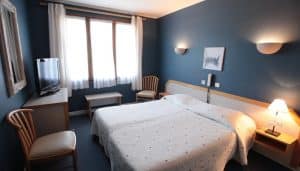 This hotel complex is located on the road to Saint-Jorioz which leaves Lake Annecy and goes into the Bauges massif. Parking is free of charge. An outdoor swimming pool and guided tours of the region are appreciated. A total of 43 rooms, breakfast in the dining room or on the terrace. Children free up to 9 years old and 50% off from 10 to 14 years old inclusive.From €60 per night.
Auberge Hôtel du Roselet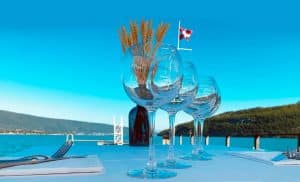 A beautiful inn located right on the water near the magnificent castle of Duingt. The rooms can be rented for a whole week with special conditions. The restaurant is famous for its fish from Lake Annecy caught by one of the two professional fishermen.From 95 € per night.
Bout du lac d'Annecy
Hotel Port et Lac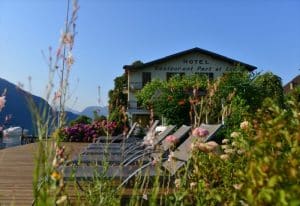 A small hotel right on the banks of the lake in Doussard with a magical view. Discover its 15 rooms including 8 double rooms with balconies, gardens and its large shaded terrace. The private beach allows you to enjoy the water. The restaurant prepares quality cuisine with fresh local seasonal products. Private parking. On site you have the possibility to rent a paddle and to take lessons in water-skiing and wakesurfing.From 55 € per night.
Hotel de Genève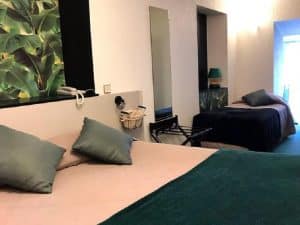 This former 19th century coaching inn is located in the centre of Faverges. Breakfast is served in a cosy room or on the south-facing terrace. Single to quadruple rooms are available for an economical rate. For the winter holidays, the resort of La Sambuy is 10 kilometres away.From €71 per night.
East bank of Lake Annecy
Villa Riva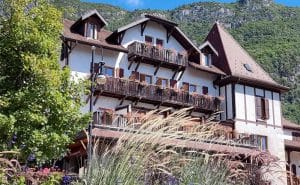 Ideally located in Veyrier with a magnificent view of Lake Annecy, this hotel is next to the church in the centre of the village. The rooms are decorated in a contemporary style. We recommend the restaurant for the finesse and the accuracy of the dishes offered. Wi-Fi is free of charge, as is the underground public parking. The rates are very reasonable for the setting and the services provided,starting at €99 per night.
Hotel de l'Edelweiss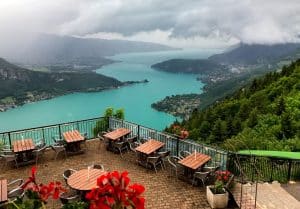 It's a bit of a climb to reach the Col de la Forclaz at an altitude of 1,200 metres. But it's worth the effort to discover a panoramic view of the whole of Lake Annecy. Not far away, there is one of the most popular paragliding take-off sites in Europe. The hotel offers 8 rooms and the restaurant serves traditional Savoyard cuisine.From €70 per night.
Hotel Les Acacias Bellevue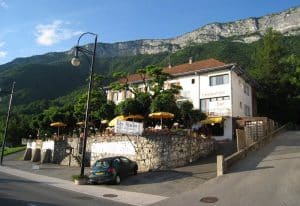 Located 10 minutes from Annecy, facing the lake, this family hotel has 18 rooms. The restaurant is certified Maître Restaurateur. The large shaded terrace is particularly pleasant in summer. The hotel is not accessible to disabled guests.From €69 per night.