For your holidays, you want to spend a unique night in an unlikely place. To keep an extraordinary memory of your visit to Annecy, there are unusual accommodations, often in the middle of nature, that we suggest you discover.
Choose an unusual accommodation in the Savoie
Sleeping in an igloo, in a trapper's chalet, our tourist guide offers you some ideas for unusual accommodation in Haute-Savoie.
The Hobbit's Lair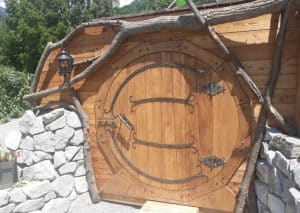 To live a moment out of time by immersing yourself in the universe of Tolkien and the landscapes of Middle-earth. This hobbit house, located in Saint-Martin-sur-la-Chambre in Savoie, offers a jacuzzi with a view of the mountains. Breakfast is included and pets are allowed. A hamper is available as an option upon reservation.
Cabane Feuille & Spa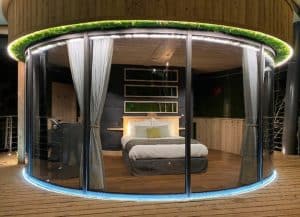 This cylindrical cabin is completely open to nature with a panoramic view of the village of Saint-Nicolas-de-la-Chapelle in Savoie and the Mont-Blanc. Equipped with a private Jacuzzi, you can take an electric staircase to the roof terrace. The architecture is truly innovative and worth the trip in itself.
Chéry Dôme & Spa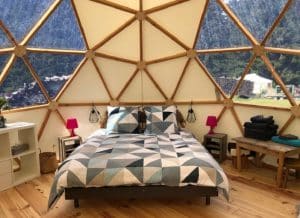 This accommodation is made up of two domes that can accommodate 2 to 6 people in the forest of Les Gets in Haute-Savoie. The equipment includes a trampoline, a brazier and a private jacuzzi. At night, you can admire the sky from your dome. Many activities are possible nearby: downhill skiing, snowshoeing, mountain biking.
La Lodge Wapi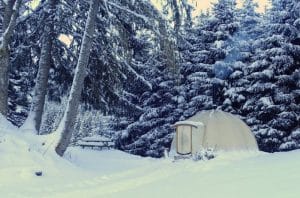 This traditional tent is located in the commune of Mont-Saxonnex above the town of Cluses. The Wapi lodge is spherical in shape and set in a beautiful pine forest. It is equipped with a large double bed and a wood-burning stove. We recommend this immersion in alpine nature. Breakfast and packed lunch are optional.
Le Refuge de Marguerite & Spa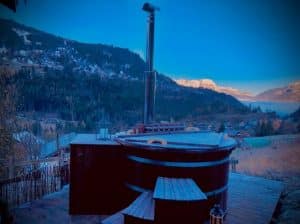 Located in Saint-Gervais, close to the Mont-Blanc, this refuge is the ideal place to recharge your batteries and relax in a typical Haute-Savoie Nordic chalet. The panoramic view of the village of Saint-Nicolas-de-Véroce is unique. You can also enjoy a private spa and a barbecue for your holiday. A "Délices des Alpes" meal is available as an option.
Le Saloon and Spa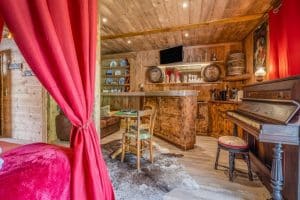 With this accommodation, you have the opportunity to stay in a saloon worthy of the Far West, but located in Haute-Savoie. On the programme: bar, games table, period piano and double canopy bed. The decoration is truly typical. For your modern comfort, a spa-jacuzzi is located on the terrace with a breathtaking view of the Alps.
La mine de Buck & Spa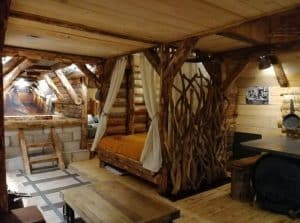 Based on the theme of the Gold Rush, you stay in a mine with top-class facilities. The toilet and bathroom are in the accommodation. This unusual accommodation has a surprise in store for you. Following the tracks, you can enjoy a private spa with a unique view of the sled dogs on the estate. The decoration is worthy of a Jack London book.
Le Chalet du Trappeur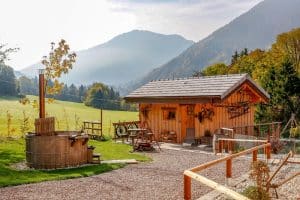 This concept allows you to spend a night in the alpine mountains, in a wooden chalet for 4 people, breakfast is included, as well as a private heated spa and sauna. The meal is delivered by a zip line. In winter, you can also take a dog sled ride and enjoy the beautiful mountain walks.
L'Altidôme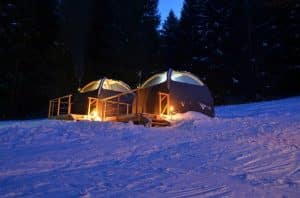 This accommodation offers an evening under the stars in the mountains in a 49 m² dome. This space can accommodate up to 8 people. Next to it, there are 2 overnight accommodations of 9 m². They are equipped with a panoramic roof. The area is at an altitude of 1,200 metres, so you should bring warm clothes.
L'Eco-Bivouac Village d'igloos du Semnoz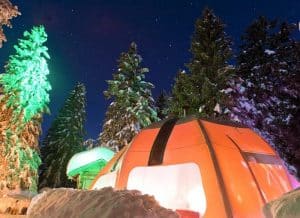 This is the same type of accommodation as above, with the possibility of spending nights in winter in real igloos. The place is located near Annecy, at the top of the Semnoz mountain. To discover the location, you need to make an appointment with the organiser to join the eco-bivouac.
La Cabane Nid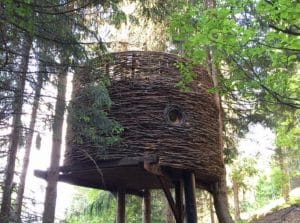 Located in Saint-Nicolas-La-Chapelle in Savoie, this hut has the particularity of having been braided by the branches of the trees of its forest. A private terrace of 30 m² is perched 10 m high. The four large bay windows reveal a magical panorama of Mont Blanc. A diffusing pellet stove provides a gentle heat.
Le Château de Thorens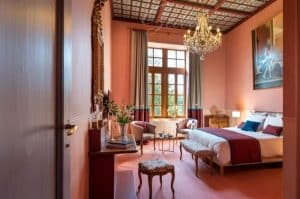 Have you ever dreamed of living in a medieval castle? It is possible at the castle of Thorens, with the staircase of the dungeon, you will reach your fitted out gîte of 66 m². The owners have lived here since 1602. A timeless experience in a 4-star accommodation that we recommend.
There are many other unlikely accommodations in the Annecy area that you will discover during your holiday.
Other types of tourist accommodation