La Tournette is the highest of the mountains bordering Lake Annecy. It culminates at 2 351 m. It belongs to the Bornes massif and separates Lake Annecy from the Thônes valley. Its characteristic armchair shape marks the Annecy lakeside landscape.
La Tournette in summer
There are three hiking trails available to you to climb La Tournette: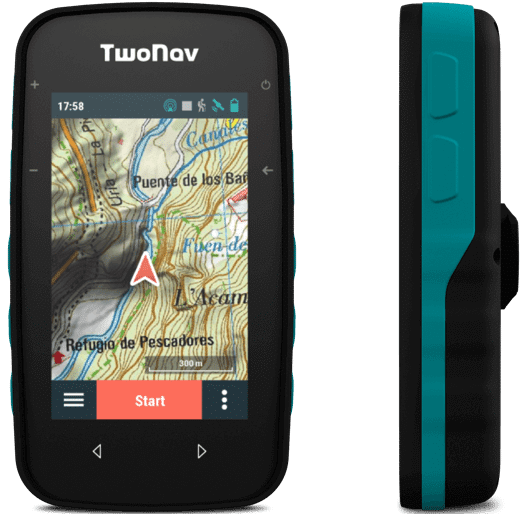 Starting from Les Clefs, it will take you 1 hour 30 minutes to reach the Rosairy refuge and then another 1 hour 45 minutes to reach the summit. And another 2 hours to get back down
From the Montmin valley at an altitude of 1,000 m, you will cross a difficult limestone terrain with numerous holes and lapiaz to reach the foothills of the Pointe de Bajulaz. The difference in altitude is 1,394 m, for a hike of 5 hours 30 minutes and 15 km.
From the Belchamp car park: follow the direction of the Rosairy chalet through pastures to a small pass that leads to the Fauteuil de la Tournette. The difference in altitude is 1,380 m, for a duration of 4 hours and a distance of 10.4 km.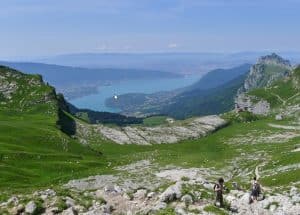 This rather difficult ascent requires a good level of hiking and a good physical condition. You should take enough water and good shoes. These excursions should be avoided after rain, as the path can be slippery. La Tournette is a mountain of interest to speleologists with 90 entries listed. The Praz d'heures network is the largest with 13 km and 1,148 m in depth. You can get closer to 3 caving clubs: La Tournette, Annecy and Saint-Etienne.
La Tournette in winter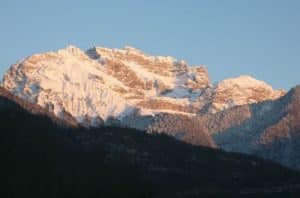 Only one path can be used in winter by snowshoeing or ski touring, it must start from Belchamp by the Rosairy refuge. It is preferable to be accompanied by a guide and never to leave alone. It is advisable to start around 8 am to park more easily. The sun is strong on this side and the effort is less severe at this time.
You should take the summer path at the beginning, then at the Rosairy refuge follow the north-facing slope towards the south. Watch out for the two holes that need to be marked for the descent. Afterwards, you have to cross to the foot of the chair. Continuing on foot following the red arrows, you reach the summit with a passage with metal ladders and chains. Crampons and ice axe are recommended. The return on skis is by the same route, either by going north-east between the cliffs.
To take in your bag: a pair of poles, sunglasses, hat, sun cream, bandages, binoculars, headlamp, map, telephone, handkerchief, water and cereal bar.
The fauna of La Tournette
This mountain is home to many animals from the Northern Alps, typical of the fauna of Haute-Savoie, which you will come across during your hike: marmots, mountain goats and ibex. The latter regularly trigger rock falls that require careful attention.
4K video of the Tournette climb