The Saint-André fair is held every year in Annecy on the first Tuesday of December. This event attracts a large public and allows you to make good deals before the end of the year celebrations.
A historic fair for 500 years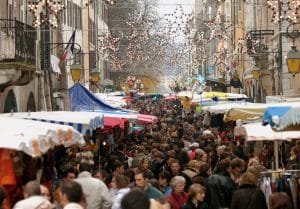 The Saint-André fair has existed since the Middle Ages. In previous centuries, it allowed the inhabitants of the countryside and mountain villages to come and buy various products that were not available during the rest of the year. Hundreds of itinerant traders used to animate this fair before the onset of winter.
At the same time, you can also visit the Alpine Christmas in Annecy.
Location and tips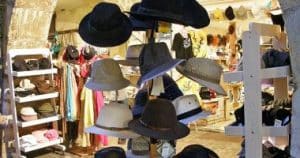 Today, this event remains a great success with more thana thousand stands all over the city. Thousands of visitors come to the fair. The Saint-André fair is located in Annecy's pedestrian zone, the Old Town, and continues along part of the sides of the Avenue d'Albigny near the Pâquier.
It represents more than 5 kilometres of stalls. You will find clothes, shoes, blankets, kitchen utensils, gadgets and take-away food at the fair. We advise you to come on foot or by public transport to avoid parking problems. The fair is open from 9 am to 7 pm.
Past editions
The 2022 edition
The 2022 edition of the Saint-André fair will take place on Tuesday 06 December in the centre of Annecy. For the occasion, traders will offer their products at discounted prices. Nearly 80,000 visitors are expected for this unmissable event.
The 2021 edition
The2021 edition of the Saint-André fair could be held on December 7, 2021, despite health restrictions. It was only necessary to wear a mask.
The 2020 edition
The 2020 edition was cancelled due to the Covid-19 epidemic.