In Annecy, it is possible to enjoy a good breakfast in a unique setting. Very trendy, brunch is an opportunity to share a good moment, while eating healthy and balanced food. Discover the best addresses in the lakeside city.
Brunch, a gourmet stopover
If we take the first two letters of the word "breakfast" and the last four of "lunch", we get the word "brunch". This type of meal comes straight from the United States. The concept? To have a snack that replaces breakfast, but also lunch.
A successful brunch is a meal with many preparations. The portions are small and served with tea, coffee or fresh fruit juice. It allows you to eat only once before dinner time. Depending on the country and the region of the world, the products and recipes offered are different. There are three rules for enjoying a well-balanced brunch:
As brunch is quite high in calories, fresh fruit and vegetables should be preferred, in salads, quiches, omelettes, juices or soups.
The portions should be small, so as to vary the pleasures and taste the many recipes. Another option is to eat brunch finger food, i.e. vegetable dips, mini-brochettes and wraps dipped in flavoured cottage cheese or melted chocolate.
Cereals and proteins should be chosen in favour of wholemeal bread, rye bread, muesli, eggs and white meat rather than cold cuts.
Good brunch addresses in Annecy
At the weekend or even during the week, it is possible to have brunch in several places in the city. We suggest that you discover the best addresses in Annecy to enjoy a moment of indulgence.
Pura Vida
A very nice address popular with the people of Annecy, at 2 avenue de Chambéry, to enjoy healthy food made from carefully selected ingredients. You can brunch from 9 to 11 am during the week and all day on Saturdays.
We recommend the delicious detox juices prepared with the centrifuge.Contact : 04.50.51.84.91
The Craic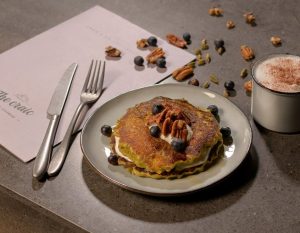 The Craic is located in the Novotel Atria hotel, at 1 place Marie Curie. You can enjoy a great brunch, with a choice of homemade waffles, sweet and savoury pancakes, avocado toast and acai bowl.
Excellent value for money for this address which deserves a visit. The large terrace in summer is a plus.
Contact: 04.50.33.54.54
Slake Coffee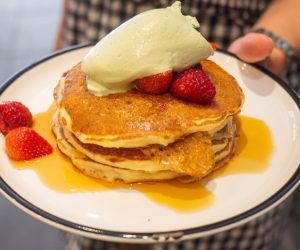 Slake Coffee has replaced the former Bicyclette Rose at 29 rue Sommeiller. Quality products are offered and you can access this establishment throughout the day.
Inspired by New Zealand, the owners have combined it with French culture. Ideal for weekend brunches. Continuous service from 8:30am to 2:30pm, 7 days a week.
Contact: 04.50.05.16.51
Kia Ora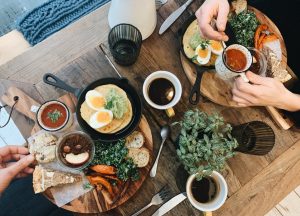 Kia Ora is located at 13 rue de la Gare. This must-see address for Annéciens offers brunches every Saturday between 11am and 1pm.
The formula, if it is unique, is also available for vegetarians. And for those with a sweet tooth, don't forget to try the cookies!
Contact: 04.50.63.06.77
SØ Kaffe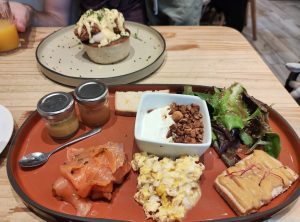 SØ Kaffe is an establishment offering Danish brunches at 34 rue Sommeiller. Everything is homemade and the menu changes according to the season.
You can enjoy delicious avocado toast, but also pancakes or homemade granola.
Contact: 04.50.63.09.91
Punch
At 4 rue de la Paix, you can enjoy delicious brunches, from 10am to 5pm on weekdays and from 9am to 5pm at weekends. The restaurant closes on Tuesdays.
Whether you are vegetarian, gluten free or otherwise, you will always find something to brunch on at Punch.
Contact: punchannecy@gmail.com
Colombus Café & Co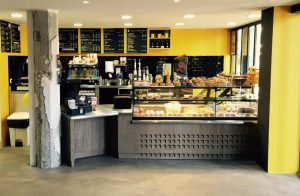 Colombus Café & Co is located at 8 quai Eustache Chappuis, opposite the Pâquier. You will enjoy the cosy space and can even work in the connected workshop, located on the first floor of the establishment.
The Colombus Café & Co is open every day from 7.30 am to 7 pm.
Contact: 04.56.20.41.51
Les Gourmandises d'Alex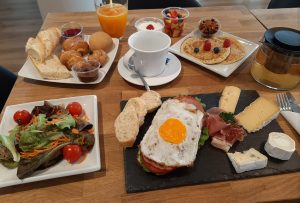 At 4 allée Marie Paradis, you can enjoy Les Gourmandises d'Alex. And every Saturday, it's brunch party. You can share a convivial moment in the tea room.
You can even book your brunch during the week, so that you can enjoy it directly on the spot.
Contact: 09.53.29.29.20
Le Tanoué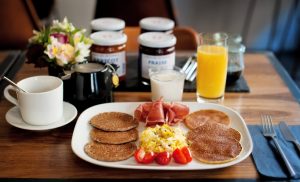 You can enjoy Le Tanoué in two locations in Annecy: 3 rue de la Paix, in the city centre, or in the Nouvelles Galeries, at 25 avenue du Parmelan.
The crêpes are excellent and we can only recommend the brunch at the establishment.
Contact: 09.81.88.83.50
Inspiration 212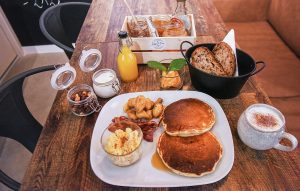 Inspiration 212 is an establishment located at 2 avenue de Genève. You can have brunch there, but also get a tattoo. This is what makes the place so special.
Open every day except Tuesday from 8:30 am to 5:30 pm on weekdays and until 6 pm on weekends.
Contact: 04.80.48.06.09
Bruncher in the Old Town of Annecy
Brunchering in Annecy's Old Town can only be pleasant. Early in the morning, as the city slowly wakes up, you can enjoy the streets that are not overcrowded with tourists. And take the opportunity to stroll along the Thiou before having your brunch.
Bar Roux d'Heure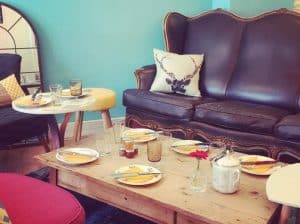 The Bar Roux d'Heure, located at 8 rue de la Filaterie, offers hot drinks, fresh orange juice, gourmet sandwiches, a smoothie bowl, a dish of the day and a caramel pancake. The bohemian decoration, with large armchairs, is very successful. You will appreciate the shaded terrace under the arcades of the Old Town.
Open from 9.30 a.m., no reservations possible on Saturdays.Contact: 06.87.26.13.77
Haven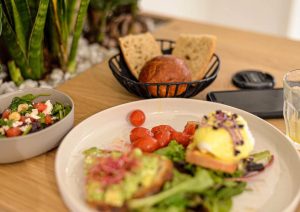 This restaurant at 5 rue de la Filaterie offers quality brunches inspired by Australian cuisine. On the menu: veggie toast, eggs Benedict, soups, French toast, porridge, Mont Blanc cup and homemade brioche. Various coffees are served.
The shaded terrace is open all year round for breakfast.Contact: 04.50.51.21.48
Café Bunna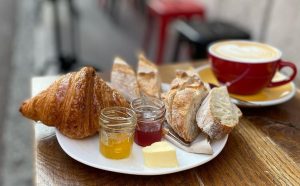 Café Bunna is located at 17 rue Jean-Jacques Rousseau. Opposite the Conservatoire, you can enjoy a pleasant brunch in this small establishment. Take the opportunity to try out various drinks and don't forget to try the cookies.
On Sundays, the brunch is sweet.Contact: 06.37.85.18.30
La Cantine Clandestine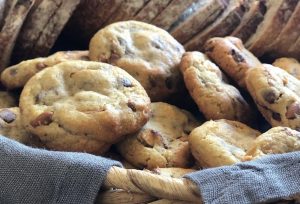 La Cantine Clandestine is a small coffee shop located in the Old Town of Annecy, at 13 avenue de Loverchy. The big plus? The will of Lola and Julia to put forward local products in order to favour the small traders.
The brunch takes place from Monday to Saturday.
Contact: 04.50.10.61.67
Hiatus Coffee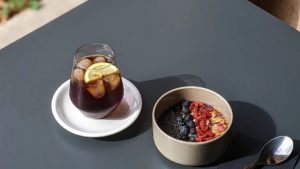 At 5 passage des Cordelier, you can enjoy a brunch at Hiatus Coffee. This coffee shop was born from the owners' shared passion for local cuisine and quality coffee.
Open from Tuesday to Saturday, from 8.30 a.m. to 6 p.m.Contact: 04.50.19.51.72
Bruncher au bord du lac d'Annecy
Having breakfast on the shores of Lake Annecy in the early morning is an experience you should have at least once. We suggest you discover some good addresses that you can try as soon as possible.
The Impérial Palace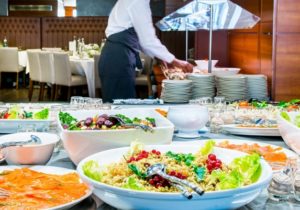 The Sunday brunch at the Impérial Palace, allée de l'Impérial, is very popular with the inhabitants of Annecy.
A wide choice of local products is offered such as: pastries from Michaël Rispe of Pan & Gatô and local charcuterie from "Salaisons Artisanales de Savoie" in Villaz. For those with a sweet tooth: oysters and smoked salmon at will.Contact: 04.50.09.32.32
The Abbey of Talloires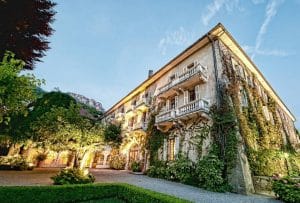 If you wish to discover the bay of Talloires, why not do so during a brunch at the Abbey, located Chemin des Moines? With a reservation, you can enjoy freshly squeezed fruit juices, cereals, charcuterie and cheese.
Brunch is served from 7.30 a.m. to 10.30 a.m.Contact: 04.50.60.77.33
Le Clos Marcel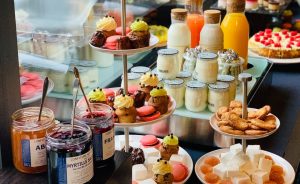 Le Clos Marcel, at 410 allée de la Plage in Duingt, regularly organises refined and generous brunches on Sundays. From the establishment, you can enjoy direct access to the lake.
Think of anticipating your arrival. Reservations are limited to 8 people.Contact: 04.50.68.67.47