There are plenty of sporting activities to try out in Annecy and the surrounding area. If you're a thrill-seeker, we'd like to take a closer look at aerial activities.
Paragliding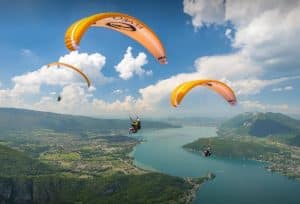 You're in luck: the Col de la Forclaz paragliding site is considered to be one of the most beautiful in the world. The region also boasts other exceptional sites.
We'd like to introduce you to 5 paragliding spots near Annecy. Whether you want to try it for the first time or rent, take the plunge.
Find out more : paragliding
Parachute jumping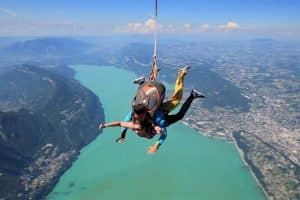 If you're looking for a thrill, skydiving is the ideal activity. Just remember to consult your GP before taking the plunge.
For skydiving and flying over the most beautiful landscapes in the Savoie region, you can go to Haute-Savoie or Le Bourget-du-Lac.
Find out more: skydiving
Hot-air ballooning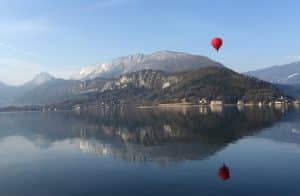 If you want to discover Annecy, its lake and the mountains, a hot-air balloon flight is a unique experience.
The advantage is that you won't know your destination in advance, as it depends on the wind. How do you prepare for a balloon flight, and which one to choose? We explain everything.
Find out more about hot-air ballooning