What to do during your holiday in Annecy when it rains? The city of Annecy and its surroundings are full of activities to keep you busy during a rainy spell. As outdoor activities are limited, we suggest some alternatives.
Take advantage of Annecy's cultural visits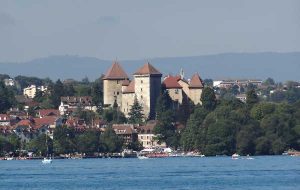 Annecy is a city of arts and history with many magnificent monuments to visit. Most are within easy walking distance of the city centre.
The Château d'Annecy: located above the Old Town of Annecy. For a free or guided discovery that will please families. The museum also presents temporary exhibitions and the Alpine Lakes Observatory.
The Palais de l'Île: an emblematic monument of Annecy. You can explore the Old Prisons of Annecy in the Middle Ages.
The Basilique de la Visitation: this religious building dominates Annecy. There is a large free car park next door, which is useful in case of bad weather.
Discover the free covered activities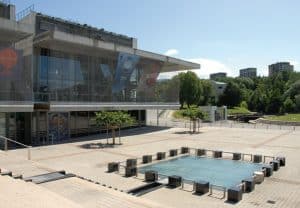 This is an opportunity to stay under cover while learning. The city offers scientific learning facilities, media libraries and art exhibitions.
The Bonlieu forum: offers temporary art exhibitions on the first floor. You can discover the Bonlieu media library, reading books, periodicals and comics. The space for young readers on the second floor will be much appreciated by your young children.
The Abbey Contemporary Art Space: this exhibition space offers the opportunity to discover internationally renowned contemporary artists. The visit is free, guided or not. Address: 15 bis Chemin de l'Abbaye, 74940 Annecy
La Turbine de Cran-Gevrier: this discovery centre is an approved Centre for Scientific and Industrial Culture. Learn while having fun with the exhibitions. Some of them are not free. A cinema also offers films related to science. A 2-hour blue zone parking is available. Address: 3 rue des Tisserands, Cran-Gevrier, 74960 Annecy.
The Museum of Animated Film : Annecy is the capital of animated film and cartoons. You can discover the techniques used to produce an animated film. This museum is free and offers parking nearby.
Libraries: Annecy has 10 libraries in the different districts. Numerous temporary exhibitions are organised, notably presenting the new acquisitions of the art library. This is also an opportunity to read new books: comics, novels and the press. We offer you the guide of all the libraries of Annecy.
Walking in the Old Town of Annecy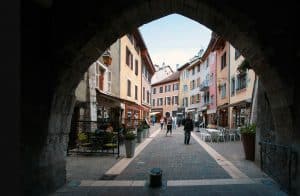 This is the ideal walk in bad weather. The Old Town of Annecy, entirely in a pedestrian zone, has many arcades to protect you from the rain. You can wander around as you please. We also suggest an itinerary so that you don't miss anything of this visit.
The narrow streets are shaded, which makes it a good alternative to the beach in hot weather. Savoyard gastronomy offers many culinary specialities such as raclette, tartiflette and diots au vin blanc. There are many good restaurants where you can have a good time for lunch or dinner. You can also take a break in the cafés and ice-cream parlours with sheltered terraces.
Go shopping, go to the market, go to the cinema, play an escape game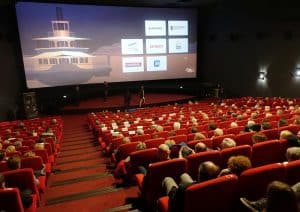 A good film in the rain is possible in Annecy's many cinemas. The markets and shopping centres also allow you to do your shopping while waiting for the good weather. Finally, the region's escape game rooms are well known for their players.
Swimming in Annecy's pools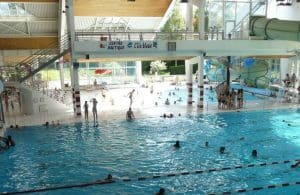 Bad weather won't stop you from taking a dip. The town of Annecy has 3 swimming pools, two of which are covered. Find out all the information on prices and access to public swimming pools.
We hope that you will find activities that you like among all these suggestions. By then, the good weather will be back!