The Basilica of the Visitation in Annecy, a high symbol of the city's religious past, is located on the Crêt du Maure and dominates Annecy and the surrounding area. A real landmark in the whole of Annecy, the point of the Visitation can be seen for miles around.
History of the Basilica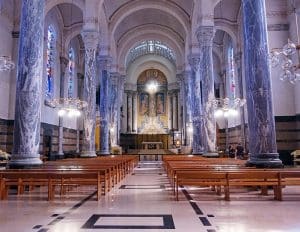 Built between 1922 and 1930, it was consecrated by Cardinal Tedeschini in 1949. In neo-gothic style, this basilica acquired the name of Visitation to honour one of the hidden mysteries of the church: "the visit of Mary to her cousin Elizabeth". Inside, there are magnificent mosaics and stained glass windows that tell the story of the lives of Saint François de Sales and Jeanne de Chantal, whose bronze coffins are on display, as well as a masterpiece from the Paccard foundry and a carillon with 36 bells.
The church was built with the help of a large subscription. Its architect, Alfred-Henri Recoura, was awarded the second prize of Rome. The bell tower, built of reinforced concrete, rises to a height of 72 m under the stone cladding. The basilica inside is made of blue Savoy marble and its mosaic is made of Venetian enamel. The stained glass windows tell the story of the founding saints of the religious order of the Visitation.
The Visitation is not only a historical site that can be visited. It is also home to a community of Visitation nuns who live in the shadow of the bell tower, in a life of prayer that they share with visitors who wish to do so. It is possible to visit the Basilica of the Visitation in Annecy free of charge at any time thanks to its daily opening hours of 7am to 12pm and 2pm to 7pm, 6pm in winter.
The Salesian Museum and the Memorial
In an annex of the monastery, the Salesian museum perpetuates the life and work of Saint François-de-Salle and Saint Jeanne-de-Chantal. It also honours the history of the Visitation Order. The memorial is housed in the premises of the former Visitation monastery, which is located next to the church of St. Francis in the Old Town of Annecy.
Aerial video of the Basilica of the Visitation
Photos of the Basilica of the Visitation