The little Venice of the Alps offers its visitors numerous bars and restaurants. Some of them have been converted into rooftops. Which one should you choose to have a good time in the sky?
The most beautiful rooftops
A rooftop is a term used to describe the roof of a building that is set up to admire a city or a natural setting while sharing a drink or a meal. Tables and chairs are set up to welcome customers. The decoration is carefully done to give a pleasant atmosphere. A DJ often provides musical entertainment for this type of evening. The city of Annecy is very touristic, so it is natural that it has some beautiful rooftops.
OXO Rooftop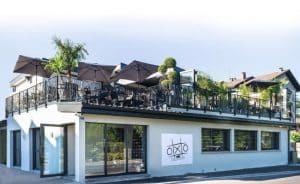 Set back from the Albigny beach, this new establishment offers delicious food served on a beautifully decorated terrace on the first floor. We recommend the salmon poke bowl, the Grenoble-style trout fillet and the marinated tuna tataki.Address: 25 Rue Centrale, 74 940 Annecy.
E-Motion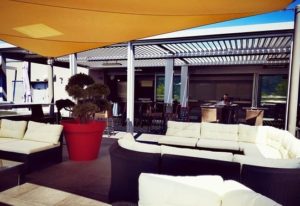 The concept of this place offers several restaurants, a driving simulator, a collection of racing cars and a rooftop. From this level, the site offers a magnificent view of Mont Veyrier and La Tournette. You can taste the original "pizza in pala" and play petanque.Address: 72 avenue d'Aix-les-Bains, 74600 Annecy.
The Moon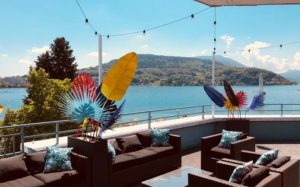 This is certainly the most beautiful rooftop in Annecy. Located on the roof of the restaurant, the view is magnificent over Lake Annecy. We advise you to come in the evening to admire the sunset reflected on the water. You can then go to the Pop Plage nightclub. Open in summer from 7pm to 1am.Address: 30, avenue d'Albigny, 74 000 Annecy.
Le Pélican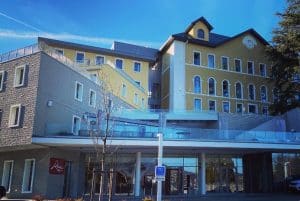 This new 4-star hotel is located near the Marquisats beach. It has a magnificent terrace with a view of the lake. You can enjoy the refined cuisine that is served. The barman offers a variety of original cocktails. The Balleydier car park is nearby.Address: 20 rue des Marquisats, 74 000 Annecy.
After having spent a pleasant moment, far from the crowd of the city centre, excellent establishments allow you to go out in the evening in the Annecy basin.