The Dents de Lanfon are located between Tournette and Mont Veyrier. It is a mountain on the western shore of the lake and is easily recognisable with its three rocky ridges that stand out against the landscape.
Discover the teeth of Lanfon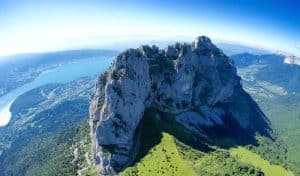 This mountain in Haute-Savoie is located in the Bornes massif, above Lake Annecy. It dominates Talloires and Menthon-Saint-Bernard. To the north is the village of Alex and the Fier valley.

Subscriptions for mobile application
Quality routes, moderated by IGNFind out more →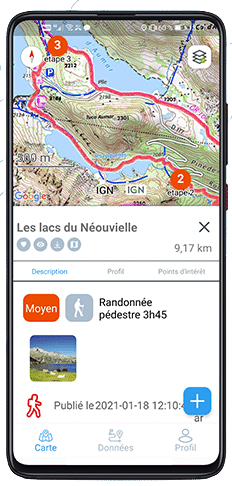 These large cliffs indicate that this mountain is forclimbing enthusiasts. Hiking is possible but it's frustrating to stop at the foot of the limestone cliffs. Climbing this mountain is only for climbers of a good level, otherwise the presence of a mountain guide is necessary.
If there is any snow left, you must be careful with the lapiaz which can hide holes under the snow bridges. The approach to the mountain is either via the Nant d'Alex valley or via the Aulp chalet. Before setting off on a hike, find out about the weather conditions, which can change rapidly at this altitude.
The Dents de Lanfon tour from Bluffy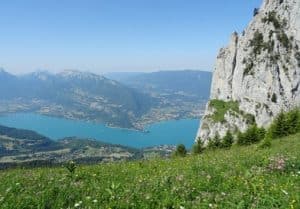 This pretty walk allows you to admire Lake Annecy. It can be done on foot, running or by mountain bike. It is advisable to park at the exit of the village of Bluffy, 15 minutes from Annecy, then follow the GR which climbs up on the left of the road. By following the signs Dent de Lanfon – Col des Frêtes then Tournette, you will arrive at a fork in the road. Follow the signs for Tournette and Col des Nantets.
Once you reach the pass, just climb up to the Dents de Lanfon. You will have the opportunity to admire beautiful yellow gentians. The descent is made by a small pass on the left near some chalets. The excursion takes 6 hours by walking and 3 hours by running. You should take into account the weather conditions and bring enough water and food. The tour should not be done in fog or rain.
Massif des Bornes : video of the crossing of the Dents de Lanfon