If you want to shop in Annecy, you need to know which shops offer the best prices. The pedestrian cross, also known as the pedestrian zone, between rue Royale and rue Carnot, contains most of the national brands, but also quality independent shops such as cheese shops and quality caterers.
The pedestrianised city centre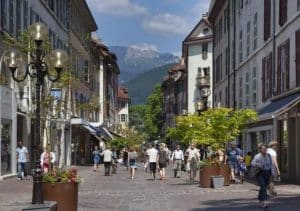 In the centre of the town, walking down rue Carnot, next to the Pathé Gaumont multiplex, you will find the Courier shopping centre. This centre is home to major retailers such as FNAC, H&M, Zara, Monoprix and Body Shop. In bad weather, the public car park underneath this centre will allow you to do some shopping or have a good movie. We also recommend shopping in Rue Royale, where there are some great clothes and shoe shops. Annecy is fortunate to have a few independent bookshops near the post office. They will be able to give you precious reading advice and even offer you a good coffee.
The Galeries Lafayette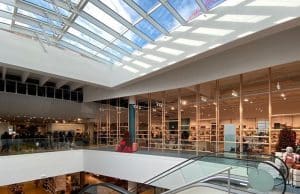 The Galeries Lafayette, close to the centre, offers most clothing brands on two levels. It is advisable to take advantage of the sales periods, the 3 days of the Galeries to buy at the best prices. In 2022, the Galeries Lafayette in Annecy underwent a complete renovation and a major extension. Numerous qualitative and original brands have taken their place in the new commercial structure.
Annecy's markets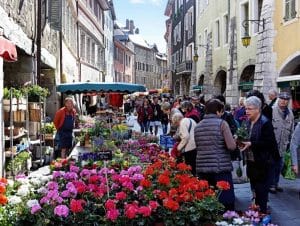 Annecy is a town with a large number of markets where you can do your shopping and eat fresh produce or buy clothes, accessories and everything else you can find on a market.
Tuesday market at Les Romains and in the old town
Thursday market in Novel
Friday market in the old town of Annecy
Saturday markets in Annecy
Sunday markets in Annecy
Local specialities on the markets
Places and times of the food markets
Art markets and second-hand goods
For more information : Annecy's markets
Galleries and shopping centres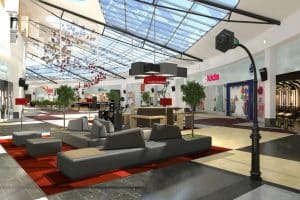 Moving away from the centre of Annecy, you will find the Grand Épagny shopping area, theArcaloz shopping areain Seynod and the Carrefour Brogny shopping centre in Annecy. These sites offer the same brands as those found on the outskirts of town, such as Décathlon, Cultura, Boulanger, Darty, Auchan and Géant Casino.
Access can be made by bus in a dedicated area (i.e. without the risk of traffic jams) in 25 minutes. This is the best deal for holidaymakers renting, staying in a gîte or camping. For DIY, you can go to Castorama in Annecy, Bricorama in Sillingy and Leroy Merlin in Épagny-Metz-Tessy.
To facilitate your shopping, we indicate you where are the shopping centres on Annecy
Practical advice
For fresh food shopping, our tourist guide recommends the many markets in Annecy. You can also take the opportunity to offer a pretty bouquet of flowers composed by the city's talented florists.
Annecy is a very touristy town with a population of over 130,000, so prices are quite high, so compare carefully . Many national brands are present (Zara, H&M, Undiz, Calzedonia, Tommy Hilfiger) but there are also small independent shops offering various products: cutlery, bookshops, tableware, caterers and florists.
Finally, as public parking is quite expensive, we recommend good quality public transport. Consult the map of bus routes in Annecy.