Whether you live in Annecy or are just passing through, if you are a sportsman, you have come to the right place! Depending on the season and your preferences, you will have a vast choice of sporting activities at your disposal.
Winter sports in Annecy
In winter, it is the reign of sliding in all its forms: alpine or Nordic skiing, snowshoeing, snowboarding, ski touring. Below is a wide selection of sports available in the Annecy region. Several ski resorts near the town open their ski areas in December for the pleasure of lovers of skiing and the mountains.
Downhill skiing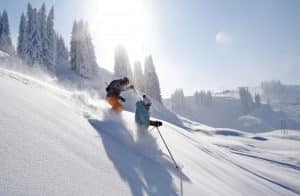 There is no shortage of beautiful ski resorts near Annecy, the Semnoz, for example, is a 20-minute drive away and offers some great runs. La Clusaz is also a popular ski resort for Annecy residents in the Aravis mountain range. The village is about 40 minutes from the town of Annecy.
More about : alpine skiing
Cross-country skiing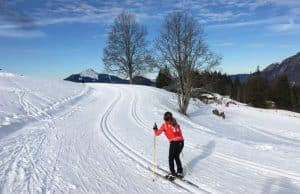 Ideal for family outings, cross-country skiing allows you to discover the beautiful forests of the Alps. Another advantage is that this sport is inexpensive and you can easily hire your equipment. Several Nordic areas are located near Annecy. These include the Semnoz and Plateau des Glières.More about: cross-country skiing
Ski touring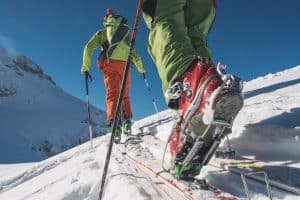 This demanding sport consists of climbing the slopes on your own and descending the ungroomed powder slopes. You will need to be equipped accordingly and carry a avalanche transceiver. Ski touring has become much more popular in recent years and it is possible to be accompanied by professionals if you are just starting out.
More about: ski touring
Biathlon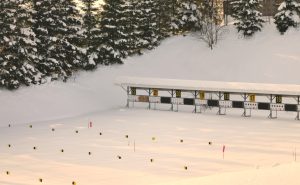 Biathlon is a sport derived from cross-country skiing. It originated in Scandinavia and is now an Olympic discipline. France has many top-level biathlon athletes. The general public can try this sport directly in the ski resorts.
Find out more: biathlon around Annecy
Sledging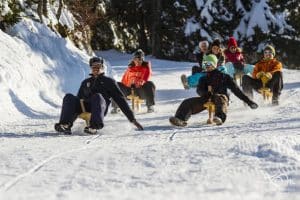 Always great fun for families, sledging can be practised in all the resorts, especially as soon as the first snow falls. Just 10 minutes from Annecy by car, the Puisots site at Semnoz is very popular with families. Now, thanks to specially designed circuits, sledging can also be practised in summer, as in Megève or Les Saisies.
Tofind out more: sledging
Snowshoeing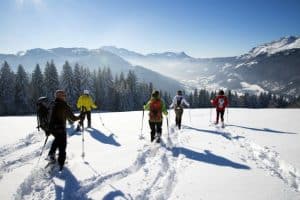 Snowshoeing around Annecy is easy to do. This activity allows you to make walks accessible to all. For the more athletic, some of the peaks around Annecy can be quite challenging. However, make sure you are accompanied by a guide if you have limited knowledge of the mountain and the routes.
Find out more: snowshoeing
Snowmobile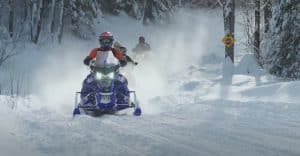 Snowmobiling is a sport that can be enjoyed with family, friends or even solo. In all cases, you will be accompanied by a professional. Several resorts in Haute-Savoie offer snowmobile outings, such as Avoriaz or Megève.
More about snowmobiling near Annecy
Ski-joëring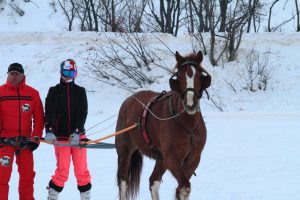 Ski-joëring is a sport that combines horses, sliding and pleasure. With your skis on, you will be pulled by an equine on snowy trails. This discipline is constantly developing in French resorts. It is accessible from the first star and allows you to experience new sensations. We advise you to add skijoring to your winter to-do list.
Find out more: where to skijoring near Annecy?
Dog sledding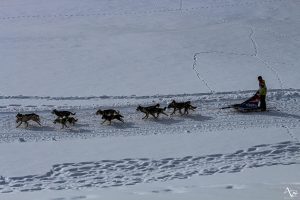 Dog sledding is a must-do activity during the winter season. It is possible to try this sport in many resorts around Annecy. You will have two options: to sit in the sled or to learn how to drive a sled. Don't forget your camera and dress warmly.
Find out more: where to go sledding near Annecy?
Mountaineering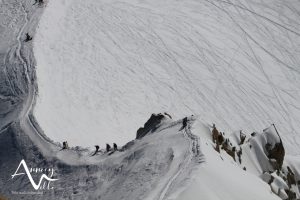 Mountaineering is a sport that is practiced in the high mountains. The first ascent of Mont Blanc took place in 1789. Since then, Chamonix has become the capital of mountaineering. But this sport presents risks that must be known and appreciated. It is therefore best to prepare yourself as well as possible before you go out.
Find out more: where to go mountaineering near Annecy?
Sport in Annecy in summer
In summer, many water sports are available: diving, swimming, water-skiing, wakeboarding, paddling and sailing. Outside the lake, you can easily practice golf, paragliding, running, mountain hiking, climbing and cycling.
Trail and running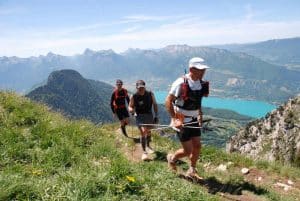 Trail and running are activities that lend themselves perfectly to Annecy and its mountainous environment. The surrounding mountains such as the Semnoz and Mont Veyrier also allow for trail running in an idyllic environment. Each year the Lake Annecy Marathon welcomes several thousand runners.
Formore information: trail and running
Swimming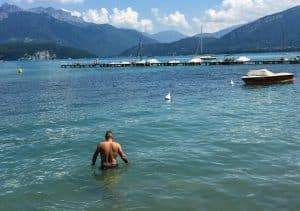 There are many beaches and swimming pools. They allow you to enjoy the pleasures of the water in summer, but also the rest of the year, with Annecy's indoor swimming pools. We propose you a tour of the lake of the beaches and a presentation of the swimming pools of Annecy. All you have to do is choose the one that suits you best, depending on the season.
Find out more: where to swim and bathe in Annecy?
Walk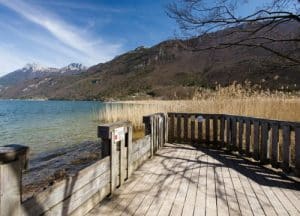 Accessible to all, walking is a pleasant sport to practice with the magnificent landscapes of the city and Lake Annecy. We recommend the walk from Annecy town hall to the Petit Port in Annecy-le-Vieux. You can also extend the pleasure along the lake. We recommend the pontoons on the Petit Port side at sunset.
Formore information: walks and tips to discover Annecy and its surroundings.
Hiking in the mountains near Annecy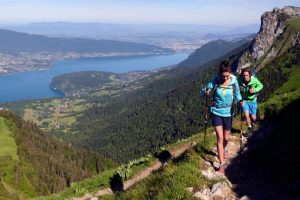 Hiking is a complete sport that can also be practised with the family. There are many itineraries near Annecy. Be sure to check the weather forecast before your outing. Also remember to equip yourself accordingly and not to embark on a hike that is not adapted to your level. You can be accompanied by a professional.
More about : hiking
Bicycle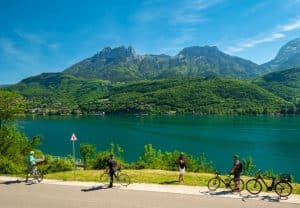 The town of Annecy and its lake are an ideal playground for cycling enthusiasts. There are many cycle paths in Annecy, as well as cycle routes. You can choose from our guide: 5 routes to cycle. If you like the specialities of Haute-Savoie, you can do : The Cheese Route by bike.
Cycling around Lake Annecy is a must during your holiday, thanks to its famous greenway. During your holidays, hiring a bike is the ideal solution to practice this sport.
More about : cycling around Lake Annecy
MOUNTAIN BIKING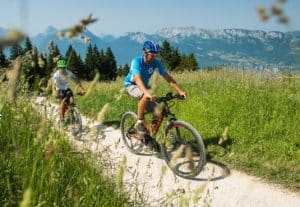 The Annecy region is a magnificent playground for all mountain bike enthusiasts. Cross country, down hill or electric mountain biking, let us guide you to discover the best spots and don't forget the essentials of the mountain bike bag. You can easily rent your mountain bike in a specialised shop in Annecy or in a mountain resort.
Find out more : Mountain biking
Climbing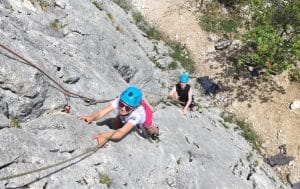 Depending on your level, from beginners to experienced climbers, the climbing clubs will guide you through the many routes around Lake Annecy. You can also practice in a club and enjoy outdoor outings. Don't hesitate to call on a professional, who will be able to ensure your safety.
Find out more : rock climbing
Via-Ferrata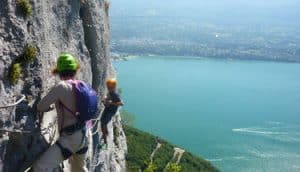 This activity is somewhere between climbing and hiking. It is a sporting itinerary along an equipped rock face. The site in Thônes, 15 minutes from Annecy, is worth a visit, as is the one in Passy, which faces Mont Blanc. It is possible to hire equipment.
For more information: via ferrata
Accrobranche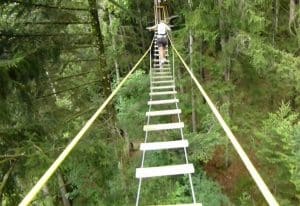 The accrobranche is a sporting activity which consists of a course in the trees. Perched several metres high and equipped with a harness, you will have to use your balance and face your fear of heights, if necessary. Specific courses adapted to children are also available to enjoy this activity with your family.
Formore information: accrobranche
Canyoning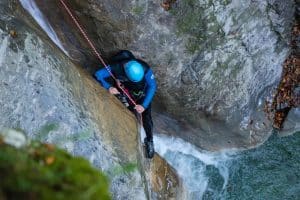 Canyoning is a white water sport that provides great sensations. The idea is to go down streams, waterfalls, natural slides and jump into the water. The nature near Annecy is very generous, it offers magnificent canyons to discover this sport. Sensations guaranteed, but always in safety.
More about : canyoning
Caving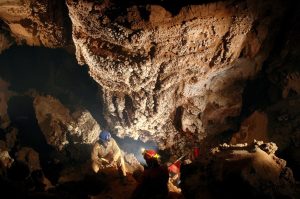 Caving is a sport that consists of exploring caves. It therefore requires good physical conditions and to be accompanied by a professional. Near Annecy, the most famous cave is certainly that of Prérouge, in the Bauges massif.
For more information: caving
Canoeing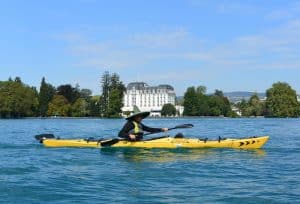 To discover the reed beds and the fauna of Lake Annecy, such as ducks and swans, there is nothing better than kayaking, which is silent and allows for discreet approaches. You can sail on Lake Annecy alone or with others and discover the Ric de Chère Nature Reserve directly from the water. Unique views guaranteed.
Formore information: canoeing and kayaking
Rowing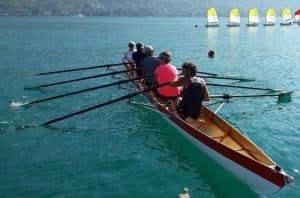 This complete and demanding sport allows you to maintain a good physical condition, while discovering the banks of Lake Annecy. It is possible to practice it in a club. Rowing is also very popular on Lake Aiguebelette or on the Bourget, where competitions are regularly organised.
For more information: rowing
Dragon Boat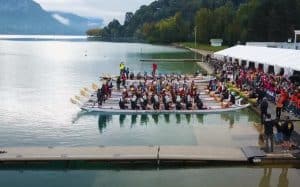 Dragon Boat is a team sport. It comes directly from China, which is visible on the boats. The boats can accommodate up to 20 paddlers. They are accompanied by a coxswain and a drummer. Every year, a competition takes place on Lake Annecy.
More about: Dragon Boat
Horse riding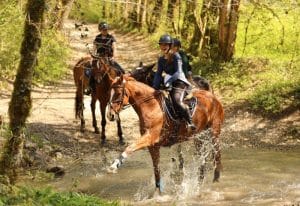 Riding a horse or a pony is the assurance of practising a beautiful sport in quality equestrian areas and clubs. There are many clubs around Annecy. You will also be able to make beautiful excursions in the Bauges or elsewhere in the department of Haute-Savoie. Remember to bring good shoes and trousers.
More about horse riding
Golf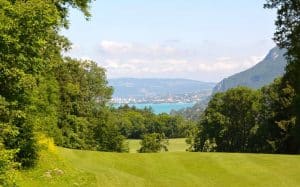 Annecy, and more generally the Haute-Savoie, offers magnificent golf courses such as those of Talloires or Evian. You can play them during your holidays. We offer you an overview of the existing courses and a review of the equipment available.
Find out more: golf
Paddle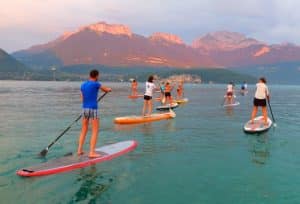 This new sport will allow you to go along the shores of Lake Annecy and other bodies of water in the region. All you need is a bit of balance and good weather and you're in business. Paddles are available for hire all around Lake Annecy. We recommend an early morning outing when the lake is still asleep.
More about stand-up paddling
Water skiing and wakeboarding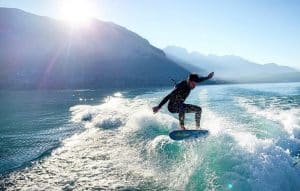 Rather easy to access, water-skiing will offer you great sensations. The only requirement is that you know how to swim. There are many rental companies around Lake Annecy. Wakeboarding, a recent discipline, is also to be discovered on Lake Annecy. This cousin of winter snowboarding is a very popular sport.
Find out more: water skiing and wakeboarding
Kitesurfing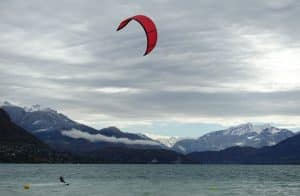 This recent sport is practiced with a board pulled by a sail. This sport requires a strong wind and excellent physical condition. You can see kitesurfers on Lake Annecy, but also on Lake Bourget. Please note that it is compulsory to wear a life jacket when kitesurfing.
Formore information: kitesurfing
Fishing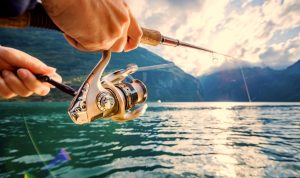 During your holiday, you can try your hand at fishing on Lake Annecy and the many rivers in the region. If you are already a fisherman, this is your chance to discover fishing in Haute-Savoie. But beware, you will need a fishing licence to take up this activity.
Find out more: fishing
Diving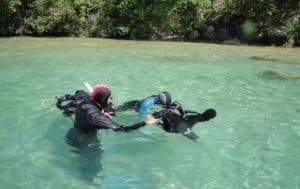 Many diving clubs exist around Lake Annecy. These are real enthusiasts who will offer you either a first dive or a discovery of the most beautiful spots on Lake Annecy. Once underwater, you will discover the biodiversity of Lake Annecy, but also the wrecks of old boats.
Formore information: diving
Paragliding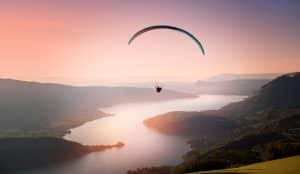 You are lucky, the paragliding site at the Col de la Forclaz is considered one of the most beautiful in the world. The region also has other exceptional sites. We suggest you discover 5 spots where you can paraglide near Annecy. Whether you want to try paragliding or rent, dare to fly.
Find out more : paragliding
Parachute jumping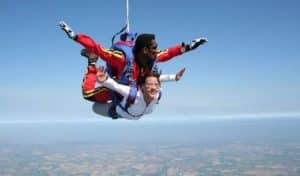 To get the full thrill, skydiving is the ideal activity. Just remember to consult your GP before making the big jump. Where can you go skydiving and fly over the most beautiful landscapes of the Savoie?
Find out more : skydiving
Sailing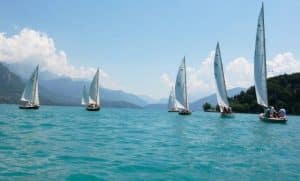 Lake Annecy is a magnificent playground for sailing enthusiasts. The wind is often present and makes it possible to take part in beautiful regattas. Sailboat, catamaran, dinghy, optimist, windsurf, you have a wide choice. Simply contact a service provider to find the formula that suits you best.
More about : sailing
Pedalos and motor boats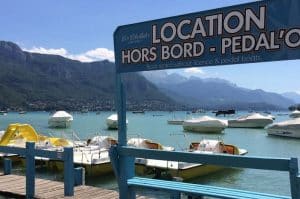 Renting a pedal boat or a motor boat on Lake Annecy allows you to have a good time and to swim in pure water, far from the beaches. You can also enjoy the sunset on the lake, especially if you rent a boat. We offer you a tour of the lake where you can rent a boat.
More information: pedal boat and boat rental
Bowling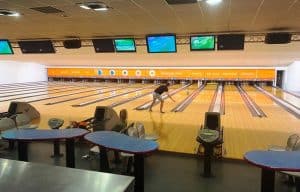 Bowling with friends or family is a great activity even in bad weather. You can compete in many games. There are two bowling alleys in and around Annecy: one in Sevrier and the other in the centre of Annecy.
Formore information: bowling
Karting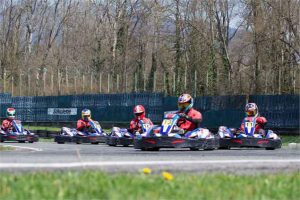 Go-karting is a fun mechanical sport that is accessible to all. It provides great sensations, whether you are with family or friends. We offer you some driving tips, but also to discover the karting circuits near Annecy. All you have to do is go for it and finish first.
Find out more : karting
Skateboarding and rollerblading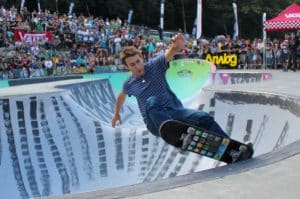 Skateboarding and rollerblading are two sports that are easy to do in Annecy, thanks to the cycle tracks. They make it very easy and safe to practice. There are also several skateparks in the Annecy area where you can enjoy this sport. We offer you a selection of the best parks.
Find out more : skatepark
Hot air balloon flight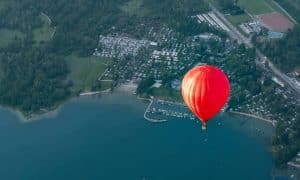 To discover Annecy, its lake and the mountains, choosing a hot air balloon flight is a unique moment. The advantage is that you will not know your destination in advance, as it depends on the wind. How to prepare a balloon flight and which one to choose? We explain it all to you.
More about hot air ballooning
Sports coaching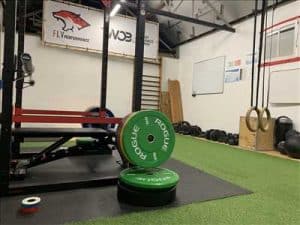 Practising sports in Annecy requires a good physical condition. The use of a sports coach is often useful to benefit from a training and a personalized follow-up according to your expectations: cardio, weight loss, preparation to a sport. This way, you will be ready to discover new hiking trails or be ready for the next ski season.
Find out more: how to choose a sports coach?
Sports and crossfit centres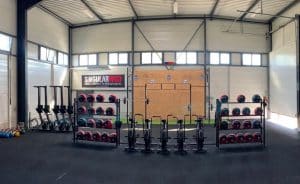 Annecy has many gyms for you to train according to your needs and level. Some gyms specialise in crossfit. This sport discipline consists of group work to increase motivation. It will allow you to develop your muscles.
Find out more: gyms and crossfit
Group sports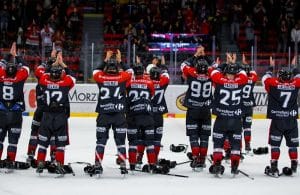 In Annecy, most team sports are practised in clubs. There are even several clubs for the most popular sports. You can play football, handball, volleyball, basketball, rugby, American football and pétanque.
Depending on your preferences, you can follow the performances of the local teams. In football, the Football Club d'Annecy, founded in 1927, has been playing in National 1 since the 2020-2021 season. In rugby, the Union sportive Annecy is a club that is playing in Fédérale 2 for the 2020-2021 season. In hockey, Annecy Hockey is in Division 2. The senior team is called the Chevaliers du Lac. The Annecy Handball club plays in the Nationale 2.
Discover also: what there is to do in Annecy in winter
Sports packs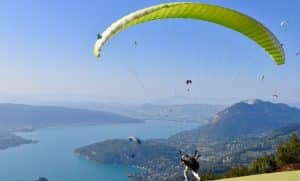 Annecy, its lake and its mountains allow you to practice a wide variety of sports. But why limit yourself, sports packs offer you the chance to try out several sporting activities over a day.