Cross-country skiing, also known as Nordic skiing, is widely practised around Annecy and is one of the main winter activities. The surrounding mountains are not too steep, and many summits are suitable for this discipline.
Nordic skiing: a sport for everyone
Several positive points can be credited to cross-country skiing:
The discovery of nature and wooded areas allows you to meet the mountain fauna and flora, while enjoying sliding on prepared tracks.
A very complete sport at the muscular and cardiovascular level. Indeed, cross-country skiing requires the majority of muscles.
The cross-country ski loops are classified according to difficulty, from green to black, in the same way as for downhill skiing. These colour codes must be respected, as the length of the loop for a black run can be several dozen kilometres.
Depending on your level, you may prefer a leisurely stroll with your family, or you may prefer speed for a more sporting experience. There are two ways to ski:
The classic step: which consists in following the track prepared by the groomers.
Skating: this technique allows you to go faster by alternately pushing on your feet. It is used for Nordic ski competitions.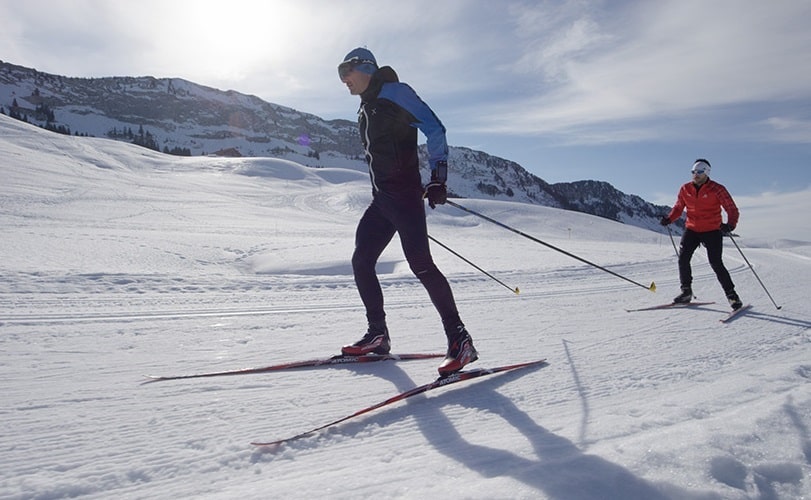 The sports derived from cross-country skiing are Nordic combined, biathlon, ski jumping and rollerskiing (in summer on grass). Every year, the Martin Fourcade Nordic Festival is organised on the Pâquier in Annecy. The best cross-country skiers and biathletes in the world take part in a biathlon running on skis and wheels. A large village also offers entertainment around these sports. This festival usually takes place in the first week of September. The champion Martin Fourcade, the most successful French athlete at the Olympic Games, has come to Annecy in 2021, after 15 years in the Vercors in Isère.
Cross-country ski resorts near Annecy
The resorts closest to Annecy are the same as those for downhill skiing:
Le Semnoz: this is the closest cross-country ski resort to Annecy, a 30-minute drive away. The plateau is clear and very sunny at an altitude of 1,800 m.
Le Grand-Bornand: one of the largest cross-country ski areas with nearly 80 km of trails. The resort hosts the annual Biathlon World Cup.
And other areas more specifically dedicated to Nordic skiing:
These resorts offer cross-country skiing lessons either individually or in groups. As with other winter sports, it is important to check the weather. Thick fog or heavy snowfall greatly reduces visibility, and there is a risk of getting lost, although the trails are still marked. Equipment can be hired on site: skis, poles and boots. Lightweight, close-fitting clothing is suitable, but warmer clothes are needed for breaks or picnics.
Video of Bellavarde grooming on the Confins Nordic ski area
The Nordic Pass: a pass for cross-country skiing
A day ski pass is payable on most Nordic ski areas.
In addition,there is the annual Nordic Pass, which is very interesting for regular skiers in several cross-country skiing areas. It is available in four variants:
The Nordic Pass Haute-Savoie: valid on the 24 Nordic areas of Haute-Savoie. 50 % discount on the domains of Suisse Romande and Val d'Aoste.
The Nordic Pass Savoie: valid on the 14 Nordic areas of Haute-Savoie. 50 % discount on the Val d'Aoste domains and the night slopes of Savoie Grand Revard.
The Nordic Pass Alpes du Nord: valid on the Nordic areas of Drôme, Isère, Savoie and Haute-Savoie and the night slopes of Savoie Grand Revard.
The national Nordic Pass: valid in all French Nordic areas belonging to Nordic France (all areas except those in the Hautes-Pyrénées and Pyrénées-Atlantiques). Access also valid to the Nordic areas of French-speaking Switzerland and to the night tracks of Savoie Grand Revard.
Cross-country skiing clubs in Annecy
If you wish to learn the different techniques of cross-country skiing (classic, skating or biathlon) or go on group tours, several clubs offer their services:
Les Dragons d'Annecy: 19 rue des edelweiss – 74000 Annecy
Club Alpin Français d'Annecy: 17 Rue du Mont Blanc, 74000 Annecy
Ski Club d'Annecy: 12 Rue Louis Boch, 74000 Annecy
ASPTT: 1, Allée des Cyclades, Cran Gevrier, 74960 ANNECY
Cross-country skiing equipment
cross-country skis
boots
poles
UV goggles
light and flexible clothing
a rucksack for hydration and warmer clothes if necessary.
The equipment (skis, poles and boots) can be rented in all ski resorts for a small fee.
Whether you are a regular or occasional skier, you can find out where to rent or buy cross-country skis below:
Where to hire cross-country skis in Annecy?
If you don't have your own equipment, you can rent it in Annecy before going to the ski resorts. When you do this activity occasionally, hiring cross-country skis is often more advantageous than buying them.
Ski Loc Shop: 78 bis route des Creuses à 74960 Cran-Gevrier
Intersport: Rue de la Tuilerie, 74330 Épagny Metz-Tessy
For Nordic skiing, if you rent when you arrive on the slopes, you will pay for the ski pass at the same time. You can also book your stay.
Where to buy cross-country skis near Annecy?
On the other hand, if you practice this sport regularly, then you should consider buying your own equipment. Cross-country skis can be purchased from a number of shops in Annecy and the surrounding area:
SnowLeader Annecy : 15 Rue Président Favre, 74000 Annecy
Go Sport Annecy Bonlieu: 1 Rue Jean Jaurès, 74000 Annecy
Troc Sport: 1 Rue de l'Égalité, 74960 Annecy
Ski-Loc Shop: 78 Bis Route des Creuses, 74960 Annecy
Sport à tout prix : 3640 Route d'Albertville, 74320 Sévrier
Decathlon Seynod: La Galerie Val Semnoz, Avenue d'Aix-les-Bains, 74600 Seynod
Decathlon Épagny: Chemin des Perdrix, 74330 Poisy
Intersport Épagny: Rue de la Tuilerie, 74330 Épagny Metz-Tessy
Sport 2000 Épagny: 150 Avenue des Alpes, 74330 Épagny Metz-Tessy
Discover also : Downhill skiing near Annecy