Alpine skiing is the most popular winter sport. It is easy to practice around Annecy. Many winter sports resorts offer numerous slopes and large ski areas that are often interconnected. The Haute-Savoie has more than fifty resorts, with multiple alpine ski areas, high enough to have an ideal snow depth for the winter season. You can also enjoy the charm of traditional mountain villages after your runs. From both Annecy and Chambéry, holidaymakers can reach more than 150 ski resorts in a maximum of 2 hours by car.
Equipment and precautions for downhill skiing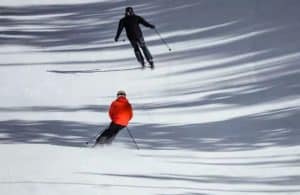 Alpine skiing is a discipline that requires certain precautions to be taken in order to practice it safely. You must first choose the right ski equipment. We advise you to consider the following elements.
Check that your insurance covers you in case of accident for yourself and others.
Check your bindings to avoid frequent knee sprains.
Return to sport a month beforehand, to loosen up your body before skiing.
Wearing a helmet is essential to protect you in case of a collision.
Rest and hydrate before an effort of several hours.
Check the weather forecast on the day itself, as the weather in the mountains changes quickly and the risk of avalanches must be taken into account.
Adapt your pace to the number of people on the slopes and your level of skiing.
Do not ignore the signs on the slopes, these are not recommendations but obligations to be respected.
For off-piste skiing: don't go alone, tell them when you are leaving and when you are arriving, wear a search device in case of avalanche.
Alpine ski clubs in Annecy
Club Alpin Français d'Annecy : 17 Rue du Mont Blanc, 74000 Annecy
Ski Club d'Annecy : 12 Rue Louis Boch, 74000 Annecy
Ski Loisir Annecy-le-Vieux : 65 Avenue du Petit Port, 74940 Annecy
Club des Sports Annecy Semnoz : 19 rue des Edelweiss, 74 000 Annecy
AS PTT : 1, Allée des Cyclades Cran Gevrier, 74960 ANNECY
Where to hire skis in Annecy?
Before leaving for the resorts, you can rent: downhill skis, snowboards, poles, gloves, goggles and helmets. By choosing a ski rental in Annecy you avoid the often long wait in the resort.
Ski Loc Shop: 78 bis route des Creuses à 74960 Cran-Gevrier
Intersport: Rue de la Tuilerie, 74330 Epagny Metz-Tessy
Of course, all the resorts have numerous sports shops where you can hire all the equipment on site.
Cheap ski passes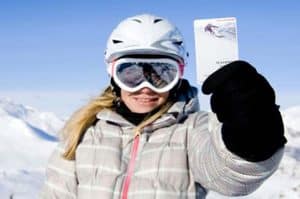 Unlike cross-country skiing, there is no annual ski pass valid for several departments or the whole of France. Before buying a ski pass, it is important to compare the offers. Special offers on ski passes are frequently available online. Price comparison websites for ski passes are very useful to find the best price.
If you want to change your skiing area and get a discount, you can choose the multi-station pass. The multi-station ski pass allows you to vary the pleasures by multiplying the stations. In the Alps, the fully digital SkiPower pass allows you to benefit from discounts ranging from 4 to 41% of the public price on alpine ski passes for 48 resorts in Savoie Mont-Blanc. In addition, it also offers discounts in certain resorts in Isère, the Southern Alps and the Pyrenees. Price: 10 € valid for 2 years.
Downhill ski resorts around Annecy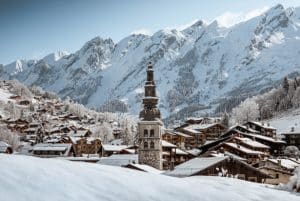 On average, most ski resorts in Haute-Savoie are less than an hour's drive from Annecy.
Le Semnoz: the closest resort to Annecy, family friendly with about 15 runs. No accommodation on site. A 30-minute drive will take you to 20 km of pistes at an altitude of 1,600 m in the Bauges massif, with an accessible ski pass for 14 € for 6 hours of skiing.
Le Grand-Bornand: 40 minutes from Annecy, a resort for everyone with a wide choice of ski runs in the Aravis massif.
Manigod: a small family resort not far from Annecy.
Montmin: this paragliding mecca also offers some inexpensive runs.
Le Sambuy: quite technical skiing in this small resort at the end of Lake Annecy.
La Clusaz: the slopes end in the streets of this beautiful village in the Aravis mountains, 45 minutes from Annecy.
Other resorts in Haute-Savoie are in the Bornes, Chablais, Mont-Blanc and Grand-Massif. They also offer magnificent ski areas, but it takes more than an hour to drive to them from Annecy. There are 223 runs with 400 kilometres to ski. The 3 valleys area is the largest in the world.
Discover also : Cross-country skiing near Annecy
How to learn to ski
You can learn to ski whatever your age by taking lessons from an instructor. To make the right choice between group or private lessons, and to find out how to equip yourself, we suggest our guide to learning to ski.
Alpine skiing video at Semnoz near Annecy