To make the most of your holiday in the winter sports resorts, you can learn to ski by taking ski lessons. Our advice on how to make the right choice for your needs.
Which resorts should you choose to start with?
Most of the major winter sports resorts in the Savoie have areas dedicated to learning to ski downhill. In small family resorts such as Le Grand-Bornand, the easiest slopes, with green signs, are used by beginners. In the larger resorts there are areas with low slopes dedicated to learning to ski.
You can then book a stay close to the learning area to make the daily journey with the equipment easier. You can also, if you can, favour periods outside the school holidays. The slopes are much less crowded, which is nice for a confident start.
Can I learn to ski as an adult?
There is no age limit for taking alpine skiing lessons. It is becoming increasingly clear that adults want to learn, and a third of beginners are now adults. To give yourself the best chance of success, you need to be motivated, in good physical condition and have a physical preparation before you leave. A few small fitness exercises will prevent you from suffering from aches and pains afterwards.
To learn to ski, a week of lessons is generally necessary, but you can reduce this period to 3 mornings to test if this sport suits you. For children, learning to ski is often a fun activity offered in age-appropriate groups.
Can I learn to ski on my own?
It is easy to watch videos on the web and read advice on how to ski. However, this apparent ease can lead to bad habits and even injury. If a friend wants to teach you how to ski, he or she may be well-intentioned but does not have the teaching skills of an instructor. This is why we recommend that you use a professional during your first week of winter sport.
Private or group lessons?
For adults, private lessons have advantages because the ski instructor can adapt to the level and physical condition of his pupil more easily than in a course with several people. For younger children, group lessons are more economical and well suited to rapid progress.
If you come in a group, a private lesson for a few friends or a family is a guarantee of learning while having fun. The duration of the course ranges from 3 days to one week. On average, after three days the beginner skier is able to take turns on a blue slope. For the more difficult slopes, it is necessary to consolidate your knowledge with a few additional lessons.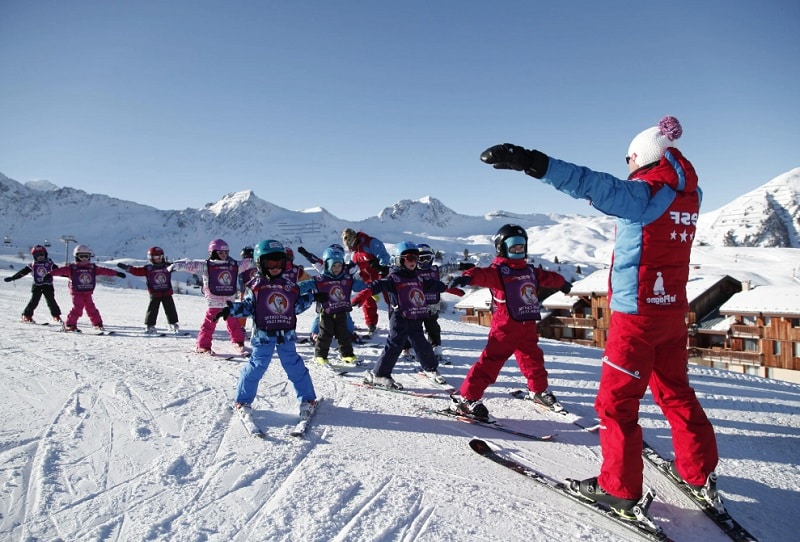 What equipment is needed to learn to ski?
The first piece of advice is to hire your own equipment: ski, boots, poles and helmet. Firstly, to be able to ski with recent and good quality equipment, and secondly, because the purchase of such equipment represents a substantial budget. It is preferable to rent during your lessons, in case you are not interested in skiing on the slopes afterwards. On the other hand, if you become a passionate skier, you can choose equipment that corresponds to your level and type of skiing: ski touring, snowboarding, downhill.
As far as clothing is concerned, you should use the onion technique, i.e. pile up several layers to adapt to temperature changes. The right outfit is to wear thermal underwear and good socks over which you put on trousers, jacket, hat and gloves.
Helmets are not compulsory for adults, but are strongly recommended to ensure maximum protection for the head in case of impact. Most ski resorts offer packages that include a number of lessons given by an alpine ski instructor and equipment hire. This package offer saves money.
Good advice for starting skiing
By applying these common sense tips, you will have the best chance to succeed in your ski training:
Choose a flat area to start on
By using a "baby" slope or a flat area at the bottom of the slopes, you will have time to understand your equipment and the first notions of balance.
Do not wear your ski boots
Ski boots can be uncomfortable to walk to the piste. It is best to approach the piste in snow boots.
No poles at the beginning
To perfect your balance, it is best to concentrate on your skis. Poles will be useful in the second part of the training.
Only put on one ski after the other
After getting used to the boots, put on the first ski and balance on one leg, then alternate with the other.
Skating steps
As if you were on a skating rink or inline skating, you push the snow from one side to the other without using your poles. This technique allows you to move on the flat and even to climb a slope. If the slope is too steep, you have to put your skis perpendicular to the slope and climb one foot after the other.
Beginner's braking
This is the well-known snowplough technique, which consists of putting your skis in a circumflex accent while keeping the front of your skis in contact.
Knowing how to stand up
It is essential to get into a sitting position behind your heels, take one knee with one hand, put the other on the ground and push up and forward to get up.
The first turns
Still without poles, you choose a "baby" or green slope and put your arms in a plane, your skis in a snowplough and you press on the outside foot while turning your chest to the side you want to turn.
All these tips will be useful, but they do not replace practice with a ski instructor from the different schools in your resort: ESF, ESI, Oxygène or UCPA.