Here are the 37 communes of the Annecy agglomeration, bordering Annecy, which we cover on this site. You will find in these pages, a little history and culture on these towns and villages of the Annecy agglomeration, as well as photos and information.
You will also find sports clubs and facilities, sports, cultural and services, as well as places to visit, without forgetting nature and the environment.
Annecy-le-Vieux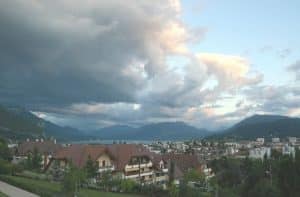 Annecy-le-Vieux is a delegated commune of the new commune of Annecy in the agglomeration of Annecy in the Haute Savoie region of France, Auvergne Rhône Alpes. It is known throughout the world thanks to the Paccard bell foundry and is located to the east of Annecy on more than 1700 hectares.
More about : Annecy-le-Vieux
Alby-sur-Chéran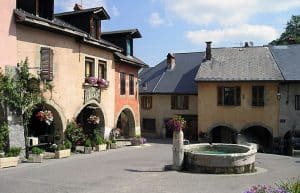 Alby-sur-Chéran, a pretty village located between Chambéry and Annecy, offers a beautiful medieval festival and a cobbler's museum every year. The centre of the village is worth discovering, while it is possible to enjoy the Chéran river which runs through the village. More info: Village d'Alby-sur-Chéran
Alex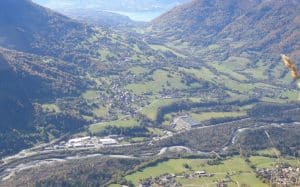 Alex is a small village located halfway between Annecy and Thônes at the gateway to the Aravis massif and its world famous ski resorts. The village is situated about 13km east of Annecy between the river fier and the countryside. More info: Village d'Alex
Argonay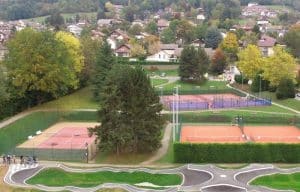 The village of Argonay has more than 2200 inhabitants and is located on the banks of the river Fier on the road to La Roche-sur-Foron, Chamonix or Megève. Ideally located, this commune offers numerous facilities and services. More info: Village d'Argonay
La Balme de Sillingy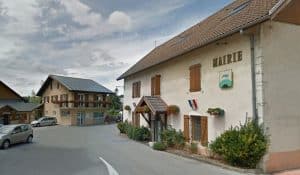 La Balme de Sillingy is a town located about 10km north west of Annecy. Nestled at the foot of the Mandallaz mountain and bordering the communes of Sillingy and Epagny, La Balme de Sillingy has a very pleasant nature and leisure area with a small lake. More info: Ville de La Balme de Sillingy
Bluffy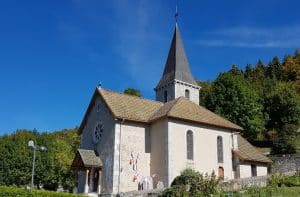 The village of Bluffy has more than 300 inhabitants for a total area of 3,74km2. Situated to the south east of Annecy, about twenty kilometres towards the Bauges, the village offers a magnificent panorama and is a favourite place for walkers and hikers. More info: Village de Bluffy
Chapeiry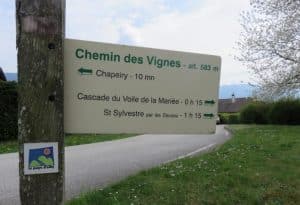 Chapeiry is a small village of only 700 inhabitants, part of the canton of Alby-sur-Chéran and located about 10km south of Annecy. The communes of Viuz la Chiesaz, Montagny les Lanches and Seynod are all around it. More info: Village de Chapeiry
Charvonnex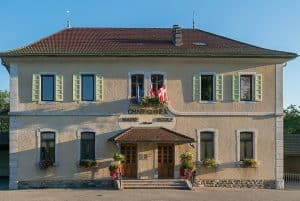 Charvonnex, a small village about ten kilometres north of Annecy, is located in the canton of Annecy-le-Vieux. With a surface area of 471 hectares, Charvonnex varies in altitude from 500 to 730 metres, passing through the main town at 580 metres. More info: Village of Charvonnex
Chavanod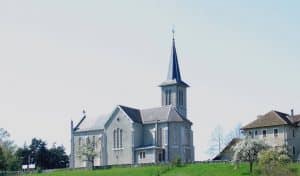 The town of Chavanod is located 5km east of Annecy next to the towns and villages of Seynod, Cran-Gevrier, and Poisy. The town has a population of over 2000. It is probably the most rural town around Annecy despite its development. More info: Ville de Chavanod
Choisy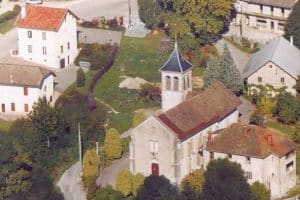 This beautiful rural commune is located north of Annecy. It borders on Le Balme-de-Sillingy. With a population of 1,600, it has an interesting historical heritage. Its economy is based on the production of milk for the manufacture of Emmental and Abundance. More info: Ville de Choisy
Cran-Gevrier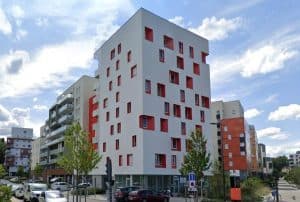 The town of Cran-Gevrier is located on a hill to the west of the city of Annecy in the direction of Sillingy, Nonglard or Poisy and has a population of about 18,000. More info: Ville de Cran-Gevrier
Cruseilles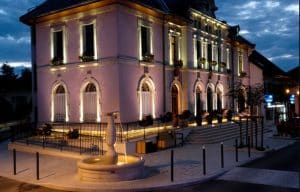 The town of Cruseilles is located between Annecy and Geneva, at the foot of the Salève mountain. In summer you can enjoy the large heated swimming pool of Les Dronières and beautiful walks, especially around the lake. Many shops are available in the town centre. More info: Ville de Cruseilles
Cuvat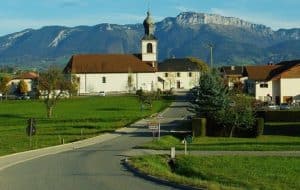 Cuvat is a small village located 12km north west of Annecy, next to Charvonnex, La Balme de Sillingy, Pringy. Cuvat benefits from a privileged location, both close to the town and to road access, but still retaining its rural village charm. More info: Village de Cuvat
Duingt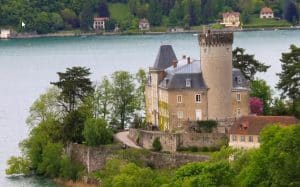 Duingt, a village of 870 inhabitants, covers more than 435 hectares at an altitude of 450 metres. The village is located 12km south of Annecy in the "bout du lac" area and 32km from Albertville and the valleys of the Savoie. There are beaches, restaurants, but also its magnificent castle. More info: Village de Duingt
Epagny Metz-Tessy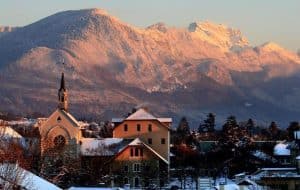 Epagny Metz-Tessy is a new commune resulting from the merger of the communes of Epagny and Metz-Tessy on 1 January 2016. The highest point is 770 metres above sea level and the commune covers 1,206 hectares with a very large commercial area, located 8 km north-west of Annecy. More info: Ville d'Epagny Metz-Tessy
Etercy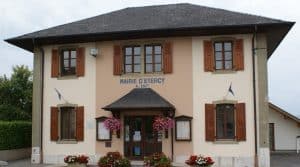 Etercy is a commune of about 800 inhabitants called Eterciens and Eterciennes. It is located in the direction of Rumilly, after Lovagny and Chavanod. A pleasant little country village. More info: Village d'Etercy
Faverges-Seythenex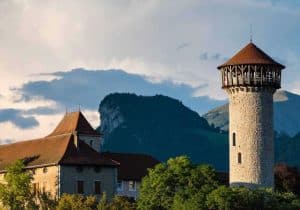 Faverges is a town at the end of Lake Annecy with a population of nearly 8,000. It is the gateway to Savoie via Ugine to Albertville. It is the entry point to the mountain ranges of Savoie and the country's largest ski resorts. There are many shops and facilities. More info: Ville de Faverges-Seythenex
Frangy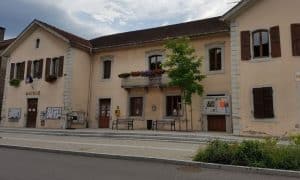 Frangy is a commune located on the road between Annecy and Bellegarde. It has more than 2,000 inhabitants and its historical heritage is well worth a visit, particularly its large 17th century bridge over the small river Usses. More info: Village de Frangy
Lovagny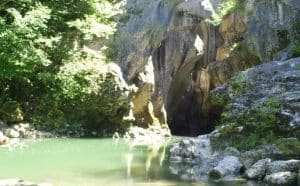 Lovagny is a small village of 900 inhabitants in the direction of Rumilly, 10km west of Annecy. Lovagny covers a total area of 555 hectares in the middle of the Fier gorges. More info: Village of Lovagny
Menthon-Saint-Bernard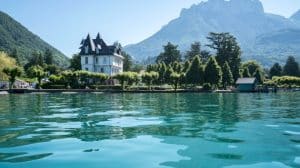 Menthon-Saint-Bernard is a small town of 1800 inhabitants located about ten kilometres south east of Annecy. The inhabitants are the Menthonnais and the Menthonnais and are lucky enough to live close to the lake and the mountains. More about : Village de Menthon Saint Bernard
Meythet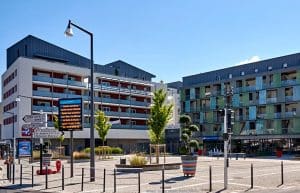 Meythet is one of the largest towns in the Annecy area and is located 3km west of Annecy. It covers only 320 hectares at an altitude of about 450 metres for more than 8,000 inhabitants. More info: Ville de Meythet
Montagny-les-Lanches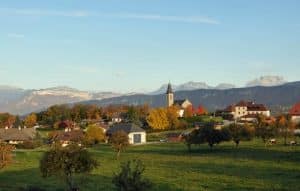 Montagny-les-Lanches is a small village on the outskirts of Annecy between Chavanod, Marcellaz-Albanais and Chaux-Balmont (entrance to the A41 Annecy Sud motorway), covering an area of 4.38 km² at an altitude of about 600 metres. The population is approximately 500 inhabitants, known as Montagnolans. More info: Village de Montagny les Lanches
Nâves-Parmelan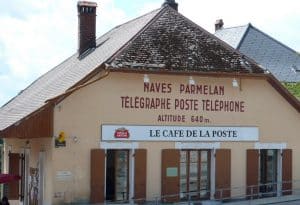 Nâves-Parmelan is a small village located at the foot of the Parmelan mountain in the heart of the Aravis mountain range. The village is situated about 7km east of Annecy and is close to Villaz, Dingy Saint Clair and Annecy-le-Vieux. Its inhabitants are called the "naverains" and number about 1,000. More info: Village of Naves Parmelan
Nonglard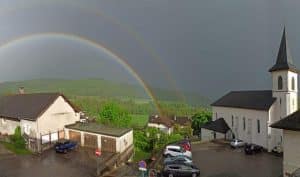 Nonglard is a small village located 10km west of Annecy towards Rumilly. The village is bordered to the north by Sillingy, to the east by Poisy, to the south by Lovagny and to the west by Vaulx and is 500 metres high. The 600 inhabitants of the village are called the Nonglardiens and Nonglardiennes. More info: Village de Nonglard
Poisy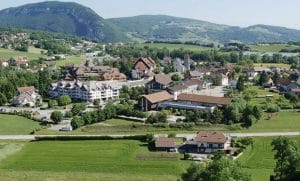 Poisy is a town located 6km west of Annecy. Poisy covers 1140 hectares, of which 313 hectares are agricultural and 442 hectares are forest and protected areas at an altitude of about 500 metres. Its 8,000 inhabitants are called Poisilliens and Poisiliennes. More info: Ville de Poisy
Pringy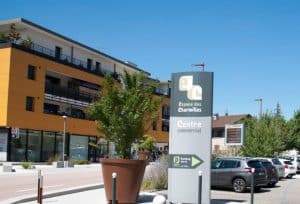 Pringy is a small town located 3km north of Annecy at the entrance to the A41 Annecy-Nord motorway. With its charming little town centre, this commune has many assets. The population of Pringy is approximately 4,200 inhabitants, known as the prinniaciens. More info: Ville de Pringy
Quintal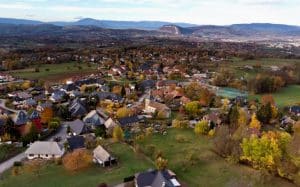 Quintal is a small village located 6 km south west of Annecy on the edge of the communes of Viuz la Chiesaz and Seynod and lies at the foot of the Semnoz. A real haven of peace in the middle of the countryside. The population is just over 1200. These inhabitants are called quintalis. More info: Village de Quintal
Saint-Jorioz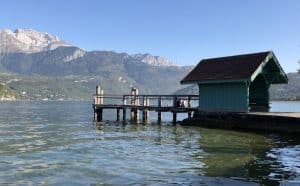 Saint-Jorioz is a commune located south of Annecy, a few kilometres from Faverges, Albertville and the valleys of Savoie. The commune covers more than 1100 hectares and has about 5700 inhabitants called Saint-Joriens and Saint-Joriennes More information: Ville de Saint Jorioz
Saint-Martin-de-Bellevue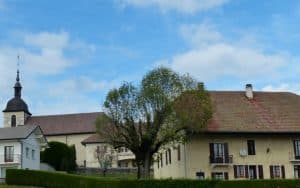 Saint-Martin-de-Bellevue is located about 10km north of Annecy towards La Roche-Sur-Foron. It is a town with 2,000 inhabitants called the Saint-Martinois and covers an area of 933 hectares at an altitude of 738 metres. After its merger in 2017, it is part of the new commune of Fillière. More info: Village of Saint Martin de Bellevue
Sevrier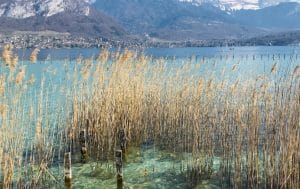 Sévrier is a charming town located along the western shore of Lake Annecy on the way to the towns of Saint-Jorioz, Faverges, Albertville and the major ski resorts of the Savoie. With a surface area of 1265 hectares, this town has no less than 4500 inhabitants called Sevriolains and Sevriolaines. More info: Ville de Sévrier
Seynod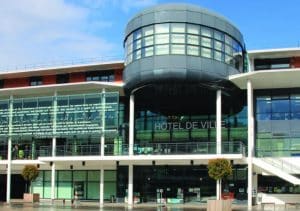 The town of Seynod borders the town of Annecy to the south west. Seynod is currently the largest municipality in the agglomeration with the addition of Balmont and the village of Vieugy in 1999. It has 19,000 inhabitants, known as Seynodiens and Seynodiennes. More information: Ville de Seynod
Sillingy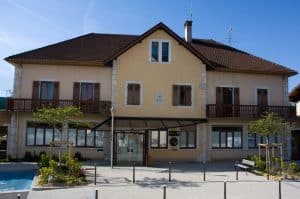 Sillingy is a town located 11km north west of Annecy in the direction of the communes of Frangy and Bellegarde in the Ain department. The population is more than 4,000 inhabitants called the sillingiens and the sillingiennes. More information: Ville de Sillingy
Talloires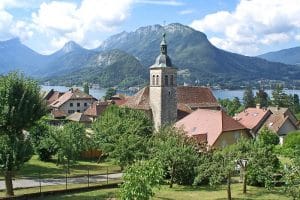 Talloires is a town located 15km south east of Annecy on the shores of the lake. The population of Talloires is more than 2000 inhabitants called Talloiriens and Talloiriennes. A charming little town, it welcomes many holidaymakers during the summer season between the lake and the mountains. More info: Ville de Talloires
Thônes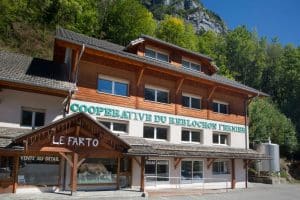 Thônes is a typical small town in the Haute-Savoie region and is located 20 minutes from Annecy in the direction of the ski resorts and the Aravis massif. It is the capital of the delicious Reblochon, the traditional cheese that is the envy of the world, no less. Its 6,500 inhabitants are called the Thônains and Thônaines. More info: Thônes
Veyrier-du-lac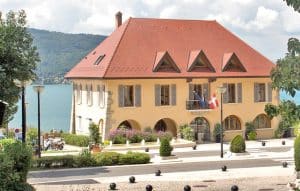 Veyrier-du-lac is a small town located on the eastern shore of the lake, a few kilometres from Annecy, and in the direction of Talloires or Menthon-Saint-Bernard. The 2200 inhabitants are called Veyrolains and Veyrolaines. More info: Veyrier du lac
Villaz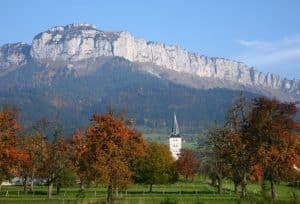 The village of Villaz is located 10km north-east of Annecy in the direction of La Roche-sur-Foron. Villaz now has over 2200 inhabitants who are known as villazois and is neighbouring the communes of Charvonnex, Dingy Saint Clair and Argonay. More info: Village de Villaz
Viuz la Chiesaz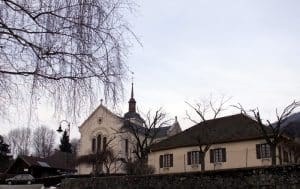 Viuz la Chiesaz is a small village, located about ten kilometres south of Annecy, just after the villages of Quintal, and Balmont and Vieugy (commune of Seynod). More information: Village of Viuz la Chiesaz