Viuz-la-Chiésaz is a small village in Haute-Savoie in the Rhône-Alpes region located about ten kilometres south of Annecy, just after the villages of Quintal, Balmont and Vieugy (commune déléguée de Seynod).
Geographical location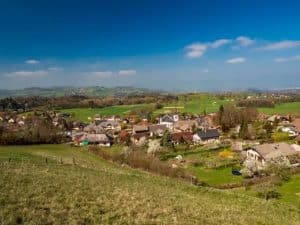 The village is part of the canton ofAlby-sur-Chéran and its inhabitants are called Viulans. Viuz-la-Chiésaz has more than 1300 Viulans, rises to an altitude of over 600 metres and covers 13.91 km².
Monuments and places of interest
The visitor can admire the following tourist attractions:
Gallo-Roman remains, traces of a Roman villa and statuette of a Gallic god.
The Roman road"Boutae-Aquae".
Neo-RomanesqueSaint-Etienne's Church 1903, restored at the end of the 20th century.
Stoup in a wall, the only vestige of the priory (located just beside the church).
Chalet de L'Abbaye: calvary.
Crêt de Châtillon, highest point of the Semnoz. Orientation table and magnificent panorama.
Crêt de Tertère.
Grottes des Fours : you can get there by the Semnoz path in 1 hour 30 minutes.

Trails: many trails are marked out, they allow you to discover the nature. The path "Le chemin de bois de Marie" (Marie's wood path) which starts at La Vétaz and allows you to discover the fauna and flora of the region. It was marked out by the children of the village nursery school.
The best rated hotels
Depending on your budget, we have selected five hotels near Viuz-la-Chiésaz that offer excellent value for money and have very good customer reviews:
Le Pélican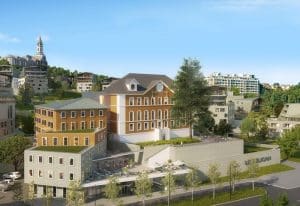 This hotel has been open since 2021 and offers great luxury on the shores of Lake Annecy. It has an oyster bar, a bakery, brunch and an evening DJ set. Annecy city centre is a 5-minute walk away.
From €152 per room.
La Grange des Pères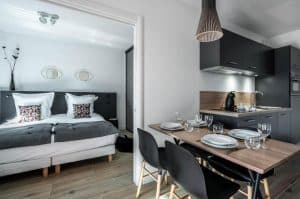 This beautiful hotel is well kept and offers a contemporary decoration with rooms equipped with a kitchen. Lake Annecy and the winter sports resorts are nearby.
Rates start at €104 per night.
Le Pré Carré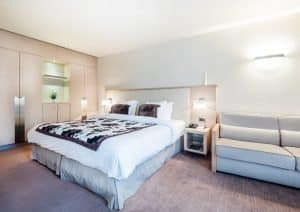 This beautiful 4-star hotel is located in the centre of Annecy. It offers all the amenities with 27 rooms and 2 air-conditioned flats with safe, internet and spa. The reviews are very good for this hotel.
From €239 per night.
Hotel du Palais de l'Isle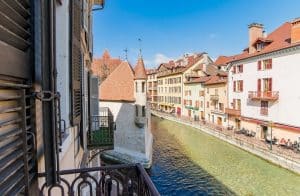 Very well located in the historical centre of Annecy, with some rooms overlooking the Old Prisons. You can eat in the many restaurants nearby to enjoy Savoyard culinary specialities.
From €141 per night.
Les Trésoms Lake and Spa Resort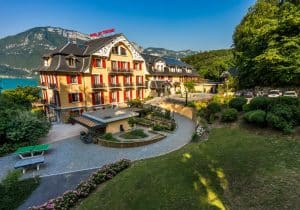 Located opposite Lake Annecy, nestled in the slopes of the Semnoz, this beautiful hotel offers 2 restaurants, a spa and a beautiful indoor swimming pool. It is the perfect starting point to discover the city of Annecy or to go to the mountains.
From 233 € per night.
Public services and shops
The school is located in the Chef Lieu,Tel: 04.50.77.54.28
The library is in the same place and is open: every Tuesday and Thursday from 4pm to 6pm and Saturday from 10am to 12pm. It recently organised a Harry Potter exhibition.Tel: 04.50.77.51.44
A bakery, a bar-tabac-restaurant and two hotel-restaurants (one of which is at the top of the Semnoz) are located in the commune. A farmer sells cheese directly. There are still seven farms in the commune.
The town hall of Viuz-la-Chiésaz
Address : Chef-lieu 74540 Viuz-la-ChiésazTel : 04.50.77.51.44Opening hours:
Monday: from 9 am to 12.30 pm
Tuesday: from 3pm to 6pm
Thursday: from 3pm to 6pm
Friday: from 9.30 am to 12.30 pm