30 minutes from Annecy, there is a magical place for young children, it is the home of Father Christmas, the place where the old man with the white beard lives.
Santa's Hamlet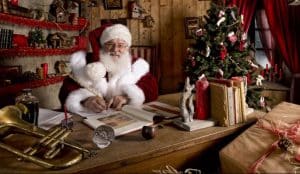 Over 1,200 m², children will discover a world decorated with magnificent Christmas decorations. Knowing what Santa does every day is a privilege, you will visit his kitchen, his room, his toy-making workshop.
A little further on, it's the domain of his twin brother, Père Fouettard, who is much nicer than his name suggests. Then it's the world of one of the Mothers Claus, to discover a thatched cottage full of femininity. Finally, the last of the gang, the Sandman, who has prepared the attic for Father Christmas with the "totottes" (the familiar name for the dummy).
This visit is truly magical, and you can eat at the crêperie and buy a souvenir at the Santa's hamlet shop.
Magic video of Santa's Hamlet in Haute-Savoie
Practical information
ACCESS: 75 rue des Alouettes – Col du Mont Sion – 74350 Saint-Blaise
To reach the Mont Sion pass. 15 min. between Annecy and Geneva, towards Cruseilles on the R.N. 201
Coming from Geneva on the A41 Nord motorway, exit 19.
The price of the entrance varies according to the period, it is necessary to count about ten euros for the adults and around five euros for the children.
The official website of Father Christmas' Hamlet
Important: Santa's Hamlet will be open from 23 October 2021. A health pass will be required at the entrance for people aged 12 and over.