Winter is a magical time to discover Annecy. The mountains draped in white surround the lake. What are the activities to enjoy during the cold season?
Annecy in winter: nature
While nature has gone to sleep, the town of Annecy and its surroundings offer holidaymakers a variety of activities for every taste. For those who love unspoilt landscapes, there are many walks and hikes available from Annecy. Located on the edge of the town, the Semnoz mountain offers many marked paths. At its summit, you can go downhill skiing, cross-country skiing, sledging or snowshoeing on a large plateau.
In good weather, there is a magnificent panorama of the Mont Blanc massif. There are many winter sports resorts in the vicinity of Annecy which provide access to extensive ski areas. Most resorts have retained the traditional charm of an Alpine mountain village.
Enjoying nature reserves and green spaces
The two nature reserves of Bout du lac and Roc de Chère allow you to discover the alpine fauna: beavers and salamanders. If you wish to stay in Annecy, the lakefront is magnificent at this time of year with the snow-capped mountains in the background. The Pâquier promenade and the Jardins de l'Europe will leave you with an unforgettable memory because of their romantic aspect with the winter lighting. The Annecy Castle is a magnificent site in winter and will allow you to take beautiful shots of the snow-covered roofs of the Old Town of Annecy.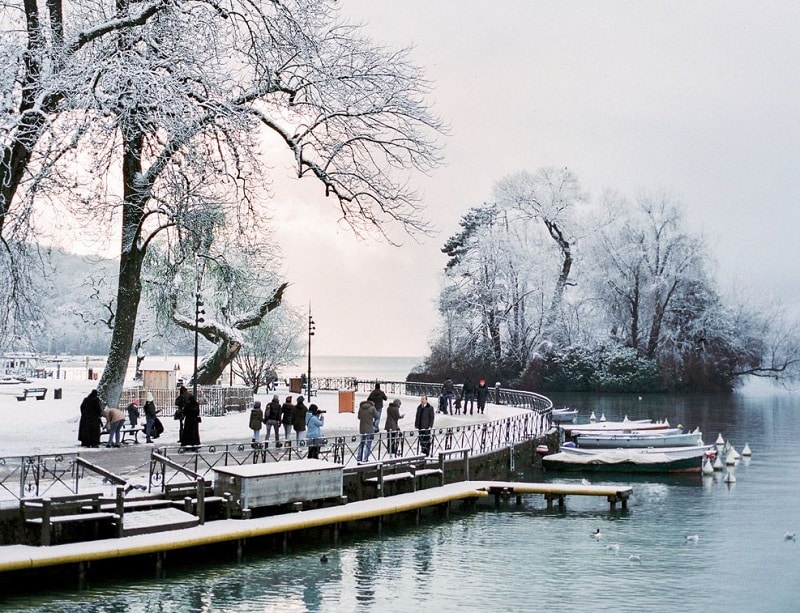 Annecy in winter : city side
In all seasons, the programme of cultural and traditional events in Annecy is rich. During your winter holidays in Annecy, you will have the choice between :
From the end of November to the beginning of December, the town of Annecy organises the Alpine Christmas and its Christmas market. Dozens of small wooden chalets offer visitors festive items. Stands allow you to taste Savoyard and other specialities. The market is located in front of the Town Hall and on the François de Menthon square opposite the Courier shopping centre.
On the first Tuesday of December, the traditional Foire de la Saint-André, which has been held for centuries, offers manufacturing and food products in the streets of the town centre.
On the heights of the Mont Sion Pass, children can discover Santa's Hamlet with its house and toy factory.
The second weekend after Mardi Gras in February, Annecy's Venetian Carnival attracts dozens of masks that roam the streets and shores of Lake Annecy. The many visitors can take photos of their favourite costumes.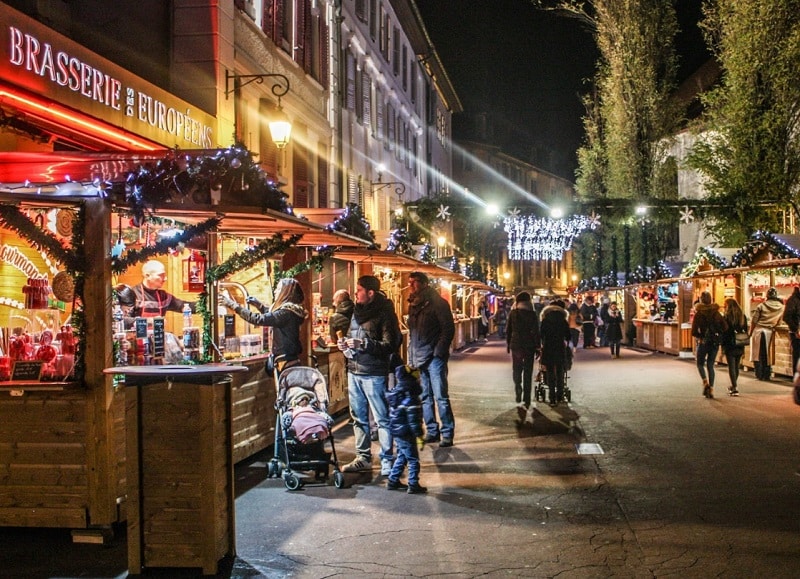 The winter season is the opportunity to spend a few days on holiday in Annecy, avoiding the summer crowds, for a reasonable budget in terms of accommodation.