Choosing a bed and breakfast in the vicinity of Annecy is the assurance of a unique stay. Ideal for a cultural or natural weekend in the magnificent setting of Lake Annecy. Accommodation in a gîte guarantees peace and quiet and an authentic encounter with the owner.
How to choose your bed and breakfast in Annecy
Bed and breakfasts are becoming increasingly popular as a low-cost holiday accommodation option. We offer you some advice to make the right choice in the Annecy area.
Many bed and breakfasts have been awarded a label, which is a guarantee of quality, as they have to meet strict specifications. These labels are the following: Fleurs de Soleil, La Clef Verte, Gîtes de France and also Clévacances. Most guest houses do not have any labels, but they do offer quality services.
Before booking, ask the owner as many questions as possible to avoid misunderstandings. Distance from Annecy, internet connection, breakfast included, room facilities, parking are all essential. The Annecy region is very touristy, so bookings for bed and breakfasts and gîtes should be made several months in advance for a summer booking. It is also important to check whether there are any services not included in the price, and the conditions of cancellation.
A bed and breakfast is a special type of accommodation, it is not a hotel or a rental. It is necessary to adapt to the rules of the owner of the premises. Late night returns are often not accepted. Meals are often taken at fixed times.
You can now choose your room or guest house with a view on the lake, in the city of Annecy, or more in the countryside, in the mountains, with a swimming pool.
The best rated guest houses
Depending on your budget, we have selected seven bed and breakfasts around Lake Annecy that offer excellent value for money and have very good customer reviews:
Hygge Lodge Annecy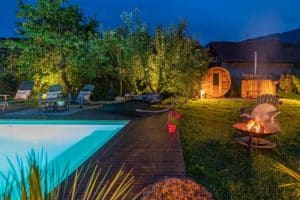 Located in Doussard, on the shores of Lake Annecy, this beautiful guest house offers accommodation with a private swimming pool, bedroom, kitchenette, lounge area and bathroom. Numerous hikes to the Bauges Massif are possible from this address.
Chez Brigitte et Sylvain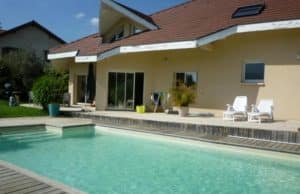 A very nice accommodation with a beautiful outdoor swimming pool. The interior is fully equipped with a sitting area, flat-screen satellite TV and a private bathroom with hairdryer and shower. Located in Vieugy, 15 minutes from Annecy and 10 minutes from the beautiful Semnoz mountain.
Chalet le Pré de la Dame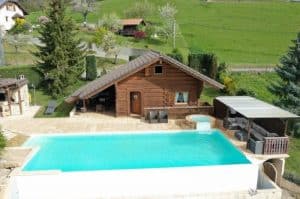 On the commune of Épagny at 10 mn, the geographical situation is convenient to visit the region of Annecy, the winter sports resorts and the villages around the lake of Annecy. The large swimming pool and the beautiful terrace are assets for this charming accommodation. A beautiful address.
Le Piou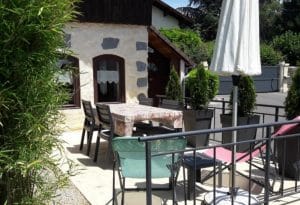 A nice and cosy bed and breakfast located in chemin du Petit Brogny in Annecy. You can take public transport to Annecy city centre to visit the castle and the lake. A popular bed and breakfast for guests. The Carrefour shop is nearby.
Le Chalet du Lac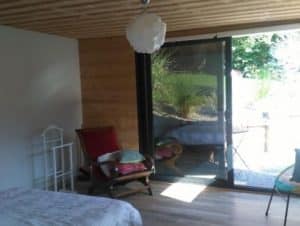 This guest house is located in Doussard, ideal for visiting the national nature reserve at the end of Lake Annecy and for cycling around the lake. The studio has a garden, a double bedroom and a private bathroom. You can enjoy the beautiful view of the surrounding mountains.
Annecy's table d'hôtes
Annecy is rich in mountain culinary traditions, such as fondue, tartiflette and péla. Some guest houses and gîtes offer a table d'hôte, but this is not systematic. In this case, the owner will be able to advise you on good restaurant addresses in Annecy. The guest houses that offer a table prepare the dinner. This is different from a restaurant, the meal is often shared with the host, and there is a unique choice of dishes.
It is a moment of conviviality, you will be received as friends and you will learn good information to improve your stay in Annecy.
Other types of tourist accommodation