Épagny Metz-Tessy is a new commune in the Annecy agglomeration. It was created by the merger of the communes of Épagny and Metz-Tessy on 1 January 2016. The highest point is 770 metres above sea level and the commune covers almost 1,206 hectares. The neighbouring communes are : Pringy, Meythet, Poisy, Sillingy.
The Épagny shopping centre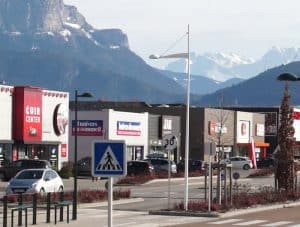 You will also find the Grand Épagny shopping centre, the largest shopping area in the Annécien basin, where you will find many national brands: Auchan, H&M, Micromania, Cultura, King Jouet, Darty, La Grande Récré, Grand Frais, McDonald's, Burger King.
Cultural facilities and events
Library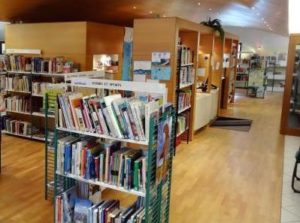 Épagny Metz-Tessy has a library for children and adults who wish to learn something new. It is called La Crypte aux Livres and is located under the chapel, 15 rue de la Grenette. It currently has 8,421 documents, of which 520 are borrowed from the departmental lending library and are renewed regularly.
The multi-purpose room and complex at Sous Letraz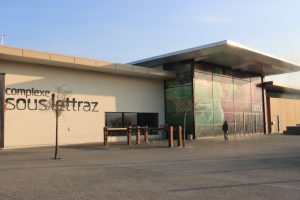 This 694 m² facility can accommodate up to 698 spectators.
It has a cloakroom, dressing rooms and a sound and light control room. The hall can be divided into two separate rooms depending on requirements.
À Table: the literary and gourmet salon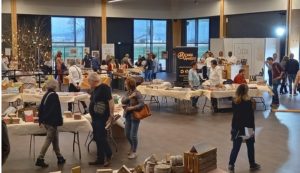 At the end of March, the commune organises a weekend cultural and culinary event called "À Table". This is an opportunity for writers, actors, illustrators and photographers to share a convivial moment with publishers, local producers, associations and the public.
Schools
There are many schools in Épagny Metz-Tessy today, as there are currently 3 primary schools and 2 nursery schools.
Top rated hotels
Depending on your budget, we have selected 5 hotels near Épagny Metz-Tessy that offer excellent value for money and have very good customer reviews:
B&B Hotel Argonay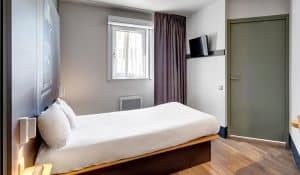 This hotel is located in Argonay, 5 minutes from Épagny. Renovated in 2020, the rooms are air-conditioned. Pets are welcome. An economical address to discover Annecy and the winter sports resorts.
From 45 € per room.
The Originals City, Hotel Annecy Aéroport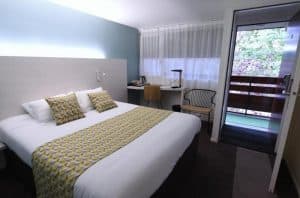 Located in Metz-Tessy near Meythet Airport, the hotel is well situated for visiting Annecy and its surroundings. The air-conditioned rooms offer a work desk and tea, coffee and milk facilities. The Annecy Castle Museum is a 14-minute drive away.
From €77 per night.
Ibis Budget Poisy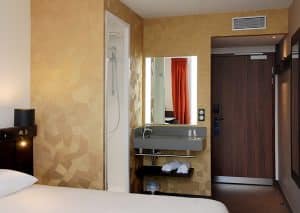 Located 10 minutes from Épagny, this hotel offers all the usual services of the brand, including free parking. The rooms are accessible to disabled guests. The reception is open 24 hours a day. A good economical address to discover the little Venice of the Alps.
From 59 € per room.
Hôtel Première Classe Épagny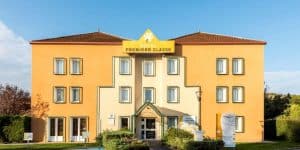 This budget hotel is located in the Grand Épagny shopping area, 10 minutes from Annecy city centre. Excellent value for money. Breakfast is served for 5 €.
From 49 € per room.
Hotel Balladins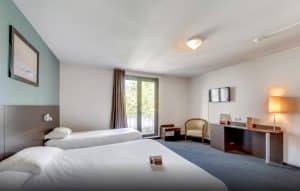 In Cran-Gevrier, this beautiful 3-star hotel offers excellent comfort with spacious, air-conditioned rooms, Wi-Fi and 24-hour reception. You can enjoy the terrace and its bar.
From €87 per night.
Clubs and sports facilities
Judo Club
The judo club of Epagny Metz-Tessy offers to practice and learn judo from 5/6 years old, until the orange belt. You can find the judo club at the Dojo, rue de la Tuillerie.
Tel : 06.61.75.43.12
Karate Club
The karate club welcomes adults and children from 5 years old to the dojo room, rue de la Tuillerie.
Tel: 06.11.14.37.04.
Dance club
The dance club offers you the opportunity to practice and learn rhythmic dance from 3 years old, as well as jazz for children and adults. You can find the dance club at 114, rue de la République.
Tel : 04.50.22.68.86 or 06.82.19.69.09
Aïkido Club
The Aikido club offers you to learn Aikido from 10 years old. Find the club at 322 Rue de la Tuilerie, 74330 Épagny Metz-Tessy.
Tel : 06.67.13.42.84.
Other clubs
There are also other sports clubs in Épagny Metz-Tessy: basketball, skiing, gymnastics and model making, tennis, horse riding, running and fast walking, cycling and mountain biking, and football at FC Épagny Metz-Tessy.
Multi-generational apparatus platforms
The commune has three such sports facilities:
The Maraîchers apparatus platform: intended for all generations, it has a circular area that allows associations to meet to exercise in the open air
The Grenottes platform is suitable for seniors
The Sous-Lettraz platform is more dedicated to experienced athletes
Services & Administration
Town hall
143, rue de la République 74430 Épagny Metz-TessyTel : 04.50.22.04.71Mail : info@epagny74.frWebsite : www.epagnymetztessy.fr
Market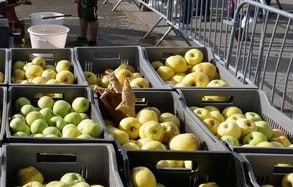 The Épagny Metz-Tessy market is held every Saturday morning on the Place de la Mairie from 8am to 1pm.
Annecy Airport
Accueil – CCI 74 8 route Côte Merle 74370 Metz-TessyTel : 04.50.27.30.06Mail : cciaero@haute-savoie.cci.frMore info on : Annecy Mont-Blanc airport