Meythet is located in Haute-Savoie, in the Rhône-Alpes region. It is a delegated commune of the new commune of Annecy which is located 3 km west of the centre of Annecy.
Geographical location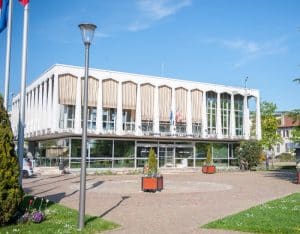 It covers more than 320 hectares, at an altitude of about 450 metres. Its 9,000 inhabitants are the Meytheans and Meytheans. Meythet occupies 3.4% of the surface area of the Annecy conurbation and belongs to the group of communes known as "right bank" of the conurbation.Annecy Airport is also located here.
Cultural facilities
Louise Michel media library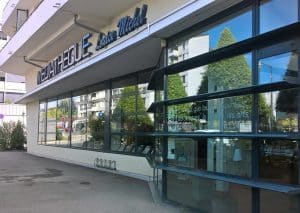 The 780 m² media library is spread over two levels. It is located on rue François Vernex and has over 22,000 documents, including 900 DVDs and 2,500 CDs. It is also a space for working and consulting multimedia.
Le Rabelais auditorium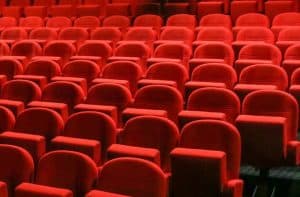 The Rabelais auditorium is located on the route de Frangy and plays an active role in the cultural life of the town. It hosts numerous shows and concerts for young and old. This space is part of the Théâtre des Collines, which also includes the Théâtre Renoir and the Espace des Forges in Cran-Gevrier. Find out more: Le Théâtre des Collines
Rabelais Cinema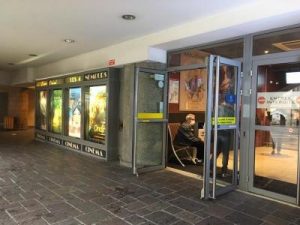 The Rabelais cinema is located on the route de Frangy, next to the theatre. You can watch the latest box office films. The cinema has 280 seats and was completely renovated in 2005. Prices : Adults 6,50 € – Young people 4,50 €. More information : www.cinema-lerabelais.com
The best rated hotels
Depending on your budget, we have selected five hotels near Meythet that offer excellent value for money. They have very good customer reviews:
Ibis Budget Poisy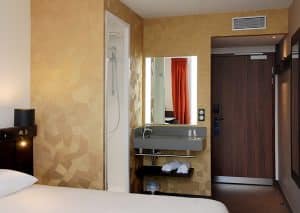 Just outside Meythet, this PRM-accessible hotel offers full facilities for a reasonable price: free Wi-Fi, air conditioning and free parking. Conveniently, the reception is open 24 hours a day. You can easily visit Annecy located 15 minutes away by car.
From €59 per room.
Icone Hotel Annecy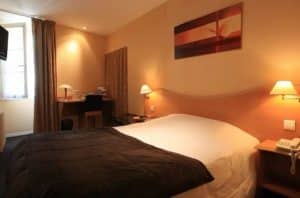 This hotel offers 25 rooms in a 16th century house. Very well located, you can visit the old town of Annecy on foot. It is less than 100 m away. We recommend the rooms overlooking the courtyard, which are quieter in summer.
From 69 € per room.
Hotel Balladins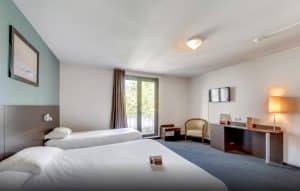 Located in Cran-Gevrier, 5 minutes from Meythet, this beautiful 3-star hotel offers large, spacious and air-conditioned rooms. The reception is open 24 hours a day. Guests benefit from a lovely terrace.
Rates start at €87 per night.
Kyriad Annecy Cran-Gevrier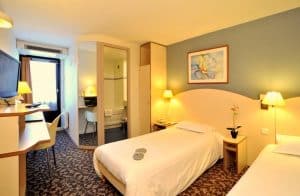 The hotel is located on the route des Creuses, near Meythet and the city of Annecy, which you can easily visit. The terrace allows you to eat outside during the summer months. Economical prices for good services.
From 62 € per night.
Ibis Styles Annecy Gare Centre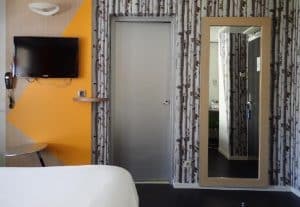 The hotel is located in the station area of Annecy. You can easily rent a bike next to the station. The hotel is air-conditioned and accessible for disabled guests. You can park your car in the public car parks, which are subject to a fee.
Prices start at €110 per night.
Sports facilities and clubs
Meteor Multipurpose Hall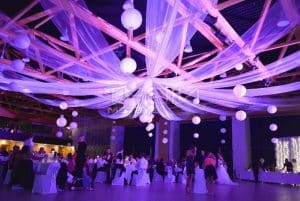 This large multi-purpose hall can be used for meetings and weddings, with a small room for 50 people and a large room that can accommodate up to 200 people. The facility is located at 27, route de Frangy in Meythet.
French Alpine Club
The French Alpine Club of Meythet is a large hiking, climbing and alpine sports club with over 350 members. Join the club if you want to be able to do sports in nature or in the mountains with other people.
Martial arts club
The martial arts club allows adults and children from 4 years old to learn and practice judo. Self-jujitsu is available from the age of 14 and aikido from the age of 7. Activities take place at the Salle le Météore, 27 route de Frangy.
Tel: 04 50 46 01 26.
Football club – ESM
ES Meythet allows the discovery, initiation and practice of football for children from 6 years old. Whether for training or competitive football, theEtoile Sportive de Meythet welcomes everyone, boys and girls of all ages. More info: ES Meythet
Rugby club
The Meythet rugby club welcomes people from 5 years old to senior. The stadium and the club are located in rue de l'Aérodrome. You can reach them by telephone on 04 50 22 24 86.
Tennis club
The tennis club allows everyone to play and enjoy themselves by playing for leisure, but also to compete with other players and other clubs. It is also possible to take tennis lessons in groups or in public. The tennis club is located at chemin du Vieux Meythet.
Tel: 04 50 22 27 22.
Gymnastics course of 1.8 km with apparatus: Rue de la Barrade.Stadium and football pitches: Cité des Creusettes and Allée Clos de Bellevue.Street area and skateboard ramp: Chemin de la Fruitière.Agorespace" multi-sports structure: Rue des Grillons.
Walks and nature trails
Three signposted routes allow you to discover nature in this urban commune.
The Nant de Gillion footpath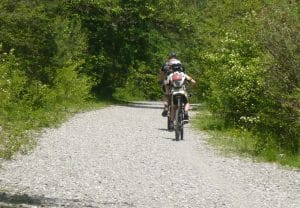 This walking route has recently been rehabilitated. It is a pleasant route, in the undergrowth, which runs alongside a stream. Mountain biking is also possible on this route.
The Bois des Côtes and Marais Côte Merle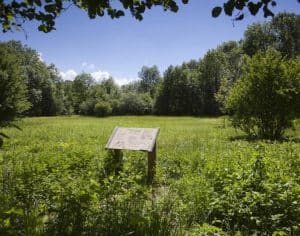 This is a natural area with fauna, flora and springs protected by prefectural decree. You can follow the environmental protection interpretation trail. It will allow you to learn more about the water cycle.
The Vallon du Fier – Bois des Iles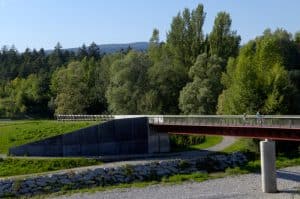 This vast area allows you to walk along the banks of the Fier and access the communes of Annecy, Annecy-le-Vieux and Metz-Tessy. Part of it is in the undergrowth and allows you to run in good conditions, with suitable ground. A bridge allows pedestrians to reach the Annecy part. The whole site is also authorised for mountain bikes.
Equipment and Services
Annecy Airport
Home – CCI 74 8 route Côte Merle 74370 Metz Tessy Tel : 04 50 27 30 06 Fax : .04 50 27 39 83 Mail : cciaero@haute-savoie.cci.fr More info on : Annecy-Meythet airport
Markets in Meythet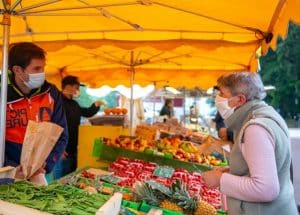 The town has two weekly markets. They allow you to buy fruit and vegetables from local producers in a short circuit.
The town centre market, which is held on Wednesday mornings from 8am to 1pm. On this occasion, the section of the rue François Vernex between number 11 and the crossroads with the route de Frangy is closed to traffic.
The small market in Vieux Meythet takes place on Saturday mornings from 9am to 1pm at 1 chemin du Vieux Meythet. It is a food market which gives pride of place to local producers.
The post office
Monday to Friday from 8.30am to 12pm and from 1.30pm to 5.30pm. Saturday from 8.30am to 12pm. 2 avenue du Stade, 74960 Meythet. Tel: 04 50 22 00 19.
Meythet en Fête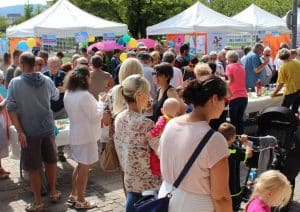 The town of Meythet gathers in one day and in one place the garage sale, the traditional animations, the festival of the village of old Meythet and the festival of associations. The date chosen is the first Sunday in October. The event takes place from 9 am to 5 pm. A refreshment stand and a restaurant are available on site.
Meythet Town Hall
It is located rue de l'Hôtel de ville, 74900 Meythet. Opening hours:
Monday, Wednesday, Thursday: from 9 am to 12 pm and from 1.30 pm to 4 pm.
Tuesday: 9am to 12pm and 1.30pm to 6pm.
Friday: from 9 am to 12 pm.
Official website: Mairie de Meythet