Sillingy is a town in Haute-Savoie in the Rhône-Alpes region located 11 km northwest of Annecy. The population is more than 5,000 inhabitants called the sillingiens. The town covers an area of 1,484 hectares at an altitude of 500 metres and is part of the community of communes of Fier et Usses.
Geographical location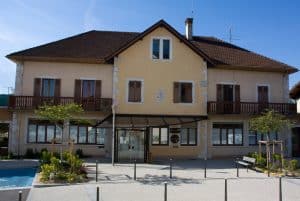 Sillingy is located between the Mandallaz and Age mountains and the communes of Poisy, Épagny, La Balme de Sillingy and Choisy.
The commune is currently twinned with Reconvillier in the Bernese Jura, in Switzerland, since 19 June 1993, and with Paularo in Friuli Venezia Giulia, in Italy, since 6 May 2000. Economic activity is sustained in the commune, with nearly twenty companies being created or taken over each year.
Cultural and educational facilities
André Lafarge Library
The "André Lafarge" library is located next to the school, 350 route des écoles, 74330 Sillingy.
Every Tuesday, there are early reading sessions for babies, as well as a reading committee which meets every two months. The librarian is accompanied by volunteers. Opening hours:
| | |
| --- | --- |
| Tuesday | 4pm – 7pm |
| Wednesday | 10 am – 12.30 pm 1.30 pm – 5 pm |
| Friday | 16:00 – 19:00 |
| Saturday | 10 am – 12:30 pm |
Early childhood
The Community of Communes Fier et Usses, which includes Sillingy, has three structures dedicated to early childhood:
The micro-crèche"Les Petites Marmottes".
The multi-care centre"Les Petits Chamois".
The micro-crèche"La Vallée des Elfes".
The school groups
Four school groups exist in Sillingy:
The public primary school of Chef-Lieu, 390 route des Écoles.
The public primary school of La Combe, 90 route de Chez Dunand.
The public primary school of Chaumontet, 32 chemin de la Bourdaine.
La Mandallaz secondary school, 165 Route Pont du Trésor.
The best rated hotels
Depending on your budget, we have selected five hotels near Sillingy that offer excellent value for money and have very good customer reviews.
Domaine de la Caille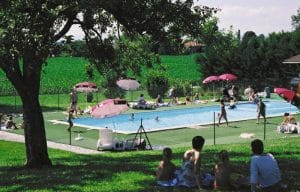 This beautiful domain offers quality services: restaurant, outdoor swimming pool, playground for children. Only 15 km away, you can discover the old town of Annecy and its beautiful castle transformed into a museum. A beautiful country address.
From 74 € per night.
Les Rochers Blancs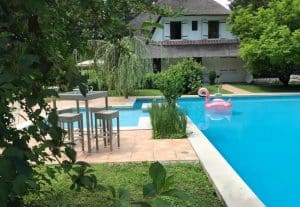 This two-building hotel offers a large outdoor swimming pool. The chef offers excellent and refined French cuisine. Nearby you can visit the Gorges du Fier and the Jardins Secrets de Vaux.
From € 74 per night.
The Originals City, Hotel Annecy Aéroport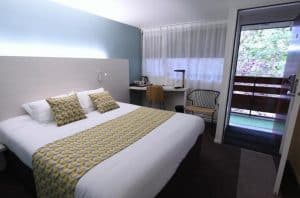 This hotel is located near Meythet airport, 7 km from Sillingy. The rooms include a desk, hospitality tray and hot drinks to prepare. You can easily explore the city of Annecy and the nearby winter sports resorts.
From € 66 per night.
Première Classe Annecy Nord – Épagny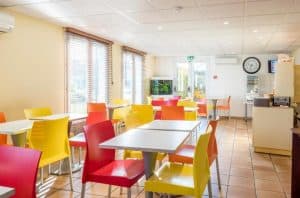 An economical hotel that is very well located near the A41 motorway and the expressway to the city centre of Annecy. The Épagny shopping centre offers great value for money shopping.
Prices start at € 52 per night.
Le Pélican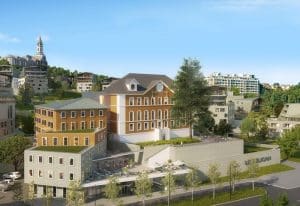 Opposite Lake Annecy, this beautiful newly opened hotel offers 101 rooms, a bakery, an oyster bar, brunch and DJ sets. The Old Town of Annecy is a 5 minute walk away. A very nice address.
From €152 per room.
Sports facilities
The René Gaillard stadium for team sports.
The skatepark: located opposite the nursery school
Communal facilities and services
The municipal leisure centre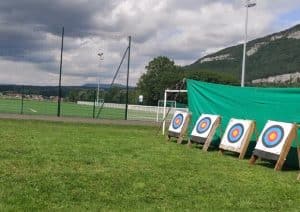 This structure operates in partnership with the commune of La Balme-de-Sillingy. It welcomes children on Wednesdays and during the school holidays. The 3 to 6 year olds are welcomed in Sillingy and the 6 to 10 year olds in la Balme. Play, nature and cinema activities are offered.
For teenagers aged 11 to 17, summer activities are on the programme: giant fresco, climbing, via ferrata, canyoning and sailing.
Communal halls
The town of Sillingy currently has two communal halls with 280 and 70 places maximum. The small room can only be rented for meetings and receptions.
House of Associations and Twinning (MAJ)
The house of associations of Sillingy gathers 4 rooms of 16 to 67 places and are reserved for the associative life of the commune.
Accommodation centre
This centre can welcome your friends or your family if you make a party in Sillingy. Its capacity is 35 beds. It is reserved for the inhabitants and associations of the commune.
Walks and earthquake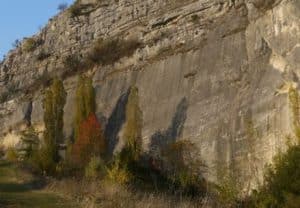 Sillingy is made up of several hamlets: Chef-lieu, Bromines, Seysolaz, Chaumontet, Quincy, Arzy, Lugy, La Combe, Sublessy and La Petite Balme. The commune has managed to maintain its agricultural activity with 6 farms still in operation. Numerous footpaths allow the walker to meet the local fauna: pheasant, birds of prey, foxes and roe deer.
A seismological curiosity, at the foot of the Mandallaz mountain, you can discover the Miroir de faille in the Petite Balme sector. This is the geological trace of the tectonic activity of the Vuache fault which produced a major earthquake in 1996.
Sillingy Town Hall
The town hall is located 121 place Claudius Luiset, opening hours :
Monday, Wednesday and Thursday: 8.30am – 11.30am
Tuesday: 8.30am – 11.30am / 1.30pm – 6pm
Friday: 8.30 – 11.30 am / 1.30 – 6 pm
The website of the Sillingy town hall.