Pringy is a small town in Haute-Savoie, located in the Rhône-Alpes region, 3 km north of Annecy. It is part of the Annecy agglomeration community. It is also a delegated commune of the new commune of Annecy.
Geographical location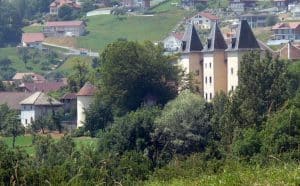 The population of Pringy is approximately 4,200 inhabitants, known as Prinniaciens. The commune covers 910 hectares, 25% of which is wooded at an altitude of 500 metres. The town borders the communes ofAnnecy-le-Vieux, Cuvat, Metz-Tessy and Argonay.
It is developed around several centres: Brogny, Promery, le Chef-Lieu, Pringy-Gare and Ferrières. The commune of Ferrières was attached to Pringy in 1973. The commune was a place of passage and then a very busy railway station on the commercial level. The development of these various hamlets has resulted in a strong increase in population.
Cultural and leisure facilities
Asters – Conservatoire des espaces naturels de Haute-Savoie
Asters is an association with a technical vocation to protect, welcome and raise public awareness of the nature reserves and natural environments of Haute-Savoie. Come and discover this preserved heritage thanks to the various activities organised on the sites. More information: www.asters.asso.fr
Nursery and Primary Schools
The nursery school has 4 classes. 179 route de Proméry – 74370 Pringy Tel : 04.50.27.25.54
La Salle College
The private college "La Salle" receives pupils of the first cycle. 190 chemin de Gräfenberg, 74371 Pringy Tel : 04.50.27.20.14.
Leisure centre
The centre operates on Wednesdays during the school year, the short holidays and one week at the end of August, before the start of the school year, for children aged 6 to 12.
Centre aéré
The day-care centre welcomes children during the month of July. They are divided into three age groups: 3-6 years, 7-9 years and 10-12 years.
Top rated hotels
Depending on your budget, we have selected five hotels near Pringy that offer excellent value for money and get very good reviews from guests:
La Grange des Pères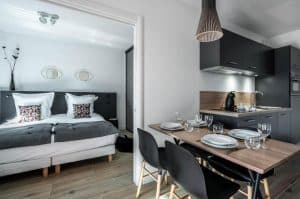 This beautiful Appart'hotel is located in Pringy, near Annecy. It is decorated in a contemporary style with excellent facilities. You can easily reach the ski resorts near Annecy in less than 40 minutes, such as La Clusaz or Manigod.
From 104 € per night.
B&B Hotel Annecy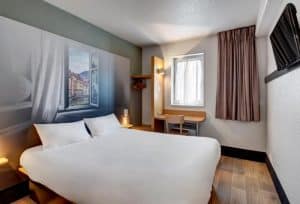 A budget hotel offering well-equipped, air-conditioned rooms with private bathroom. Breakfast is served as a buffet with fruit juices, hot drinks, jams and pastries. The city of Annecy is only 7 km away.
From € 60 per night.
Hotel de Novel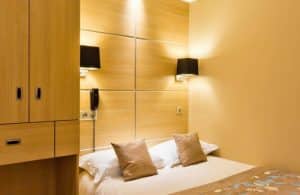 Located in the north of Annecy, not far from the A 40 motorway exit, this independent hotel offers 68 spacious rooms. You can easily visit Annecy by car. The restaurant serves quality local and Italian specialities.
Prices start at € 95 per night.
Logis hotel Annecy nord – Argonay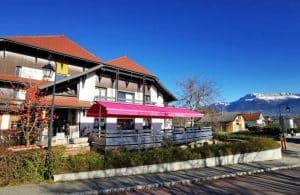 This hotel was renovated in 2014. It has received an award for its ecological approach. The restaurant offers good seasonal cuisine inspired by traditional local dishes. The nearest ski resorts are a 40-minute drive away.
From € 70 per night.
Mercure Annecy Centre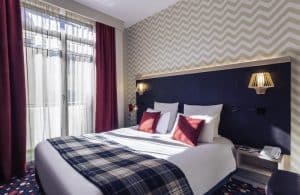 This magnificent 4-star hotel welcomes you in the central station area of Annecy. We recommend you to visit the Old Prisons, the Annecy Castle and the Jardins de l'Europe. The Courier shopping centre is nearby.
From € 131 per night.
Services & Administration
After-school care
The after-school care service welcomes school children at the following times:
Morning: 7.30am – 8.20am.
Evening: 4.30 – 6.30 pm.
Waste disposal centre
The waste disposal centre is open 7 days a week, including public holidays. Les Marais Noirs (commercial zone), 74330 Épagny Metz-Tessy Tel: 04.50.22.71.06
Mairie
1 Place Georges Boileau, 74370 Pringy, Tel : 04.50.27.29.12Opening hours
Monday, Tuesday, Wednesday and Friday from 8.30am to 12pm
Thursday from 8.30am to 12pm and from 1.30pm to 5.30pm
Saturday from 8.30am to 11.30am, for civil status only
Website of the Pringy town hall.
The castles of Pringy
The commune has two pretty castles:
Monthoux Castle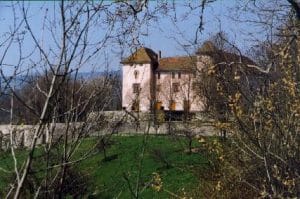 This old fortified house belonged to the Count of Geneva before being acquired by the Monthoux family. To the east of the building, the medieval curtain wall has been preserved. It corresponds to the old watchtower and marks the entrance to the town of Annecy, on the road to Geneva.
The Château de Proméry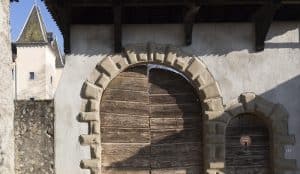 The building was an old fortified house built in the 13th century to watch over the roads to Cuvat and Geneva. It was owned by the Monthoux family from 1316 to 1578. The castle was completely restored between 1986 and 1990. The facades and roofs are listed as historical monuments.
Extra info: these buildings cannot be visited.