The town of Cruseilles, in Haute-Savoie, is located between Annecy and Geneva, at the junction of the Bornes. It has a population of 4,431. Its altitude is 783 metres.
History and heritage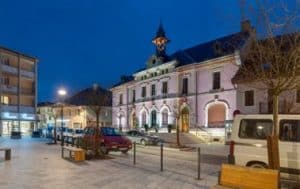 The presence of man is very old on this territory. Traces of tools date back to prehistoric times in the Salève caves, which is the mountain overlooking the town. Subsequently, this geographical crossroads underwent various invasions: Allobroges, Romans, Burgundians, Goths and Franks.
At the beginning of the Middle Ages, the seigneury of Cruseilles was linked to the county of Geneva. Trade franchises were then put in place.
In 1801, Cruseilles became part of the canton of Saint-Julien. On 20 December 1860, the canton of Cruseilles was created when Savoie became part of France. During the contemporary period, agricultural activity gave way to various services and industries.
The Caille bridge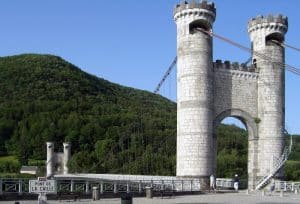 This bridge was built in 1837. It crosses a fault on the Usses torrent. This building can be visited all year round. The Caille bridge is now accompanied by a contemporary bridge which allows to support the important road traffic.
Cultural and sports facilities
Sports facilities
The municipality has numerous sports facilities:
A skatepark, rue des Moulins.
A children's playground, avenue des Ebeaux.
The Ebeaux sports complex, for team sports.
The Ebeaux swimming pool, which is used by schools and colleges.
The Dronières nature park offers a wide range of activities: a 2.5 km fitness trail, a wildlife park with a picnic area, an adventure park and an orienteering course. The Dronières lake allows for fishing, tennis and bi-cross.
The heated outdoor swimming pool at Les Dronières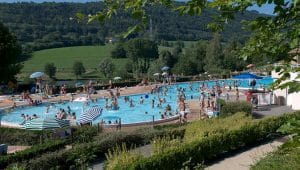 The heated outdoor swimming pool at Les D ronières attracts a large audience during the summer season. A snack service is available, as well as swimming, aquaphobia and aquagym classes. Located about 20 km from Annecy, we recommend this summer outing.
Opening hours: from June to the beginning of September, Monday to Friday from 12.30 to 19.00 and Saturday and Sunday from 10.00 to 19.00.Price: 3 € for children, 6 € for adults.Address: Les Dronières, 74450 Cruseilles.
Cultural facilities
You can go to the André Dussolier intercommunal library located at 44 rue des Grands Champs. The Cruseilles theatre offers a varied programme all year round.
The best rated hotels
Depending on your budget, we have selected five hotels near Cruseilles that offer excellent value for money and have very good customer reviews:
Domaine des Avenières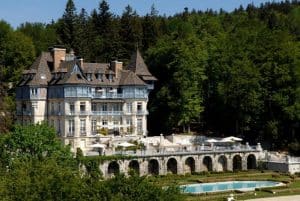 This beautiful 4-star hotel is located in Cruseilles, between Annecy and Geneva. It is equipped with a golden mosaic chapel, a hammam, a jacuzzi and an ornamental pool. You can enjoy the view of Mont Blanc on a clear day.
From €187 per night.
Beaujour & Bonsoir Brasserie-Hotel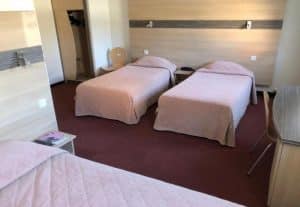 The hotel is located near exit 18 of the A41 motorway in the commune of Villy-le-Pelloux near Cruseilles and 10 minutes from Annecy. Breakfast is available from 6:30 am. You can go hiking in the Aravis mountain range.
From 71 € per night.
The Originals City, Hotel Rey du Mont Sion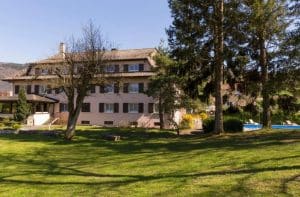 This is a pleasant stopover on the way to the winter sports resorts. The hotel is located a few kilometres from Cruseilles. You can have lunch in the gastronomic restaurant next door. The hotel has a large garden with an outdoor swimming pool and a tennis court.
Rates start at € 79 per night.
Savoie Hotel – Aux Portes de Genève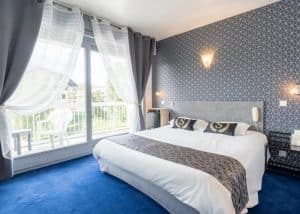 Just past Cruseilles, at the gateway to Geneva, this hotel offers a good level of comfort and facilities. Breakfast is served in your room or in the dining room. The train station is located opposite the hotel.From € 72 per night.
Hotel Le Soli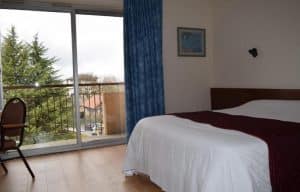 Located in Saint-Julien-en-Genevois, this 2-star hotel is within easy reach of Geneva. The breakfast is composed of fresh products: breads and croissants. There is a bus stop nearby to reach the centre of Geneva.
From €58 per night.
Education
The town has a nursery school, a crèche and primary and secondary schools: the public primary school in rue des Prés longs and the private primary school in rue des Frères. There is also a Montessori school and college in Cruseilles.
The Cruseilles Wine and Regional Products Fair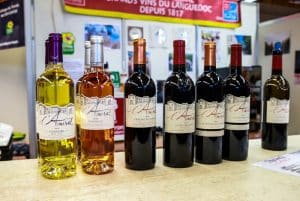 Every year, at the end of February, the Cruseilles table tennis club organises its famous
Wine and Regional Products Fair . With over 70 exhibitors and 2,500 visitors, this event celebrated its 25th anniversary in 2020. The products on offer come from all over

France

. Visitors can

eat

on site. The show is organised at the Gymnase des Ebeaux, Avenue des Ebeaux, 74 350 Cruseilles.
The markets of Cruseilles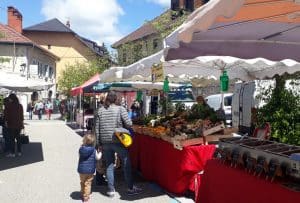 Night markets are organised once a month in May, June and July. Two markets are open every week in this commune of Haute-Savoie.
The traditional market takes place all year round on Thursday mornings from 8am to 1pm, in the Place de la Mairie at the Rue des Frères car park.
The Sunday market takes place every Sunday from 8am to 1pm in the Place de l'Église and Place de la Mairie. Fresh, local products and handicrafts are offered for sale.
Town Hall
Address: 35, place de la Mairie, 74350 CruseillesTel: 04.50.32.10.33 Opening hours: Monday, Wednesday, Thursday and Friday from 8.30am to 12pm and 2pm to 5pm. Official website: www.cruseilles.fr