The site of the Caille bridges is a crossing point for travellers on their way from Annecy to Cruseilles. But why are there two bridges on the site?
A unique architectural heritage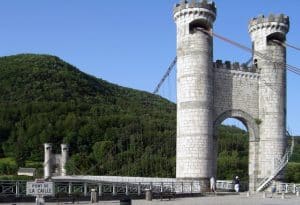 The Pont de la Caille is the last large suspension bridge in Europe. It surprises its visitors with its unusual architecture. This structure, which is the property of the Haute-Savoie Departmental Council, has been listed as a Historic Monument since 1966. It overlooks the river Usses at a height of more than 145 metres. The view of the gorges is therefore magnificent, even if vertigo can be a problem.
It is one of the 25 emblematic tourist sites in the Auvergne-Rhône-Alpes region. As such, the local authority is releasing a budget of 25 million euros over 5 years to renew the tourist offer on these remarkable sites.
The history of the two bridges
The first bridge is called the Charles-Albert Bridge because it was commissioned by the Duke of Savoy Charles-Albert, King of Sardinia. Before its construction, the gorge was crossed by an ancient Roman bridge called the Vieux Pont. The bridge is 192 m long and was inaugurated on 11 July 1839. It is suspended by two groups of 12 large cables. Its deck is made of wooden planks. It has been regularly maintained to ensure its stability.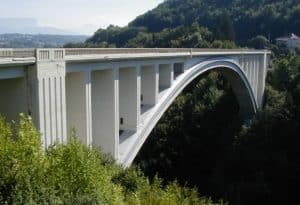 The second bridge is located next door and is known as the Pont Neuf. It was opened to traffic in 1929 to link the towns of Annecy and Cruseilles. The bridge was built to cope with the increase in road traffic on this busy road. The bridge deck is supported by a non-reinforced concrete arch which was for a long time one of the world's largest vaults. Before the opening of the motorway link between Annecy and Saint-Julien-en-Genevois, more than 25,000 cars crossed it daily. Since 2006, it has been the property of the Haute-Savoie Departmental Council.
The Crêt de la Dame hike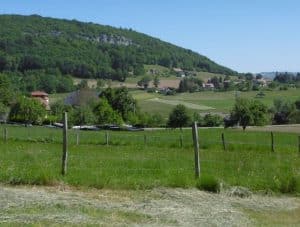 To increase the tourist appeal of the bridge, in addition to its regional reputation, improvements have been made: lighting, a snack bar and a shop selling local produce, and the creation of footpaths. To appreciate the panorama of these bridges and to enjoy a beautiful walk in nature, we suggest you do the Crêt de la Dame hike.
The starting point of this loop can be either on the site of the Ponts de la Caille, or at the level of the car park of the football ground of Allonzier-la-Caille (by starting the ascent by the path). This 6.4 km loop takes two hours to complete. You can enjoy the beautiful view of the Aravis mountain range and Lake Annecy.
Video of the visit of the two bridges of the Caille