The accrobranche is a sport which consists in making a course in the trees by using suspended bridges of all kinds, tended wires, tyroliennes. Different levels are proposed according to the size of the participants and their age. Safety is ensured by a continuous lifeline. Three accrobranche parks exist near Annecy. These courses allow you to discover the beautiful forests around Annecy at bird's height. Your children will particularly appreciate this activity which is very playful while being sportive.
The five accrobranche courses near Annecy
We suggest you discover three accrobranche sites. Our selection takes into account the proximity of the town of Annecy and the natural setting.
Accro'Aventures in Talloires
On the heights of Lake Annecy, the town of Talloires-Montmin has a high quality tree climbing site.
Three levels of accrobranche are proposed:
The adult level: 4 courses, one of which is a Tyrolean traverse. From 1m40, duration 2 hours.
Junior level: 4 courses. From 1m20, duration 2 hours.
Children's level: From 1 m, duration 1 hour.
There are also activities similar to accrobranche:
A Ninja challenge: The challenge is to never put your foot on the ground or in the nets. There is no harness and you can time yourself to spice up the challenge.
The Forest of the Senses: Accessible to wheelchair users and pushchairs. It allows you to discover the 5 senses with the tracks of wild animals, the smell of the trees…
A treasure hunt for children from 3 years old.
An orientation course: to find 20 hidden markers in 27 hectares of forest.
This site offers packages for birthdays, bachelor parties and company seminars. The proximity of a busy paragliding site makes parking difficult in the high season.
Cruseilles Adventure Course
20 minutes from Annecy, this tree climbing site offers multiple activities in the heart of nature. Three levels of tree climbing are available:
Children's level: from 90 cm, minimum age 4 years, duration 1 hour.
Junior level: from 1m15 cm, minimum age 6 years, duration 1 hour 30 minutes.
The vertigo level: from 1 m 40, duration 2 h 30.
Possibility toorganise a birthday party for children and adults.
Aravis Parc d'Aventures de Thônes
This acrobatic course in the trees is located in Thônes, 20 minutes fromAnnecy. The site has a large car park and the circuits are laid out above a small river which you can admire from above.
Several levels are available on this site:
Two practices: which allow you to get used to and acquire autonomy, one of the two ends with a small zip line. This is useful for reassuring children.
The little adventure: 2 courses for children over 6 years old and over 1m15.
The big thrill: 4 courses from 1m40.
The park offers picnic tables. There are birthday packages and group rates.
The Criq'Parc in Saint-Jorioz
Children can discover the world ofAsgard the Dragon through an acroparc in the middle of the forest. The site is located near Lake Annecy in Saint Jorioz. It is an edutainment park that is also suitable for the rest of the family. There are many activities on offer:
2 accrobranche courses with eight workshops per course,
a snake-shaped swing to be done in groups,
a large trampoline perched in the trees,
2 zip lines based on the ground,
a beautiful tree house perched 5 metres high.
Children under 6 must be accompanied by an adult. For children over 6, an adult must remain on the park. All activities can be done as many times as you like. Admission is €13. Children are admitted from 3 years old.Address: 6111 Digue à Panade, 74410 Saint Jorioz You can also go swimming at the Crique beach next door.
The Fort de Tamié Adventure Course
This tree climbing site is located at the end of Lake Annecy, between Faverges and Albertville, in the commune of Mercury. It offers 13 courses with a continuous lifeline and an impressive 300-metre long tyrolienne. You will benefit from a grandiose view of the mountains and valleys.
To relax, a playground offers children access to a water basin with paddle boats, inflatable structures, trampolines and construction games. The visit of the Fort de Tamié is facilitated by interpretation tables. You can picnic at the fort. There is a snack bar and a speciality shop where you can eat on site. The accrobranche courses are accessible from 3 years old.
Address: Route du Collet de Fort de Tamié, 73200 Mercury.Price : from 5 to 27 € depending on the formula, access to the fort is free.
Video of the Talloire-Montmin tree climbing course
Advice on how to practice accrobranche
This sport is very safe, because the loops to be made are equipped with a continuous lifeline so that you never have to unhook yourself. Safety instructions are given by professionals on arrival. This briefing allows you to be autonomous on the different courses.
Advice on how to practice accrobranche :
A pair of trainers that fit well on your feet.
Tie your hair back if it is long.
Wear trousers or shorts only.
Leave your valuables in the locker at the entrance.
The acrobatic tree course sites are closed during the winter period and open in the spring.
The two net parks near Annecy
Le Pays des Géants suspendus : 7 000 m² of net in the trees
A variant of accrobranche, this course allows you to move around the tree tops in secure nets, but without a harness. Slides and huts punctuate the course. Children are accepted from 80 cm and 2 years old. The smallest of the giants, Tiboju , takes children on adventures to protect nature with games on the ground. The Pays des Géants is located between Annecy and Chambéry in the Bauges massif.
For older children, the site offers giant zip lines and a big air bouée (springboard with a buoy jump).
The course is open every day in summer and on Saturdays and Sundays in June.
Address: Le Pays Suspendu des Géants 73340 Aillon-le-Jeune.
Read our article on Le Pays des Géants Suspendus.
The Acro'Aventures of Quintal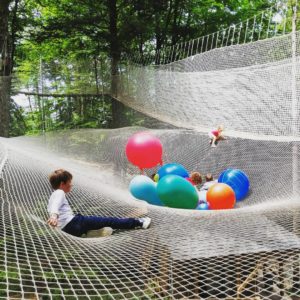 Located in the Semnoz mountain just above Annecy in Quintal. This is a new kind of course.
The playground, suspended in stretched and braided nets, allows you to wander, play and jump from one tree to another, from one footbridge to another between the huts and the giant trampolines.
Large slides allow you to reach the mainland. You can come as a family, in a group, with parents or grandparents to celebrate a birthday.
Children can access Acro'Aventures from the age of 3. An adult must be present for minors.
Atreasure hunt is also available.
Address: Les Prés Collomb, Route du Semnoz, 74 600 Quintal
Open every day from 10am.