The town of Chavanod, in Haute-Savoie, is located 6 km east of Annecy. It is next to the towns and villages of Seynod, Cran-Gevrier and Poisy. The inhabitants, numbering 2,810, are called the Chavanodins and Chavanodines. The town covers an area of 1,336 ha, at an average altitude of 450 metres.
Cultural and sports facilities
Library "Au pré de mon livre
5 place de la mairieTel : 04.50.69.66.92 Opening hours :
| | |
| --- | --- |
| Monday | 3.45pm – 6pm |
| Wednesday | 2.30 pm – 6.30 pm |
| Thursday | 15.45 – 18.00 |
| Saturday | 10 a.m. – 12 noon |
Auditorium "L'Esty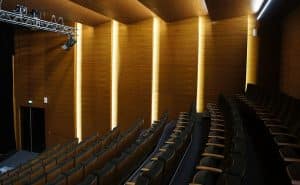 This 152-seat auditorium offers screenings, classical music concerts, live performances and conferences.
Address: 3 place de la Mairie – 74650 Chavanod.
You can consult the site of the auditorium of L'Esty to know the programming of the spectacles.
The stadium – Leisure centre
Located in Corbier, the commune of Chavanod offers :
Two football pitches: one grass and the other synthetic.
A skatepark. If your children enjoy skateboarding, we recommend the Bowl skatepark in Annecy, which is very popular in the region.
A fitness area.
A multi-sports ground.
A playground.
The Gorges du Fier trail
This is a one-hour walk which allows you to link Chavanod to Lovagny to admire the Gorges du Fier and the Château de Montrottier.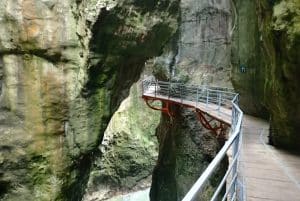 The itinerary: Leave from the main town of Chavanod, following the route de l'Étang. Turn right on the road to Belleville, until the impasse des Cotes (signposted "Chavanod 30").
Continue to the place called "les Moulins". Take the forest track on the right, then the track on the right which goes along the Gorges du Fier until the car park.
You can complete this hike by visiting the natural site of the Gorges du Fier.
The best rated hotels
Depending on your budget, we have selected five hotels near Chavanod that offer excellent value for money and have very good customer reviews:
Fasthôtel Annecy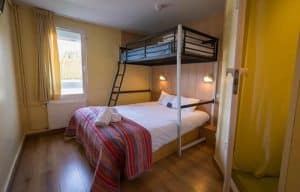 A budget hotel located in Seynod, a few kilometres from Chavanod. There are 48 double, single or triple rooms with bathroom and TV. Breakfast is served as a continental buffet. Annecy can be visited by car from the hotel.
Prices start at € 57 per room.
Ibis Budget Annecy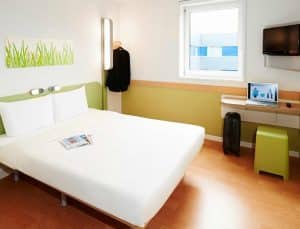 This national brand offers excellent value for money. 49 double and triple rooms are available in Cran-Gevrier. Breakfast is served as an all-you-can-eat buffet. You can visit the old town of Annecy by car.
From 57 € per room.
Kyriad Annecy Cran-Gevrier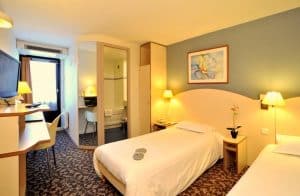 Not far from Chavanod, on the outskirts of Annecy, this hotel offers 50 air-conditioned double rooms. The large terrace allows you to eat outside in good weather. The prices are interesting for a stay in the region.
Prices start at € 62 per night.
Hotel de Bonlieu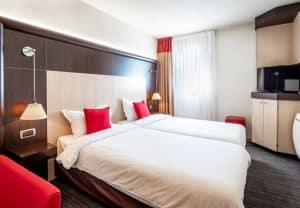 This hotel is located in the centre of Annecy. It is very convenient for visiting the city on foot. The rooms are decorated in a contemporary style and equipped with all the necessary comforts for your stay. The hotel is open 24 hours a day.
Rates start at 143 € per night.
Campanile Annecy Centre Gare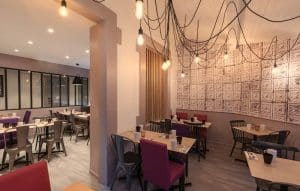 This convenient hotel is located opposite Annecy train station, in the city centre. Breakfast is served in the breakfast room or on the terrace. Families can benefit from attractive rates to discover the city and its lake. The decoration is contemporary and bright.
Prices start at 108 € per night.
Services & Administration
Town hall
1, place de la Mairie 74650 ChavanodTel: 04.50.69.10.61 Official website of the town hall: www.chavanod.fr
Post office
41 route de la fruitière Tel : 04.50.69.10.20
Schooling in Chavanod
For the little ones, the commune has a company crèche called"Bulle de Neige". It is located in the Altaïs intercommunal park, at 28 rue Polaris. A nurseryschool"MAM'zailes hirondelles" welcomes 12 children from 3 months to 3 years. This type of childcare is between individual and collective care.Address: 58 route de la Fruitière.Tel: 07.67.74.49.42 Schools:
Public primary school: 43 route du Crêt d'Esty.
Sainte-Croix private primary school, 12 côte de l'Eglise.
ISETA: the Institute of Environmental and Territorial Sciences of Annecy offers training in the agricultural field from 4ᵉ to 1ʳᵉ Bac Pro. A 124-seat boarding school welcomes students.
Lycée Agricole de Poisy-Chavanod:

Route de l'École d'Agriculture, 74330 Poisy

.
School transport is provided by SIBRA.
Travelling day care centre
Once a week, on Thursdays, the KARAPAT Association offers a new form of childcare for children aged 3 months to 4 years. It consists of a specially equipped camper van, a room in the multi-purpose hall made available by the town hall and a qualified team.For further information: Planet Karapat
Tel : 06.08.96.03.05
Autumn market in Chavanod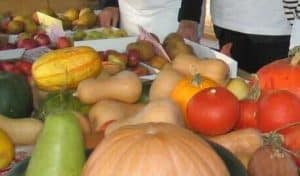 The village's autumn market is held on the esplanade of the town hall in mid-October every year from 9am to 1pm. Local products are offered: fruit and vegetables from local production, cheeses and desserts. Breads are baked on the spot. Bugnes and a pressée de bidoyon are also available.