The castle of Montrottier is a medieval castle, from the 13th and 15th centuries, located in Lovagny a few kilometres from Annecy. This castle, which has marked the past of our department, also houses the incredible collections of Léon Marès. Come and discover the past of the Savoy region!
A little history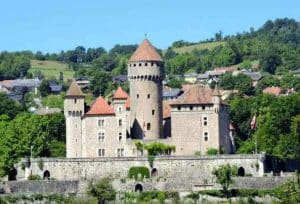 The castle was built in the 13th century in the heart of the Savoy States. It occupies a strategic position near one of the only passages for crossing the Fier torrent.
The medieval fortress includes a large cylindrical keep as well as the Tour des Religieuses, which houses the Montrottier collections. The dwellings of the Counts and Knights and the Guards' room complete the architecture of the building.
At the beginning, the castle had a strategic and military role, then it became a place of residence for the noble families: of Duke Amédéee VII of Savoy, of Menthon and then of other families: of General Dufour, of Rochette, of Brother Jean and finally of Léon Marès.
The latter is at the origin of the collection which he donated in 1916 to the Florimontaine Academy. It is a very rich and varied collection with many themes: games, furniture, art of war, tableware, clothing.
Visit the castle of Montrottier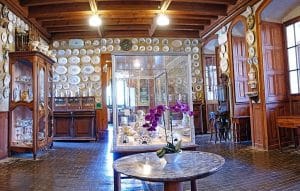 It is possible to visit it every year from June 15th to September 15th from 2pm to 6pm with a guide who presents the collections continuously throughout the afternoon. It will be easy for you to join a visit without having the fear of not being able to visit everything.
The castle of Montrottier is perched at the entrance of the village coming from Chavanod and overhangs the Gorges du Fier.Find the schedules and tariffs of the visits.Near Annecy, other very beautiful castles are to be visited during your holidays:
Video presentation of the Montrottier Castle near Annecy