The Château de Clermont is one of the rare testimonies of the Italian influence in the architectural heritage of Haute-Savoie. This visit allows you to discover the small villages in the countryside around Annecy.
A little history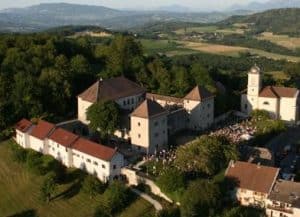 Before the present Château de Clermont, there was the old castle which was the residence of the Counts of Geneva. This administrative centre of the Duchy of Savoy was destroyed by the King of France in 1630 and only a few stones remain in the forest as a reminder of this past. In 1576, a local resident, Monseigneur Gallois Regard, had the Château de Clermont built as his summer residence.
He was a rich and powerful man who was bishop of Bagnorea. He spent time with the popes in Rome, and it is likely that the Italian Renaissance influence on the style of the castle comes from his stay. The building has remarkable architectural elements such as the galleries on three sides, the large kitchen and the cellar.
Visit the Castle of Clermont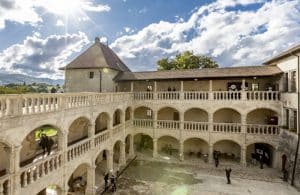 Two permanent exhibitionsallow you to discover the evolution of the building from the Middle Ages to the present day, and to retrace the astonishing life of its builder Mgr Gallois Regard. The rooms are furnished with Renaissance furniture.
A guided tour is dedicated to families with children: "Gallois' wacky castle". Another tour is dedicated to the mentally, visually or hearing impaired: "The Senses of the Castle". Finally, there is another fascinating guided tour, which allows you to discover the history of the first castle in Clermont: "1416, l'affaire du château disparu".
If you wish, you can take a self-guided tour to take your time. A car park and a picnic area are available for visitors.
Address: Chef Lieu, 74 270 Clermont. It's a bit of a drive from Annecy, but the countryside and picturesque villages make for a pleasant drive. The visit costs €3 for adults and is free for children under 8.
Bonus: The visit is free on the first Sunday of the month.
Discover the summer shows at the Château de Clermont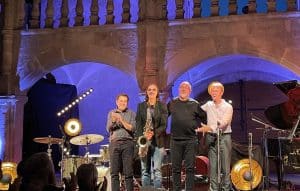 The Château de Clermont is now the property of the Haute-Savoie department, which organises high quality cultural eventsevery summer. More than thirty music, dance and theatre shows are produced throughout the summer. The programme also includes live shows for children at the end of the afternoon at 6.30 pm.
Finally, at the end of August, a 3-day jazz festival is organised with some great headliners. The 2021 edition should be maintained despite the health crisis, with a programme that has been finalised. The capacity will be adjusted according to the epidemic conditions. The festival offers concerts completely outdoors.
The Haute-Savoie Council of Architecture, Town Planning and the Environment regularly organises exhibitions at this venue. In 2019, the exhibition "Architecture XXe en Rhône-Alpes" was organised.
More information on the beautiful castles you can see on your holiday:
Video presentation of the Castle of Clermont in Haute-Savoie