The Château de Duingt is an architectural jewel situated on a peninsula on the border between the Grand Lac and the Petit Lac of Annecy. This medieval fortress has existed for almost a thousand years and offers cultural events in the summer.
A little history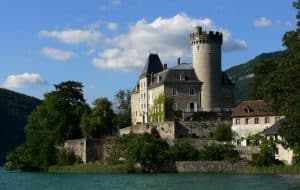 Formerly called Chateauvieux, the Château de Duingt is built opposite the Roc de Chère on the shores of Lake Annecy. It belonged at first to the Duin family until the 16th century. The medieval castle was bought in 1698 by the Marquis de Salles who transformed it into an elegant residence.
His family created five beautiful and painted salons, a terraced park that slopes down to the lake shore and a pretty music pavilion. The castle is built on a rocky island with the lake in perspective, making it a favourite subject for painters such as Cézanne and Suzanne Lansé, as well as for photographers. It has been listed as a Historic Monument since 4 August 1994.
In 1796, during the French Revolution, the building was sold as national property to Jean Babtiste Berthet. For the past 200 years, the de Certeau family has owned the building and taken care of its maintenance. The patronage of companies and institutional actors contribute to the financing of important preservation works of the building. You can observe many paragliders flying over the lake from the Col de la Forclaz and Planfait.
Discover the cultural activities of the Château de Duingt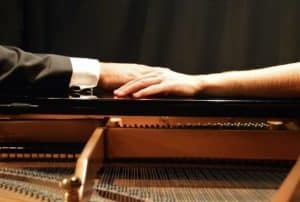 Located in the commune of Duingt on the shores of Lake Annecy, the castle organises various cultural events.
Free open-air screenings of cartoons in partnership with the International Animation Film Festival.
Suspended concerts: in 2019, the Château de Duingt received the musicians Raul Midon and Cléa Vincent.
Different theatre and gesture art shows (juggling and poetic journey).
The Presqu'Île de l'Imaginaire: at the beginning of July, various shows related to our time are proposed in front of the lake and on the lawns of the castle. In 2021, a troupe of 17 artists presented "Le roi s'amuse" by Victor Hugo. This work from 1832 echoed a great epidemic of the 19th century. Piano concerts in connection with the Icebreaker are also given in this unique space.
Address: 2 route d'Annecy, 74 410 Duingt
The price of the shows varies according to the artists, the cartoon projections are free.
Other magnificent castles to visit in the Annecy region:
Video of Duingt Castle filmed by a drone