The Château de Thorens is a magnificent medieval building. You can visit it to occupy an afternoon of your holiday. Ideally located in the commune of Thorens-Glières, a few kilometres from the centre of Annecy.
A place full of history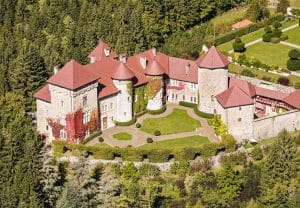 The castle of Thorens Les Glières is very old since it was built in 1060 by Gérold de Genève. A drawbridge, a keep and a square tower were built later in the Middle Ages. In 1559, it was sold to François de Salles, the father of Saint François de Sales, who, together with Saint Jeanne de Chantal, founded the Visitation order. These two saints are buried in the Basilica of the Visitation in Annecy which you can also visit.
The Château de Thorens is unique in that it is still inhabited by the same family of Saint Francis. The family offers a gite for a magical night in the castle. You can choose between: two rooms, two flats and a suite. It is also possible to taste a local platter as a couple or with friends. The castle's cellar offers a tasting of local wines.
We recommend that you have breakfast in the large room with a beautiful view of the mountains. For companies, a seminar offer with 3 historical rooms is possible. Outside, up to 250 employees can meet. The owners organise weddings in this historic house.
Visit the Château de Thorens Les Glières
The guided tour of the castle is offered by a flute player. You will discover :
An entrance hall with the family tree and letters of Saint François.
The imposing kitchens with two fireplaces.
A large reception room with beautiful period tapestries
A room with furniture and paintings
And a study with letters from Cavour relating the period of the annexation of Savoy by France in the 19th century.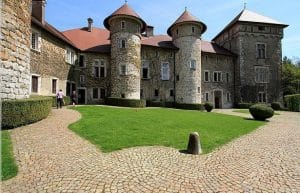 The tour continues in the gardens and the foundations of the building, which has walls 3 metres thick. The visit ends with a medieval song accompanied by the flute.
If you choose to visit the castle during the Heritage Days, you will find local producers in the car park selling Thorens apples, bread, pears and an excellent local apple juice.
Address: Château de Thorens, 74 570 Thorens-Glières.
Important: Due to ongoing works, the castle is not open to visitors at the moment.The Annecy region has other beautiful castles that you can visit on your holiday:
Aerial video of Thorens Castle in Haute-Savoie