Sevrier is a commune located south of the city of Annecy, on the western shore of Lake Annecy towards Albertville.
Geographical location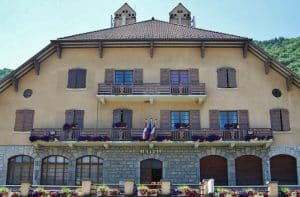 The town of Sevrier covers an area of 1,265 hectares at an altitude of between 440 and 1,280 metres and the 4,200 inhabitants are called Sevriolains and Sevriolaines.
The commune is a strip of land between the lake and the Semnoz mountain which widens as it descends to the south, much of which is made up of pine forests and farmland.
Cultural facilities
Library
Offering a wide range of books (over 10,000), the library is located between the town hall and the school: 2,000 route d'Albertville. The town hall offers a home delivery service for people over 70 years old.
Lake Annecy Ecomuseum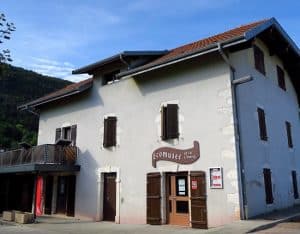 The ecomuseum is dedicated to life in the Savoyard Alps in the 19th century. Presentation of know-how, screening of short films, fun activities for children. This museum was founded by the Annecy folklore group l'Écho de nos montagnes.
It welcomes schoolchildren from kindergarten to high school. The staging is realistic and allows the public to immerse themselves in the daily life of the old days.
The museum is open from 1 May to 15 June and from 15 to 30 September from 2pm to 6pm in low season and from 16 June to 14 September from 10am to 12pm and from 2pm to 6pm in high season.
More info at: www.ecomusee-lacannecy.com
The Bell Museum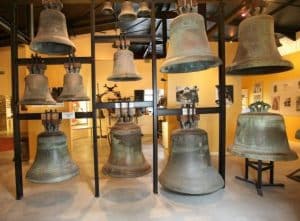 The Paccard company has been making bells since 1796. It is the world leader in church bells and carillons. Most of its production is exported.
Since its creation 120,000 bells have been cast. A visit to the bell museum allows you to understand this particular trade.
The animation complex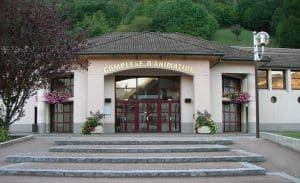 With more than 1,000 m² of floor space, it offers year-round events such as the Comic Book Fair, the Wellness Fair, the Wine Fair and cultural theatre performances. It is located next to the library in Sévrier.
Top rated hotels
Depending on your budget, we have selected five hotels near Sevrier that offer excellent value for money and have very good customer reviews:
Hotel Auberge Le Semnoz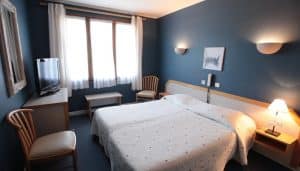 A beautiful traditional hotel located in the village of Saint-Jorioz to discover Lake Annecy and the Bauges massif. There is an outdoor swimming pool and guided tours of the region.
From €60 per night.
Hotel Beauregard, the originals relais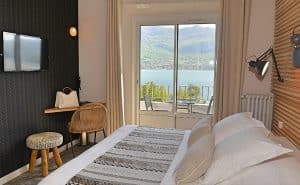 With 44 rooms including 2 for PRM, this hotel offers a magnificent view of Lake Annecy and the Semnoz. The rooms are well equipped and the restaurant is recommended.
Prices start at €81 per night.
Hotel Clos Marcel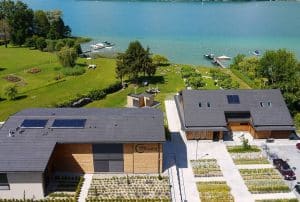 A magnificent 4-star hotel with a simple architecture of glass and wood. Some of the 14 rooms offer an island bath. The bar and restaurant open onto a large terrace. The beach is private for swimming in Lake Annecy.From €275 per night.
Auberge du Roselet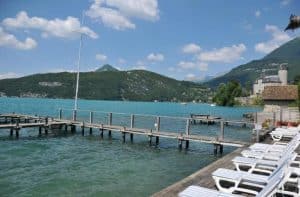 On the shores of the lake, this hotel has a beautiful garden. In the restaurant you can taste local specialities such as perch fillets. It is an ideal starting point for cycling around the lake and swimming in the many beaches in the area.
From € 102 per night.
L'Arcalod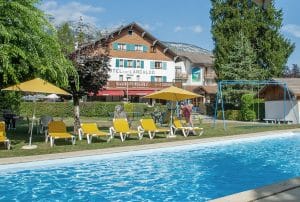 Near Sevrier in the commune of Doussard, this family-run hotel features an outdoor swimming pool heated to 28°C. Bikes are available for loan and you can use the cycle path. The restaurant offers refined cuisine made with local products.
Rates start at € 78 per night.
Sports and walking facilities
The nautical resort represents 5.2 km of shoreline with a renovated municipal beach, a nautical base for sailing, rowing, diving, canoeing, paddling, pedal boats and fishing. The resort is adapted for people with disabilities.
During the summer, courses are offered to young people from 4 to 15 years old to learn water sports but also tennis and horse riding.Contact: Cercle de Voile de Sévrier, Route du Port 74320 SévrierTel: 04.50.52.40.04 During your holidays in Sévrier, you can go on two pleasant hikes adapted to families
Loop of the Croix de Chuguet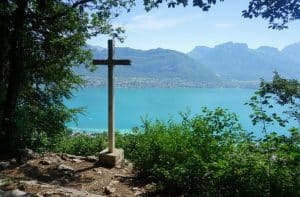 Duration: 1 hour and 35 minutes
Difficulty: families, children from 6 years old
Difference in altitude: 290 m
Start: Létraz car park at 460 m
Maximum altitude: 725 m
The Ant Loop – La Tourvière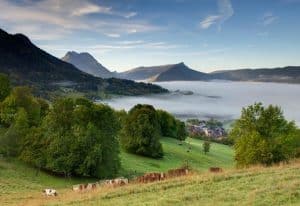 Duration : Les fourmis 2 h 20 / La Touvière – 2 h 20
Departure : Les fourmis : Saint-Eustache / La Touvière – Leschaux
Difficulty: families, children from 10 years old
Difference in altitude: Les Fourmis – 350 m / La Touvière – 460 m
Public transport
There are two bus routes between Annecy and Albertville ( route no. 51) and between Annecy and Duingt ( route no. 52).
School activities
A space for young children "Pic et plume" is located opposite the beach car park. It has a capacity of 33 places for children from 10 weeks to 4 years old. The nursery school (five classes) and elementary school (8 classes) Henri Gour is located 2 000 route d'Albertville. TheMontessori school Fantine de Sévrier welcomes children from 3 to 6 years old in a bilingual French-English environment.
Heritage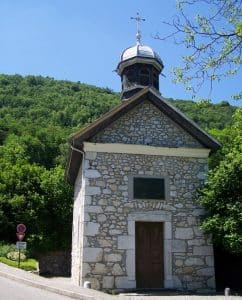 Sévrier has two palafittic sites which are prehistoric remains of lake cities. A dugout canoe, stakes and an axe mould have been discovered.
These underwater sites cannot be visited. You can see the beautiful 19th century chapel of Létraz with a superb solid walnut Virgin, carved by Henri Perrot on the stone altar.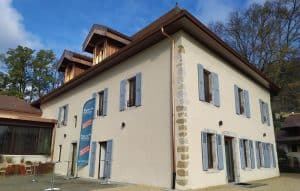 The priory of Sevrier, which is an old church, was bought by the commune in 2000 and is now a place for cultural exhibitions.
It was previously the property of the canons of the Order of Saint Augustine and then a perpetual vicarage established by Saint François de Salle.
Markets in Sevrier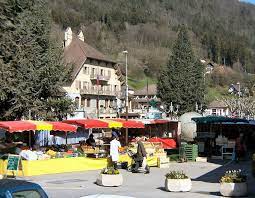 The traditional weekly food market is held every Wednesday on the Place de l'Église opposite the Mairie from 7am to 12.30pm.
During the first week of December, the commune organises its Christmas market with activities such as bread baking, a procession of lanterns and a Gospel concert. It is also an opportunity to find original gifts.
Parking in Sevrier
This commune bordering Annecy has developed several car parks:
The car park of the beach of Sévrier: this large parking space allows access to the municipal beach which is free. The car park is subject to a charge from 15 May to 15 September, every day of the week, from 9 am to 7 pm. The hourly rate is €2 from 15 May to 30 June and from 1 September to 15 September. During the months of July and August, the hourly rate is 2.20 €. For the caravan park on the port road, the parking fee is 30 € for 14 hours.
The church car park: this small parking area is in the blue zone.
Town Hall
Sévrier Town Hall, 2 000 route d'AlbertvilleOpening hours: Monday to Friday: 8.30am – 12pm / 1.30pm – 5.30pm Sévrier Town Hall website: www.visit-lacannecy.fr