Lake Annecy is a glacial lake and is ideal for diving. The water temperature averages 22 degrees in summer, making it comfortable to dive in a wetsuit.
Characteristics of Lake Annecy for divers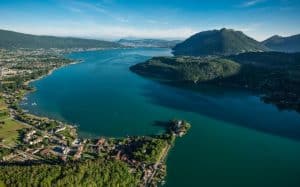 As soon as you descend beyond 10 metres, the temperature approaches 10 degrees, then from 40 metres, 4 degrees all year round. Visibility is good up to a depth of 20 metres, which is comfortable for most beginner dives.
For the novices in underwater sport, many clubs are installed on the turn of the lake of Annecy, you will be able to carry out your baptism of diving in optimal conditions of safety, these baptisms are also proposed to the children as from 8 years with individual assumption of responsibility in a depth from 2 to 3 meters maximum.
The main diving spots in Lake Annecy
Lake Annecy is a wonder for divers. The fish fauna is very varied and there are many magnificent sea grass beds. There are three main dive sites in Lake Annecy:
The France wreck
The France is the last great steamboat. Her wreck is immersed at 42 metres, well laid flat. Its exploration is reserved for experienced divers. This ship was inaugurated in 1909. It was used for 40 years to transport passengers and goods. Completely renovated in the 1960s, numerous maintenance defects later led to its sinking in 1971 off the Albigny peninsula. The spot requires a boat for diving. 7,000 divers visit it each year.
The Roc de Chère
This nature reserve has drop offs that go down to 40 metres. You will be able to enjoy magnificent fish beds. The cliffs of the Roc de Chère plunge into the lake. This spot is only accessible by boat, as it is far from any road outside the marked paths of the reserve.
The Château de Duingt
You can dive to a depth of 35 metres at the foot of the famous Château de Duingt. This vertical cliff gives the impression that the foundations of the building are sinking into the water. The spot contains many pikes. The drop-off surrounds part of the castle. Access is from the 5 parking spaces before the castle, on the right a pontoon allows you to equip yourself.
The beautiful sea grass beds of the Marquisats or Beaurivage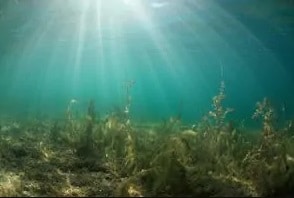 An ideal spot to discover the ecosystem of a large lake of glacial origin and the fauna of Haute-Savoie. These beautiful grass beds allow you to discover the different species of fish in Lake Annecy at a shallow depth, particularly for a night dive. Access is from the Marquisats nautical base.
Overall, we have listed about fifteen sites, some of which can be reached from the lakeside, others requiring a boat, the clubs are very well equipped.
Lake Annecy diving clubs
Lake Annecy is very attractive for divers, so there are several quality clubs to progress in a friendly atmosphere:
Profil Plongée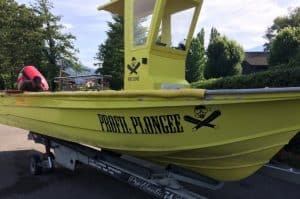 This club has the particularity to operate all year round and to have two nautical bases, one in Talloires and the other in Veyrier. The club also offers afterwork sessions twice a week to discover the lake's sea grass beds in groups of 4 people. An afterwork is also organised every week to dive on the France.
These intense moments end with an appetizer and local cheese. Address: Route du Port, 74290 Talloires – Tel: 04 50 60 79 56.
Club Subaquatique d'Annecy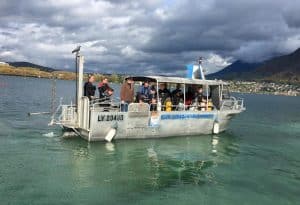 This club was created in 1962 and has slots at the Jean Régis swimming pool. It also has an aluminium boat for disabled access, a barge, a catamaran and a safety dinghy. Night dives are organised on Fridays at the end of the month. For children, a complete training is given from 8 years old in the pool and then in the lake.
Address: Base Nautique des Marquisats, 33 avenue des Marquisats, 74000 Annecy – Tel: 04 50 52 93 08.
La Coulée Douce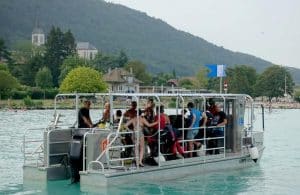 This club offers training courses from level I to level IV, it is located in the pretty town of Sévrier on the edge of the lake. It has three boats, including an aluminium barge adapted for disabled people. There is also a youth section, handi and apnea. It has a slot at the Ile Bleue swimming pool in Seynod. 20 instructors teach diving. Address: 241 route du Port, 74320 Sévrier – Tel: 04 50 52 49 20
Aquateam Club Plongée de Seynod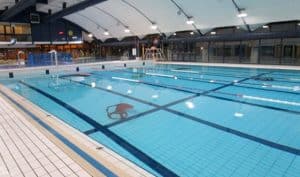 This club, located next to the Seynod swimming pool, offers first dives and full training courses. Trips to discover diving under a frozen lake are available. This club is for members only. Address: 10 avenue Jean Clerc, 74600 Seynod
Diving courses
Some clubs offer FFESSM training, a fun way to progress in scuba diving.
There are Level 2, Level 3 practical, RIFAP and Level 3 full course (practical and RIFAP).
And technical courses such as simple nitrox and confirmed nitrox are possible.
The practice of apnea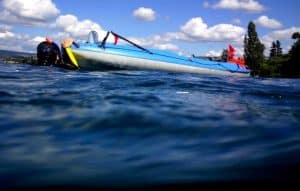 This underwater sport consists of diving without being equipped with an oxygen tank. A distinction is made between dynamic apnea, where the swimmer moves underwater, and static apnea, where the swimmer remains motionless in contact with the water. The Lake Annecy freediving club"L'Eau libre" offers introductions to learn how to ventilate with the diaphragm, to play with ventilation and to carry out a bodyscan (which consists of going through one's body by analysing the relaxation). The following equipment is provided: fins, weighted belt and buoy with a weighted rope. The club also offers the following activities: single fin swimming and underwater target shooting.
Rebreather diving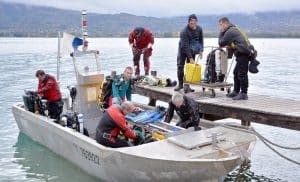 This new technique appeared about twenty years ago and is also practiced on Lake Annecy. The necessary equipment is a diving rebreather which, as its name indicates, allows the diver to recycle air from his own breathing. This variant of classic diving with tanks has many advantages: the dive lasts longer (up to 4 hours), the depth can be up to 120 metres. As the equipment does not produce bubbles, the diver can more easily observe the fish without scaring them. The only drawback is that as the equipment is expensive, rebreather diving is reserved for an elite (7 divers for the Club Subaquatique d'Annecy out of 200 members).
Diving in Lake Geneva
The large Lake Geneva is located in Haute-Savoie between France and Switzerland. Many diving sites are accessible according to your level:
Saint Disdille: at various depths, there are seagrass beds, wrecks, fossilized trees and the Faille aux Écrevisses with a nice drop off from 6 to 20 meters.
The Cherokee: at a depth of 30 m, a dive on the wreck of a plane 10 m long and 8 m wide.
La Reine du Lac : a magnificent vestige of an old Lake Geneva boat with a prow to discover at the end of the dive and a beautiful herbarium.
The Locum: a dive in often very clear waters, the relief from 0 to -10 meters with nice rocks. The drop off is reserved for experienced divers.
Underwater video of the exploration of the France wreck