If there is a beach to try during your stay, it is certainly the beach of Sévrier. It is easily accessible from the main road around Lake Annecy.
Parking and prices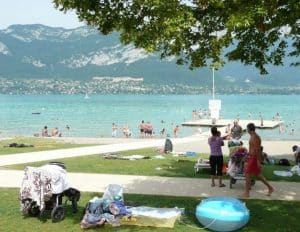 A large car park is available, but please note that it is subject to a parking charge from 9am to 7pm, even on Sundays. So don't forget to put your ticket on the windscreen, as checks are frequent. The most practical way to get there is by bike, which takes only 10 minutes. This will save you the cost of parking and avoid the traffic jams that are frequent during the summer period. There are 94 dedicated bicycle parking spaces in the car park.
Good news, the beach is free. Recently refurbished, it is open from 27 June to 31 August from 10.15am to 12.30pm and from 1.30pm to 5.45pm. Lifeguards are on duty. The rest of the year, the beach is also open, but not supervised.
The facilities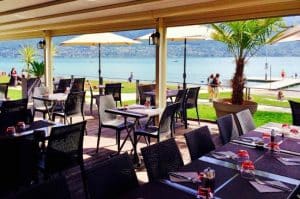 Nice games for children, a large pontoon, showers and sanitary facilities in very good condition are available. There is also a snack bar and a good restaurant on site. A monkey bridge and table tennis tables are available. Food trucks offer a variety of food 5 times a week. In 2021, the beach was extended by 1,530 m² to accommodate an ever-growing public. A restaurant serves quality cuisine.
The guide particularly appreciated the presence of a ramp and floating chairs for people with reduced mobility.
The presence of sand at the bottom of the water is a real plus for all swimming enthusiasts.
Next to the beach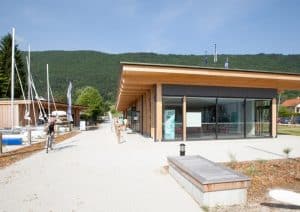 You will find two well-known sports clubs: the sailing club and the canoeing club. At the same place, we recommend a good restaurant: the Bistrot du Port. Another smaller beach, the Clos Berthet beach, is located near the campsite "Au Cœur du Lac" and is open every day from 7 am to 11 pm.
The cycle track that goes around Lake Annecy passes close by, allowing you to continue discovering the beaches of the lake.