The small village of Bluffy, at an altitude of 670 metres, has more than 320 inhabitants for an area of 3.74km2. It is the smallest commune with Nonglard that we will follow on the tourist portal. Its highest point is at an altitude of 1,800 metres.
Geographical location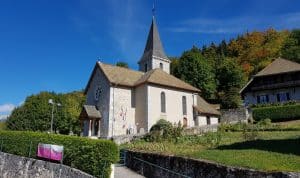 Bluffy is located to the south-east of Annecy, behind the communes of Menthon Saint Bernard and Veyrier-du-Lac. The commune offers a magnificent view of the lake and the surrounding area. It is the ideal place for walks and hikes around Annecy.
A charming and picturesque village, Bluffy offers a beautiful view of the castle of Menthon-Saint-Bernard and is ideal for pleasant walks in all seasons.
The Aravis massif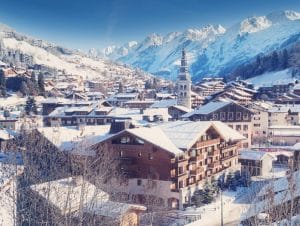 Bluffy is located at the beginning of the Aravis massif, in Haute-Savoie. The resort of La Clusaz in this massif is renowned for its authenticity and the quality of its snow cover. You can also enjoy the family resort of Le Grand Bornand, which organises the annual festival Au Bonheurs des Mômes.
Top rated hotels
Depending on your budget, we have selected five hotels near Bluffy that offer excellent value for money and have very good customer reviews:
Le Palace de Menthon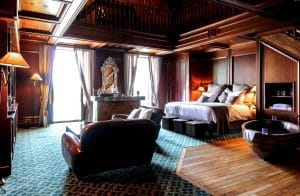 This magnificent palace dates back to 1906. It is located in Menthon-Saint-Bernard, on the edge of the lake. We recommend the suite which is installed in the old library. There is a large park, a gourmet restaurant and a sauna.
From €404 per night.
Hotel Cottage Bise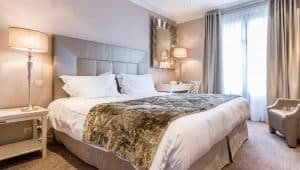 Not far from Bluffy, this beautiful hotel is located in Talloires, on the shores of Lake Annecy. It features a spa and a heated outdoor swimming pool. You can rent a boat at the port to discover the lake.
Rates start at 194 € per night.
Hotel du Lac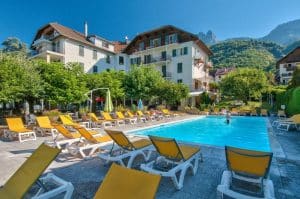 Close to Bluffy, this hotel is very popular with guests: large swimming pool, free access to the beach of Talloires. You can take advantage of the owners' expert advice to discover the Annecy region and the Aravis mountains.
From 90 € per night.
Les Grillions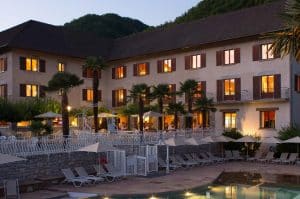 A beautifully designed family establishment, located in Talloires, opposite Lake Annecy. The facilities include a swimming pool with jacuzzi overlooking a beautiful shaded park. The restaurant serves inspired cuisine using fresh local produce and a market menu.
From €104 per night.
Hotel Les Acacias Bellevue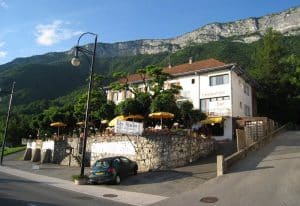 Just 10 minutes from Annecy and Bluffy, this classic family hotel serves Maître Restaurateur cuisine. A large shaded terrace allows you to have lunch outside in summer. The hotel is not accessible to disabled guests.
Ratesstart at 69 € per night.
A beautiful hike from Bluffy
We suggest a hike around Lake Annecy: Pré Vérel refuge – Bluffy pass (630 m) – Menthon Saint Bernard (480 m).
This diversified itinerary will allow you to observe magnificent panoramas of Lake Annecy. You can also look for accommodation in the beautiful village of Menthon-Saint-Bernard.
This varied itinerary with beautiful views will lead you towards Lake Annecy, if you wish to have dinner and choose your accommodation in Menthon-Saint-Bernard. The positive difference in altitude is 558 m, with a start at 480 m altitude. The estimated duration is 4 hours 45 minutes.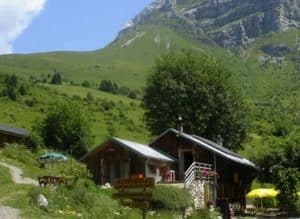 You leave Pré Vérel in the direction of the Col des Nantets at 1,426 m. You leave the valley on the right to follow the chalet of Aulps Riant. After a long alpine pasture, the Dents de Lanfont are on your left, you descend to Villard and the Col de Bluffy. The next day, you can continue your journey with a 200m positive difference in altitude. It is advisable to be accompanied by a guide if you do not know the region. The best period is from 15 June to 30 September.
Important: bivouacking is not allowed outside the reserved areas.
The markets of Bluffy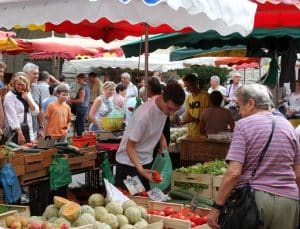 Every Friday from 4pm to 8pm, on the town hall square (Place du Général de Gaulle), it is possible to visit the local producers' market.
On Sundays from 9 am to 12.30 pm, it is the turn of the traders' market.
The Town Hall
The Town Hall of Bluffy is located on the Place du Général de Gaulle and has an official website.