Annecy is a great place to play golf. There are many golf courses around Lake Annecy, from 9 to 18 holes. You can make swings and putts in a magnificent natural setting.
How to play golf and with what equipment?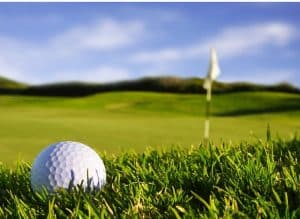 Golf is a sport that originated in the Netherlands and was first developed in England and then throughout the world. During your stay in Annecy, you can discover the golf courses of Lake Annecy. What equipment do you need to play, and how do you choose your course?
The elements of a golf course
There are various elements to consider when choosing a golf course that suits your level.
The level of the course: the difficulty is evaluated by the slope. This indicator varies from 55 to 155.
The number of holes allows you to know the playing time. An 18-hole course will be longer and more physical than a 9-hole course. Most courses are 18 holes so the total par is close to 72. The 9 holes can be played in two stages: on the way out and on the way back, which allows you to better understand the difficulty of each hole as you play them twice.
For each hole, the Par shows you how many strokes you need to get the ball in. For example, a Par 4 will require 4 shots. If you make one shot too many it's a bogey, if you make 1 shot less it's a birdie and 2 shots less an eagle.
The golf licence is called the green card, it is not compulsory but it may be required on some courses. The green card allows to know the ranking and the level of a player and to practice competitions.
The golfer's equipment
A complete set of equipment in good condition is essential to play golf:
Golf bag with trolley so that it is not carried on the back.
A sufficient number ofgolf balls, as it is possible to lose some on a bad shot.
Tees: this is a small object to put the ball at the start of the hole to succeed in your drive.
Marker: often a small piece to indicate the position of your ball on the green.
Clubs: iron, driver, pitching wedge, putter are essential depending on the shots to be played.
You can also hire equipment from the golf clubhouse but it is advisable to have your own equipment to progress regularly.
How to choose a golf course?
The golf courses near Annecy offer different levels of difficulty in a variety of quality natural settings. You can also choose to stay in a hotel that offers a golf course nearby or integrated into the hotel. There are also golf weekend packages in Annecy and Haute-Savoie.
Lake Annecy Golf Club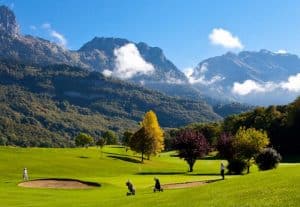 Created in 1953 in the commune of Talloires-Montmin on the shores of Lake Annecy in Haute-Savoie, it is located partly on the Roc de Chère Nature Reserve. The golf course benefits from a magical environment between lake and mountain.
The 18-hole course is hilly, with a par of 69. The slope is 122. The licence and the green card are compulsory.
Many services are offered: traditional and fast food, bar, parking, shop, Wi-Fi in the clubhouse, equipment rental. In terms of training, this golf course offers a Golf Campus for young people aged 5 to 25 to ensure regular progress. Many competitions are organised throughout the season.
Professional events can be organised as team building on the golf course. The women's club has more than 50 ladies with interclub meetings and a weekly meeting on Tuesdays in the form of a shot-gun followed by a meal. The seniors represent more than 100 golfers who meet on Wednesdays to play and share a meal and plan numerous trips to the region's golf courses.
Address : Route du Golf 74290 Talloires-Montmin
The Golf of Giez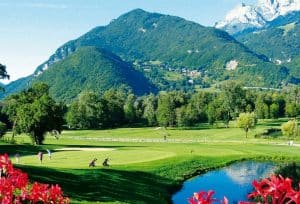 The Giez golf course is located at the end of Lake Annecy between Doussard and Faverges. Two courses are available: the Belvedere (18 holes) and the Beavers (9 holes) for beginners.
The green card is compulsory, the slope is 131 for the 18 holes and 148 for the 9 holes.
The facilities available are complete: a golf shop (Proshop), a putting green, a pitching green, 2 practice areas, 1 of which is covered, restaurant, bar, car park, Wi-Fi in the clubhouse, seminars, training courses, lessons, equipment and buggy hire. A golf school provides lessons for young people from 5 September to 17 October and from 27 March to 26 June.
Lessons take place on Wednesdays from 2pm to 3.30pm for under 11s and from 3.30pm to 5pm for older children. During the school holidays, competitions are possible on the Beavers and Belvedere courses on Tuesdays, Wednesdays and Saturdays.
A senior citizens' association offers numerous outings, a friendship cup and interclub meetings. Thewomen's association organises friendly games every Thursday on the Belvedere course, an outing over two or three days each year, and inter-club meetings with car pooling.
Address: 304 Route du Thovey, 74210 Giez-France
Golf du Belvédère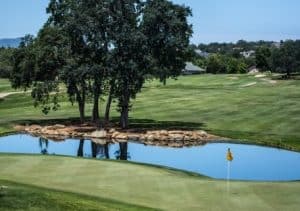 This golf course is located in Saint-Martin-de-Bellevue, 15 minutes from Annecy. A single 9-hole course is available with fairly steep slopes. The driving range has covered and uncovered posts. A putting green, a bunker and an approach zone allow you to practice. The atmosphere is family and relaxed. Numerous competitions are organised such as the Rebloch' Etoile.
Address : 1116 Route du Mont, 74370 Saint-Martin-Bellevue
Video presentation of the Giez golf course